'Mapping Nineteenth-Century Scandinavia: Edward Price's Norway and Henry Clark Barlow's Denmark'.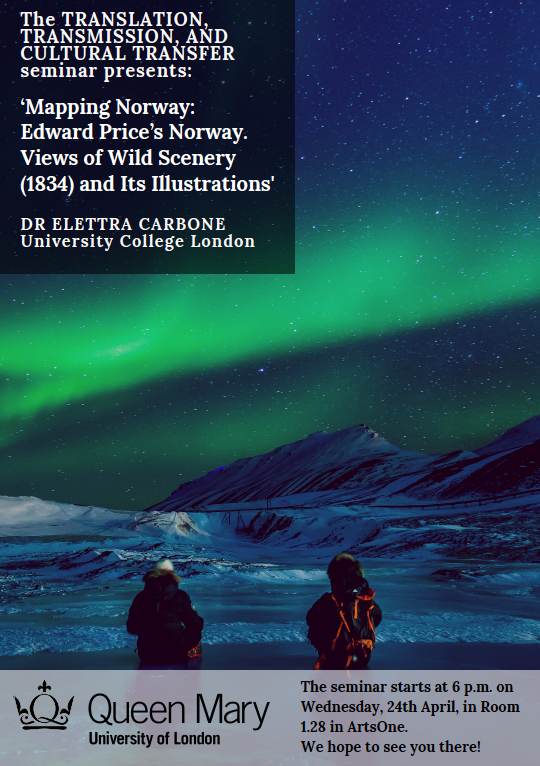 Room: ArtsOne 1.28
Time: 18:00
From the end of the eighteenth century, Norway became an increasingly popular destination for British travellers in search of 'a new and intriguing alternative to the more well-trodden paths' (Fjågesund and Symes 2003: 39). The artist Edward Price (1800-1885) is today all but forgotten, but his major enterprise, a journey to Norway in 1826, remains immortalised in his illustrated journal Norway. Views of Wild Scenery. The seven engravings of Norwegian landscapes that are today part of the UCL Art Museum's collections were made by the British painter and engraver John Linnell, The Elder (1792-1882) after drawings by Price but were not used as illustrations when Price's book came out in 1834. The book included, instead, 21 engravings by the British artist Davis Lucas (1802-1881). Later Thomas Forester (dates unknown), who visited Norway in 1848, included Price's journal in his Norway and Its Scenery (1853) and made use of the same engravings by Lucas.
Drawn to Norway by 'the promise of a superabundance of material' for his pencil, Price makes a number of references to his sketches and the process involved in their creation. Together, the text and the illustrations 'map' Norway, as they construct and communicate spatial knowledge of a region that was still little known to the British reader (Cosgrove 2012: 1). In my paper I will explore the relationship between Price's written account, often focusing on the difficulties of the journey as well as the dramatic nature of the Norwegian landscape, and the two sets of engravings by Linnell and Lucas. What made Norway an exceptional motif for Price?