Matt Kay (Film Studies BA, 2011)
Under different circumstances, I would never have been able to go and see what an all-female sumo wrestling dojo in Japan looks like, but because I was making a film, I was able to spend time with these really inspirational, amazing women.
Published:
Why did you choose to study Film Studies at Queen Mary?
I did joint honours initially in my first year, so Hispanic Studies and Film Studies. My grandparents used to take me to see different independent films at the cinema, so I think I'd always loved film since I was little. Both my parents are writers and so when I used to go to their readings, people always used to say, "Are you going to be a writer?" and I'd get really annoyed and say, "No! I'm going to be a filmmaker". I'd been on a gap year in Latin America before university so that got me interested in wanting to learn Spanish alongside Film.
What aspects of your degree did you enjoy most?
I liked that with both Hispanic Studies and Film there was lots of variety. With both subjects, we were doing the more practical stuff - so in Spanish we were speaking the language, and in Film we were screenwriting and making films - but then there was also the other side of it where, with Hispanic studies, we were studying different books and films and learning about the history, the culture and the language, and similarly, with film, we were also studying the history of it and appreciating different types of cinema, from French New Wave to German Expressionism. There was a screenwriting course which was more aligned with what I wanted to do afterwards, but the Film and Philosophy module with Lucy Bolton was probably my favourite.
How did you first become interested in pursuing filmmaking?
My grandad was always interested in World Cinema and so I think from an early age, I watched more foreign films, as opposed to just Hollywood movies, than other people would, so I have a lot of good early memories from times in arthouse cinemas with him. The other thing was, I did Media Studies at college and it was during a time when the smaller, more cinematic, DSLR cameras were starting to replace the old-school kind of handy-cam cameras. I think that got me more interested in filmmaking as something I could do at university and beyond, because I started to see it as being more accessible as you could just pick up a camera and go.
What were your early experiences after graduating from Queen Mary? Did you find interesting work straight away or was it more of a journey?
I always wanted to do film, but I wasn't sure where within that I'd land. My friends were going on a football tour to Egypt, and I went with them to shoot, but it was during the Arab Spring and the Egyptian Revolution and so when we got there, it was really intense. They experienced loads of things which really affected them and changed them as people, and it was great being able to see that kind of transformation happen on camera. I thought I'd do that one documentary and then pursue fiction filmmaking, but it really got me excited about the craft of documentary, so that's how I carried on. I really enjoyed the process of being somewhere and bearing witness to something in a way that you don't really get with fiction. I came back from that trip with 100 hours of footage which I edited down to 1 hour, which was then screened in 6 or 7 countries and went to different film festivals. It was from that experience that I then was able to continue making more films afterwards.
Your work has taken you around the globe. What's your most memorable filmmaking experience?
Every film is memorable for different reasons and you go on crazy journeys and meet inspiring people on all of them. One of my most memorable experiences was when I was in an illegal detention centre in the Israeli desert; it was beyond belief seeing how the people lived but it was also inspiring, how they kept on and kept fighting. I made a short documentary about their situation for The Guardian, after which the detention centre was closed because it was seen as contravening international law. It always had done, but it was the documentary that helped to shine a light on the issues; so I like the way that filmmaking can have an impact and help contribute to different campaigns that have been ongoing.
When I finish a film, I try to see it in two ways: how can we get it in front of the most people but then also, how can we try and effect change by showing it to people who may have more power to do something?
I made a documentary in Brazil, just before the World Cup, and I was staying in a favela for two months, so that was a different living situation to what I was used to.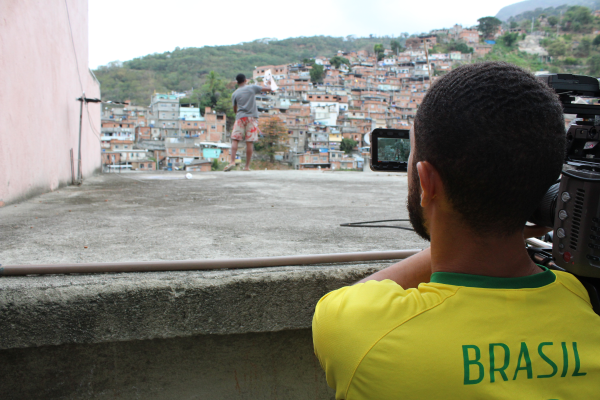 Everyone was much closer together and there wasn't anywhere to charge batteries, so I had to go to a different spot to find electricity to charge my equipment. That was a memorable experience as well – trying to make the most out of what you have with limited resources.
I've been lucky that I've been to maybe 40 or 50 countries and have shot in quite a lot of different places, but there are different interesting things about all of them.
Your documentary, Little Miss Sumo, screened at over fifty film festivals, won several awards, was longlisted for an Oscar and is a Netflix Original. How does it feel to see your work recognised in this way?
Little Miss Sumo is about a woman (Hiyori Kon) who's really inspiring and very strong – physically and emotionally – and has got lots of unending perseverance. The biggest thing for me, was that she was recognised and given a platform, in addition to the many women in Japan and around the world who haven't had the opportunities they want to through sumo wrestling.
So, the recognition is nice and it's cool, but I think the thing I value more is being able to contribute something to the issues that I'm trying to shine a light on. It's great that Netflix helped provide that platform – it's now in 190 countries, it's been translated into 40 languages, and people from all over the world send me emails – nice emails, thankfully! – about how it touched them, but I guess the nice thing about it is more the ends to the means in the sense that, for Hiyori and for those women, they have more of a voice. If I can help amplify that in any way, then that's great.
You're working on making a feature-length documentary following on from Little Miss Sumo. Where are you with this project and what more will this longer film explore?
When I first started making it, I had no idea it would take so long to make. In my head I thought I would pitch it, someone would say, "That's amazing, here's a million pounds", and I would go off and make it, but that didn't turn out to be the case.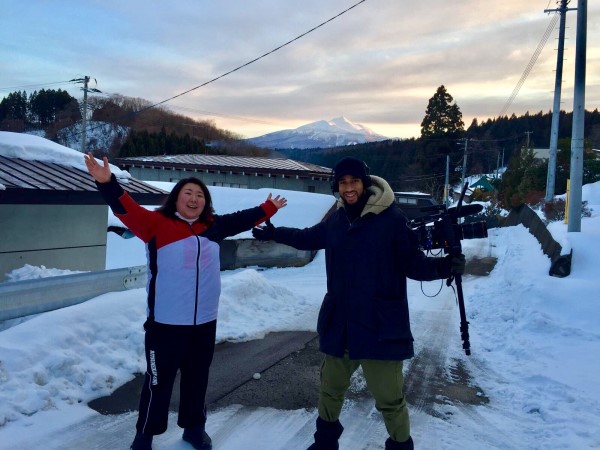 We've now got some funding which is nice and the project has a sales agent, Endeavour Content, who are based in LA, so they're getting money in North America; over here it's a co-production with another company called Bungalow Town, and we've just got some money from Doc Society which is with the BFI, which is great, and so it's kind of small steps and getting smaller bits of money to keep the production going.
Professional female sumo wrestling is currently forbidden; women cannot get paid and cannot even step into the professional ring. I guess Little Miss Sumo is a starting point to give you an introduction to the world of female sumo wrestling, and then the feature version is hopefully more about showing them becoming the first professional female sumo wrestlers.
In the transition from being an enthusiastic student to being the man behind the camera, has there been anything that has surprised you about what goes into making a film?
I think being a student, you're consuming lots of content and understanding the similarities of different eras or different regions and how they produce films, but you're not really aware of how long the production process takes. I think the biggest learning curve was seeing all the steps involved and what it takes to get a film funded, to pitch a film, to draw up budgets, to get a production schedule, to do all the shooting, to then doing all the editing. All those steps are much more involving than I would have initially assumed, so I think it takes a lot of commitment and perseverance but then also, conviction in terms of knowing the ideas you have are worth telling.
Even when you get all the no's that you inevitably do get, keep on persisting to try and get that one yes.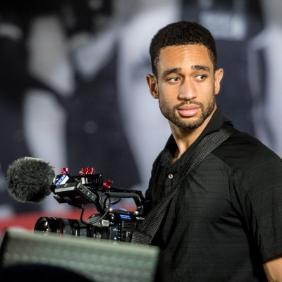 With Little Miss Sumo, it's great that it was longlisted for an Oscar and it's on Netflix, and that those doors did open, and we can focus on those now, but there's loads of places that said no as well. There's a whole list of rejections that you get on a daily basis, and so I think you need to try and have thick skin and perseverance and not be held back by the barrage of no's that you get. Don't let that dampen your bright-eyed, bushy-tailed student mentality, which is good to have. Try to keep that encouragement up.
Your company, Walks of Life Films, as the name states, focusses on human stories from around the globe. How do you find the subjects for your films and what are the qualities you look for which you think make for great stories?
Walks of Life tries to focus on people or issues that don't get as much of a platform or as much attention as I think they should, so we try to give a voice to those who are underrepresented. I'm more interested in the people behind the stories and, I think, rather than having a narrator telling you what to think, it's better or more interesting to let the viewer make their own opinion. I try to get the human story to tell the wider story – the micro to tell the macro.
Making a documentary takes a huge amount of time and is a big commitment both from their side of things and from yours, so you want to do it with people that you get on with and that you're interested in and believe in. It also needs to be something that I will really want to see as well if I think of it as a finished thing. I prefer to be surrounded by people I would like to be spending time with, not people that I'm infuriated with the whole time, so I prefer to do films with inspiring people who I think are doing amazing things and that are going to cool places and doing cool things that I would like to tag along with.
Your films have contributed to international law change, documented history in the making and have been studied as educational resources in schools. Can you tell us about these films and how they've made such an impact?
With Little Miss Sumo, as well as going to the film festivals, it was also screened at different universities in Japan, America and here in the UK. It was also screened in schools, so there were study packs made for the film and it was used as a springboard for discussions.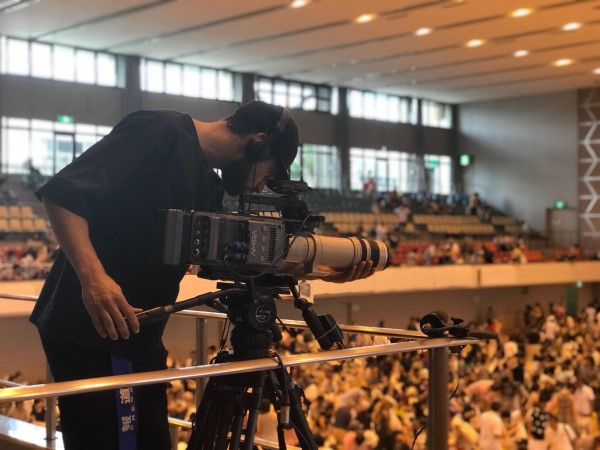 From that, there were then whole syllabuses that were devised around the film and around women's issues in Japan and patriarchy everywhere. Since then, Japanese girls can wrestle in schools in this nationwide tournament which, before Little Miss Sumo came out, they were banned from doing. I try to do that with every film – so there's the film itself but then also, from a socially minded place, trying to make an impact there as well. When I finish a film, I try to see it in two ways: how can we get it in front of the most people but then also, how can we try and effect change by showing it to people who may have more power to do something?
Walks of Life Films are passionate about diversity. Why do you think diversity in film both on and off screen is important?
There's loads of reasons and I could spend a whole hour just on that, but if I was to give a short answer, it would be that I feel that you're never quite sure what is possible until you can see what is possible, so it's extremely important to have role models that look like you in potentially inspirational spaces. I also think it's really important to provide opportunities for the next generation and for kids to have a shot and then be able to make something of themselves. You need to see something inspiring for you to then be able to be inspiring yourself.
I also think that whatever diversity looks like – it could be through disability, through race, through age, through sex – I feel like you need those different types of voices to contribute and it's not just about giving people a helping hand, it's about what they're also giving you and the value in that diversity, and so I would try and encourage other people to see the power in diversity and if you are from a diverse background, whatever you want to take that to mean, it's good to see our own self-worth through what we have to offer.
How has the pandemic impacted your work? Have you been inspired to explore anything related to the pandemic?
I'm currently working on a feature film about the music group, TLC, and I was supposed to be going with them on a world tour for the 25th anniversary of their second album, Crazy Sexy Cool, but the pandemic meant that all of the festivals were cancelled; instead of going to 12 countries with T-Boz and Chilli, my summer was spent in Tooting in my bedroom. Thankfully, the project is still happening, and I went out to the States for two months – November and December – to shoot with them. The film was originally supposed to be a road movie showing them performing, with flashbacks to what they've achieved over their career, whereas now it's more family orientated and based out of their houses in Atlanta.
So, the pandemic has impacted my life in the sense that it's not so glitzy and the documentary is now much more intimate. It's impacted my life and the experiences I would have had but also the film I'm making.
In terms of how it's inspired me, I already have the TLC and the Sumo projects keeping me on my toes, so I've not been doing anything COVID related, but I think it's great in times of crisis and disaster to see the human connection, the perseverance, and the love. It shows that you can make lots of things out of restrictions and how creativity is sometimes helped through parameters which are out of your control.
In terms of your career, have you had any life-changing moments where you've realised you're doing a job that you really love?
Yeah, all the time. I feel really lucky to be able to do something that I love. I'm really nosey and I think it goes hand in hand with filmmaking because I've got an excuse to get out and meet lots of interesting people. Under different circumstances, I would never have been able to go and see what an all-female sumo wrestling dojo in Japan looks like, but because I was making a film, I was able to spend time with these really inspirational, amazing women.
I think the camera acts as a gateway to allow you into peoples' lives and to bear witness to amazing things, whether that's in Tahrir Square during the Egyptian Revolution, in a favela in Brazil, in Chilli's house in Atlanta or a Sumo dojo in Japan. You get to go to all these amazing places, and I love traveling, I love meeting people and I find it really inspiring to be around people that are doing amazing things which I find amazing to shoot and which, hopefully, other people will be amazed by, so it's just a little cycle of amazingness.
Looking back, how did your time and study at Queen Mary help with your career and development?
I was lucky at Queen Mary to have amazing lecturers who had practical experience in the filmmaking world and were really interested in what I was doing, even though I hadn't made anything yet. I'm still in touch with a few of them now, such as Guy Westwell, Lucy Bolton and Athena Mandis, and they're still really supportive of what I'm doing. As a student, I got the sense that they were passionate about what they were teaching, and they were really interested in the students and took time to explain things to you. And then also, I was inspired by the other students in my peer group.
Film is a bit tricky as a lot of the stuff you learn at university is theoretical, whereas when I'm making a film, it's very practical – I never did a budget for example when I was at Queen Mary – but in terms of being able to get that real world experience, that was based on the foundation I got at Queen Mary through the conversations, the courses, the lecturers and my peer group.
What would your advice be to students hoping to go into a career in filmmaking?
My advice would be to try and develop your own sense of what you want to do in terms of style and subject matter. It's good to have a masterplan and then you can kind of reverse-engineer and work backwards.
As I've touched on, there's loads of rejections that you get and loads of opportunities but then also lots of competition for those opportunities, so for Netflix, for example, I think they get sent something like 80 short documentaries a day to feature on their platform and I think there's only two in the UK – mine and one other – that have ever been on it and only 3 or 4 in Europe that they've selected, so there are loads of rejections that you do get and I have got – luckily not from Netflix but from other places.
I think, because you get all these rejections, it's good to have a strong sense of knowing what you want to do and not be deterred by what other people are saying. I'd always try and know that an idea is something that I want to persist with regardless of whether Netflix take it on or not. You've got to think about why you're doing it and to know that it will be important enough to continue with if the best-case scenario doesn't happen. I think that self-belief and perseverance are the two things that are necessary but also seeing what else is out there on the market and being aware of what excites you; at the end of the day, that's going to take up most your time, so it needs to be something that you're going to feel is worth it.
This profile was conducted by Alumni Engagement Coordinator, Nathalie Grey. If you would like to get in touch with Matt or engage him in your work, please contact Nathalie at n.grey@qmul.ac.uk.