How we support you
The Doctoral College at Queen Mary University of London is committed to making sure that all students working towards research degrees are given access to the tools they need to enable them to conduct their research to the highest possible standards, and to develop as successful, independent researchers.
Supervision tailored to you
Excellent supervision is crucial to achieving your goals as a research student. All our supervisors complete a programme of supervisory training, including regular update training, to ensure they offer our research students the best possible supervision.
All research students are provided with a supervisory team consisting of at least two supervisors who are able to offer both subject expertise and experience.
Your supervisory team will not only guide you in your research, but will help you to identify the research-specific and wider transferable skills you will need to become a successful independent researcher.
Read more about what supervisors will be looking for under Explore our PhDs or see the latest news from our students on our Doctoral College blog.
Training programmes
Our flexible training programmes – which are free – are tailored to the needs of different students, have been designed to meet and exceed the exacting requirements of the UK Research Councils, and the Quality Assurance Agency for Higher Education. We'll also make sure you know about other opportunities with partner universities or through partnerships that will help ensure you will leave Queen Mary equipped to further your chosen career.
At Queen Mary, you'll be able to choose from the following opportunities for training:
Your School or Institute can provide research training in, for example, the methods and techniques you need to conduct your research, with many also offering a range of bespoke researcher development training courses tailored to your discipline.
Queen Mary's Academic Development team provides a researcher development programme (covering skills such as applying for funding, ethical review, presentation skills, or working in teams) tailored to the different needs of Year 1, 2 and 3 PhD students.
Queen Mary's Doctoral College provides events and activities to develop your research skills, foster conversations and collaborations between our research students and staff, and promote a supportive PhD community with, for example: training days organised around academic networking, public engagement, and employment for Year 1, 2 and 3 students.
Research Council Doctoral Training Centres and Doctoral Training Partnerships provide specialist and highly advanced research training courses, many in conjunction with partner universities.
In the rare cases where our students require specialist, advanced training not available at Queen Mary, students may apply to the Doctoral College's Postgraduate Research Fund to help meet the costs of such training.
Read more about training at Queen Mary's Doctoral College.
Travel overseas
Queen Mary's Doctoral College encourages all our PhD students to explore the international research community and take every opportunity to extend their research networks overseas. Whether you want to present at highly regarded international conferences, or visit research groups elsewhere, we can support this financially through our Postgraduate Research Fund, which provides funding of up to £2,000 to support your research.
Careers support
Queen Mary has a Careers and Enterprise team that are here to support students and graduates with advice and support to set them on the right path – whether that's in further study, work or research.
Read more about the specialist careers support available for researchers.
Student support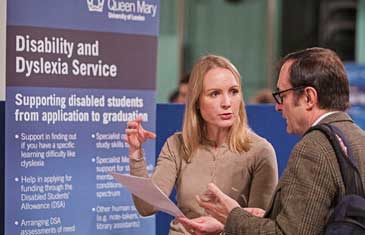 In addition to the facilities provided across our campuses, Queen Mary provides a range of student support services, including:
Advice and Counselling service
Disability and Dyslexia service
Mental Health Coordinator
Student Health Centre (during term time at Mile End)
Faith at Queen Mary
You can also find out how you can get involved in Queen Mary Students' Union - from sports and societies to advocacy and volunteering, our PhD students are a key part of our wider Queen Mary student community.