Anatomy and Physiology at the Turnbull Centre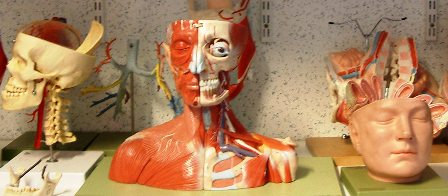 At Barts and the London School of Medicine and Dentistry there is a strong focus on basic medical science in the pre-clinical years. The Turnbull Centre is a fully equipped anatomy and physiology teaching and learning facility located at the Mile End Campus.

The Anatomy Practical Lab
Students study anatomy with a multidisciplinary approach to learning, using prosections, models, bones, and radiographic imaging. Twenty stations are each equipped with two PCs that show anatomical images, videos, x-rays, CT and MRI scans, web sites and presentations. There is a strong emphasis on functional and clinical anatomy and clinical demonstrators facilitate all classes.

The Dissecting Room
All medical students get the opportunity to dissect the whole body. Dissection classes are held after the basic anatomical teaching in the practical lab so students have basic anatomical understanding before dissecting. The fully equipped dissecting room can accommodate up to 140 students. Year 1 students dissect the limbs; year 2 students dissect the thorax, abdomen and pelvis, and head and neck. All dissections have an introductory lecture and an on-line video of the dissection for preparation and revision. The dissections focus not only on functional and clinical anatomy, but also the related pathologies that maybe discovered during the dissections. Clinical teaching fellows and surgical trainees demonstrate in all dissection classes.

The Multi-Disciplinary Laboratory
Designed to accommodate Physiology classes, the MDL is equipped with digital data capture facilities to enable large group demonstrations. Wherever possible the equipment is the same as that used in the clinical skills centre and out on hospital training. This has meant new classes have been designed and new study modules developed. As we move more towards digitally capturing data and an integration of basic science with clinical skills then the facilities we have established have put us in a position to expand and keep pace as demand changes.




Management Structure
The Turnbull Centre is licensed under The Human Tissue Act 2004, regulated by the Human Tissue Authority. The academic lead is Dr. Val Fallon, who is the designated individual under the Human Tissue Act. Technical and support staff are managed by the Learning Resources Manager, whilst academic input and curriculum matters are managed by Dr. Val Fallon for Anatomy and Dr. Rachel Ashworth for Physiology.

Centre Staff
Dr. Val Fallon Director of Anatomical Studies, Centre for Medical Education
Dr. Rachel Ashworth Physiology lead, Centre for Medical Education
Dr. Paula Vickerton, Lecturer in Anatomy, Centre for Medical Education
Dr. Amir Hakim, Lecturer in Physiology, Centre for Medical Education
Mr. Steve Moore Learning Resources Manager, Student Office
Mr. Rejwan Ahmed Turnbull Centre Manager, Student Office
Mr. Harrison Morgan Teaching Technician, Student Office
Mr Charles Daines Teaching Technician, Student Office

The Anatomy Practical Lab
Students use the virtual teacher system and highly models to learn about anatomy and their understanding of body systems.




Eighteen tables are provided to accommodate up to 140 students. To assist, the room is equipped with a high resolution camera and a 4 50" plasma screens and a high resolution camera.