Thank you for considering an application
To apply you'll need to:
Make note of the Queen Mary institution code: Q50
Make note of your chosen course UCAS code:

English Language and Linguistics

QQH1 — BA (Hons)
QQHY — BA (Hons) with Year Abroad

Click on the link below:
English Language and Linguistics
Entry Year: 2022
2 study options
English Language and Linguistics
BA (Hons)
Key information
Degree

BA (Hons)

Duration

3 years

Start

September 2022

UCAS code

QQH1

Institution code

Q50

Entry Requirements

UK fees

£9,250*

International fees

Fees for 2022 entry will appear here shortly
*These fees are for the 2021-22 academic year and are provided as a guideline. Fees for 2022-23 have not yet been set.
English Language and Linguistics with Year Abroad
BA (Hons)
Key information
Degree

BA (Hons)

Duration

4 years

Start

September 2022

UCAS code

QQHY

Institution code

Q50

Entry Requirements

UK fees

£9,250*

International fees

Fees for 2022 entry will appear here shortly
*These fees are for the 2021-22 academic year and are provided as a guideline. Fees for 2022-23 have not yet been set.
Overview
Study in depth how the English language works, how it's used and how it changes.
Our BA in English Language and Linguistics will develop your analytical skills and give you a deep knowledge of language, alongside the opportunity to undertake hands-on work collecting and analysing data. You'll come away with a firm understanding of how modern English is structured, how we use it, and the ways in which it changes, varies and evolves to suit our needs.
The programme explores diverse aspects of English linguistics – from youth slang and dialects in our multicultural and multilingual cities, to the English used in media and politics. It considers how new technologies are shaping English and whether the spread of English in the world is changing, or even killing, other languages.
You'll also master qualitative and quantitative social sciences research methods, and put them into practice for your final year dissertation.
Structure
You can complete your English Language and Linguistics degree in three or four years. If you choose to study abroad, this will take place in Year 3 and Year 3 modules will instead be studied in Year 4.
Year 1
Academic and Professional Writing
English in Use
Foundations of Linguistics
Introduction to English Syntax
Introduction to Phonology
Language in the UK
Languages of the World
Sounds of English
Please note that all modules are subject to change.
Year 2
Compulsory
Research Methods in Linguistics
Choose up to seven from
Applying Linguistics in the Real World
Aspects of Meaning
Describing Prosody
English Around the World
Explaining Grammatical Structure
History of English
Interaction and Discourse
Language and Mind
Language and the Media
Linguistic Typology and Grammatical Theory
Sociolinguistic Variation and Change
Please note that all modules are subject to change.
Year 3
Compulsory
Linguistics Research Project
Choose up to six from
Beyond Language
Bilingualism and Multilingualism
Communication Disorders
Constructed Languages
Formal Semantics
Health Communication
Philosophy of Language
Sex, Gender, and Language
Structures of Spoken English
Syntactic Theory
Unfamiliar Languages
Please note that all modules are subject to change.
Study options
Apply for this degree with any of the following options. Take care to use the correct UCAS code - it may not be possible to change your selection later.
Year abroad
Go global and study abroad as part of your degree – apply for our English Language and Linguistics BA with a Year Abroad. Queen Mary has links with universities in Europe, North America, Asia and Australia (partnerships vary for each degree programme).
Find out more about study abroad opportunities at Queen Mary and what the progression requirements are.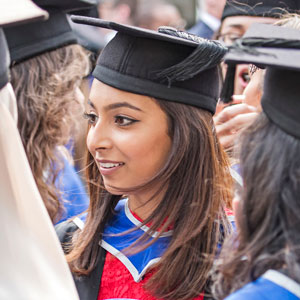 My degree offered me the opportunity to study a wide range of modules within the school, which has helped me to prepare for life after my graduation.
Teaching
Teaching and learning
You'll receive approximately eight to 10 hours of teaching per week, comprising lectures, seminars and workshops.
For every hour spent in class, you'll complete a further two to three hours of independent study.
Assessment
Assessment typically includes a combination of research diaries, poster presentations, class tests and exams. In your final year, you'll carry out a research project based on real-world data and applying cutting-edge theory, which will bring together everything you have learned.
Resources and facilities
The School offers excellent on-campus resources to aid your studies, including:
the Queen Mary library
a phonetics laboratory, including a soundproof recording studio
Ling Lunch talks
Departmental guest speaker seminars, which allow you to hear from Queen Mary academics, researchers and experts from institutions in Europe and North America.
Learn another language
If you're interested in learning another language, you can sign up for a course at Queen Mary's Language Centre, where you can choose from Arabic, Chinese (Mandarin), French, German, Japanese or Spanish.
Entry requirements
Non-UK students
We accept a wide range of European and international qualifications in addition to A-levels, the International Baccalaureate and BTEC qualifications. Please visit International Admissions for full details.
If your qualifications are not accepted for direct entry onto this degree, consider applying for a foundation programme.
English language
Find out more about our English language entry requirements, including the types of test we accept and the scores needed for entry to the programme.
You may also be able to meet the English language requirement for your programme by joining a summer pre-sessional programme before starting your degree.
Further information
Funding
Loans and grants
UK students accepted onto this course are eligible to apply for tuition fee and maintenance loans from Student Finance England or other government bodies.
Scholarships and bursaries
Queen Mary offers a generous package of scholarships and bursaries, which currently benefits around 50 per cent of our undergraduates.
Scholarships are available for home, EU and international students. Specific funding is also available for students from the local area. International students may be eligible for a fee reduction. We offer means-tested funding, as well as subject-specific funding for many degrees.
Find out what scholarships and bursaries are available to you.
Support from Queen Mary
We offer specialist support on all financial and welfare issues through our Advice and Counselling Service, which you can access as soon as you have applied for a place at Queen Mary.
Take a look at our Student Advice Guides which cover ways to finance your degree, including:
additional sources of funding
planning your budget and cutting costs
part-time and vacation work
money for lone parents.
Careers
Graduates from the School of Languages, Linguistics and Film go on to work in a wide variety of roles. Some apply their degree knowledge directly, entering sectors such as journalism, teaching and the creative arts, while others transfer skills gained during study into areas such as marketing and public relations. Some go on to further study, for instance choosing the School's highly regarded MA in Linguistics.
Recent graduates have been hired by:
BBC London
Cabinet Office
Embassy Language School
Progressive Digital Media
RandomStorm
Teach First.
Career support
You'll have access to bespoke careers support every step of your degree, including one-to-one academic support. The Linguistics Department runs regular career workshops to help you plan your next step.
Our careers team can also offer:
specialist advice on choosing a career path
support with finding work experience, internships and graduate jobs
feedback on CVs, cover letters and application forms
interview coaching.
Learn more about career support and development at Queen Mary.
Unistats data for these courses
English Language and Linguistics - BA (Hons)
English Language and Linguistics with Year Abroad - BA (Hons)
About the Schools
School of Languages Linguistics and Film
The School of Languages, Linguistics and Film is friendly and vibrant. Our students produce podcasts and short films, put on plays and liaise with writers and journalists.
We're visited by poets, novelists and outside experts, and have strong links with London's cultural institutions.
In the 2017 National Student Survey, French and Hispanic Studies received overall satisfaction ratings of 100 per cent – top in the UK. German was ranked first in London and Hispanic Studies and Russian in the top five by the Complete University Guide 2018.
School of English and Drama
We provide a first-class learning environment - the Departments of Drama and English are in the top 35 in the world (QS World Rankings by Subject 2018). And you'll learn from leading experts: Drama is ranked first and English fifth in the UK for research quality (Research Excellence Framework 2014).
Our degrees make full use of the literary and cultural riches of London, with trips to venues such as Shakespeare's Globe, the Victoria & Albert Museum and the British Library.