Thank you for considering an application
To apply you'll need to:
Make note of the Queen Mary institution code: Q50
Make note of your chosen course UCAS code:

Design, Innovation and Creative Engineering

4A33 — BEng (Hons)
4A3Y — BEng (Hons) with Year Abroad
4L71 — MEng (Hons)
4L7Y — MEng (Hons) with Year Abroad

Click on the link below:
Design, Innovation and Creative Engineering
Entry Year: 2022
4 study options
Overview
Future design graduates will need to be both artist and scientist, able to understand and apply the latest technology alongside the creative process.
This practical programme allows you to develop strong creative design capabilities as well as scientific and engineering knowledge and skills.
The programme is built around the core Design Studio modules – tutorial-style sessions where you are encouraged to think and develop as an independent designer, supported by visiting professionals.
Throughout the second and third years you'll be working on individual and group projects. The final-year group project, in which students work for a client in industry, has generated several patent applications. All final-year projects are presented at the Queen Mary Design Show.
If you choose the MEng degree you'll carry out a further ambitious individual project in the fourth year, experiencing product development from inception to realisation. You'll also take engineering and materials modules that provide background knowledge for the project.
Structure
You can complete your Design, Innovation and Creative Engineering degree in three, four or five years. A typical BEng programme will comprise 3 years of study, whilst a typical MEng programme will comprise 4 years of study. Study abroad can be taken in Year 3 and Year 3 modules will instead be taken in Year 4.
Year 1
You'll study a range of core principles including:
Creative Design
Design Thinking
Engineering Design
Programming
Mathematics
Multimedia
Statics in Engineering
Please note that all modules are subject to change.
Year 2
You will cover the following specialist topics:
User Centred Design
Engineering Instrumentation
Interactive Media Design
Materials for Engineering Design
Physical Computing
Please note that all modules are subject to change.
Year 3
Research project
In the third year, students undertake an individual design project, plus a group design project alongside four taught modules. The project allows students to apply the skills and techniques learnt from previous years' studies and to focus on an area of design that particularly interests them
Modules cover topics including
Innovation
Interaction Design
Materials Selection in Design
Social Network Analysis
Please note that all modules are subject to change.
Year 4
MEng only
Students choosing the MEng option spend an additional year studying advanced specialised modules and working on a large design project.
Specialist module options cover topics including:
Design for Human Interaction
Environmental Properties of Materials
Ethics & Regulatory Affairs
Introduction to Law for Scientists & Engineers
Interactive System Design
Robotics
Please note that all modules are subject to change.
Study options
Apply for this degree with any of the following options. Take care to use the correct UCAS code - it may not be possible to change your selection later.
Master of Engineering (MEng)
Take an extra year to gain specialised knowledge through a high-level project and your choice of advanced modules. Apply for our Design, Innovation and Creative Engineering MEng, ideal if you want to go into research and development, or to give you an edge in the job market.
Year abroad
Go global and study abroad as part of your degree – apply for our Design, Innovation and Creative Engineering BEng or MEng with a Year Abroad. Queen Mary has links with universities in Europe, North America, Asia and Australia (partnerships vary for each degree programme).
Find out more about study abroad opportunities at Queen Mary and what the progression requirements are.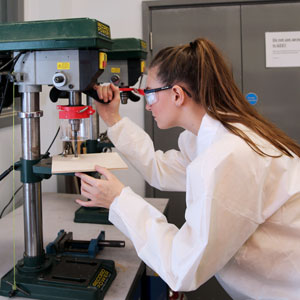 Design, Innovation and Creative Engineering is a unique course. You're allowed to develop in your own way and engage in projects outside the curriculum. Visiting museums as part of the programme was brilliant because we can immerse ourselves in the world of design.
Teaching
Teaching and learning
You'll learn through a combination of lectures, laboratory practicals and problem-based learning.
You should plan for 14-17 hours of formal teaching each week, plus time spent on group projects. For every hour spent in class, you'll complete a further one to two hours of independent study.
Assessment
Assessment typically includes a combination of coursework, written reports, projects, presentations, group work and exams in the summer.
Resources and facilities
The School offers excellent on-campus resources to aid your studies, including:
an information teaching laboratory, with over 300 multimedia workstations
a new Creative Engineering Hub, offering fabrication, 3D printing, maker and exhibition space
a design studio
mechanical testing facilities.
Entry requirements
Non-UK students
We accept a wide range of European and international qualifications in addition to A-levels, the International Baccalaureate and BTEC qualifications. Please visit International Admissions for full details.
If your qualifications are not accepted for direct entry onto this degree, consider applying for a foundation programme.
English language
Find out more about our English language entry requirements, including the types of test we accept and the scores needed for entry to the programme.
You may also be able to meet the English language requirement for your programme by joining a summer pre-sessional programme before starting your degree.
Further information
Funding
Loans and grants
UK students accepted onto this course are eligible to apply for tuition fee and maintenance loans from Student Finance England or other government bodies.
Scholarships and bursaries
Queen Mary offers a generous package of scholarships and bursaries, which currently benefits around 50 per cent of our undergraduates.
Scholarships are available for home, EU and international students. Specific funding is also available for students from the local area. International students may be eligible for a fee reduction. We offer means-tested funding, as well as subject-specific funding for many degrees.
Find out what scholarships and bursaries are available to you.
Support from Queen Mary
We offer specialist support on all financial and welfare issues through our Advice and Counselling Service, which you can access as soon as you have applied for a place at Queen Mary.
Take a look at our Student Advice Guides which cover ways to finance your degree, including:
additional sources of funding
planning your budget and cutting costs
part-time and vacation work
money for lone parents.
Careers
Our graduates find work in design consultancies and research and development, as well as going on to further study, including at the Royal College of Art and the Tokyo Institute of Technology. Some work in startups, or set up their own businesses as consultants or in manufacturing. With design being such a broad discipline, graduates are well placed to work on products for the medical, sports, transportation and service industries, as well as consumer items.
Recent Design, Innovation and Creative Engineering graduates have been hired by:
Adidas
Dyson
Gravity Industries (working on a jet-engine suit)
RDA International.
Career support
Throughout the course, students have access to a bespoke careers programme, including workshops on job hunting and job applications as well as employer events.
The Queen Mary careers team can also offer:
specialist advice on choosing a career path
support with finding work experience, internships and graduate jobs
feedback on CVs, cover letters and application forms
interview coaching.
Learn more about career support and development at Queen Mary.
Unistats data for these courses
Design, Innovation and Creative Engineering - BEng (Hons)
Design, Innovation and Creative Engineering with Year Abroad - BEng (Hons)
Design, Innovation and Creative Engineering - MEng (Hons)
Design, Innovation and Creative Engineering with Year Abroad - MEng (Hons)
About the Schools
School of Engineering and Materials Science - Engineering
The School attracts some of the brightest minds from across the country, and the world. The most recent national assessment of the quality of university research (REF 2014) placed us sixth in the UK for electronic engineering and seventh for our general engineering research (Times Higher Education).
Our students benefit from the personal contact with approachable teaching staff in small-group settings, where discussion and feedback is actively encouraged.
School of Electronic Engineering and Computer Science
The School carries out world-class computer science research – and applies it to real-life problems. Being taught by someone who is changing the world with his or her ideas makes for exciting lectures and ensures you stay fully up to date. 91 percent of our computer science research was rated as 'world-leading' or 'internationally excellent' (REF 2014).
We are proud of our excellent student-staff relations, and our diverse student body: around a quarter of our students are women and 47 countries are represented.