Thank you for considering an application
To apply you'll need to:
Make note of the Queen Mary institution code: Q50
Make note of your chosen course UCAS code:

Business Management

NN12 — BSc (Hons)
NN13 — BSc (Hons) with Integrated Foundation Year

Click on the link below:
Business Management
Entry Year: 2021
2 study options
Business Management
BSc (Hons)
Key information
Degree

BSc (Hons)

Duration

3 years

Start

September 2021

UCAS code

NN12

Institution code

Q50

Typical A-Level offer

Grades AAA at A-Level. Excludes General Studies, Critical Thinking and Use of Mathematics.
Full entry requirements

Home fees

£9,250

Overseas fees
Business Management with Integrated Foundation Year
BSc (Hons)
Key information
Degree

BSc (Hons)

Duration

4 years

Start

September 2021

UCAS code

NN13

Institution code

Q50

Entry Requirements

Home fees

£9,250

Overseas fees
Overview
Are you interested in learning about the relationship between business and society?
Our BSc in Business Management is designed to develop your understanding of management techniques and the forces at work in business. You'll build on your creative thinking, communication and analytical skills while learning about key business practices like accounting, marketing, human resources and organisational innovation.
The first year will provide you with a solid foundation in business and management theory and practice. In your second and third years you can tailor your studies through a wide range of option modules, allowing you to build expertise in a particular field of business and prepare for your chosen career path.
You will graduate with a working knowledge of the real-world strategies and processes used by contemporary organisations from small- to medium-sized enterprises to large multinationals and across the private, public and not-for-profit sectors.
Structure
You can complete your Business Management degree in three or four years. If you are taking an integrated foundation year, this will take place before Year 1.
Year 0
Compulsory
English Language and Study Skills
Independent Study Project
Introduction to Business and Management
Management
Marketing or Accounting for Business Decisions
Choose one from
Film studies: Introduction to Film Studies; European and American Art Cinema
French: French Language and Culture I; French Language and Culture II
Geography: Introduction to Human Geography; The Human Geography of London
History: 20th century European History I: 1900-1945; 20th century European History II: 1945-1990
International relations and politics: Introduction to Politics; Introduction to International Relations
Japanese: Japanese Language and Culture I; Japanese Language and Culture II
Literature: Introduction to English Literature; Introduction to American Literature
Spanish: Spanish Language and Culture I; Spanish Language and Culture II
Please note that all modules are subject to change.
Year 1
Accounting for Business
Business and Society
Current Challenges in Business and Management I
Current Challenges in Business and Management II
Economics for Business and Society
Fundamentals of Management Studies and Skills
Introduction to Marketing and Communications
Professional and Academic Development [PAD]
Work and Employment
Please note that all modules are subject to change.
Year 2
Compulsory modules
Corporate Strategy and Environmental Sustainability
Organisational Behaviour
Working with Business Data
Choose five from
Advertising
Business Law
Corporations and Social Responsibility
Creative industries
Entrepreneurship
European Business Context
Financial Institutions Management
Human Resource Management
International Financial Accounting
Introduction to Finance
Management Accounting for Decision Making
Microeconomics for Managers
Operations Management
Organisational Learning in the Workplace
Persuasive Strategies in Marketing
Politics, Advocacy and Influencing Change
Quantitative Analytics
Research Methodology
Responsible Leadership
Strategic Marketing
Work-based Module: Volunteering and Social Action - Theory and Learning
Please note that all modules are subject to change.
Year 3
Students can take 8 electives OR 6 electives PLUS the Dissertation module.
Choose up to eight from
Business and Social Approaches to Social Media
Business Computing
Business Internship Project
Company Valuation
Corporate Law and Governance
Dissertation
Employment Relations
Financial Institutions Management
Financial Management
Firm Governance and Strategy in the Institution Context
Gender at Work
Global Business and Democracy
Global Supply Chains
Innovation and Entrepreneurship
International Business
International Financial Management
Macroeconomic Modelling and Policy
Managing Diversity
Mentoring and Coaching
New Product Development
Organisational Change and Development
Organisations and Identity
Principles of Evidence-Based Management
Social Network Analysis
Startups and Incubators
Strategic Management: Concepts and Cases
Please note that all modules are subject to change.
It may also be possible to choose modules from other departments across Queen Mary to complement your studies, with guidance from your academic adviser.
Study options
Apply for this degree with any of the following options. Take care to use the correct UCAS code - it may not be possible to change your selection later.
Integrated foundation year
International students can apply for our Business Management BSc with an Integrated Foundation Year. The foundation year prepares you for the rest of the programme and is taught on campus by Queen Mary lecturers.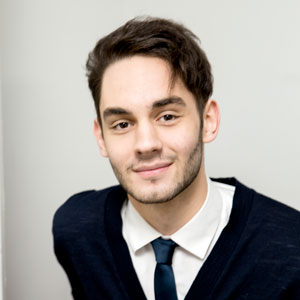 The Business Management programme is unique in the wide scope of modules available in second and third years. I founded a society, 'Queen Mary Business and Enterprise Society', with my acquired knowledge and skills.
Teaching
Teaching and learning
Teaching and research are based on three pillars: governance; social justice and sustainability; and the UN Principles for Responsible Management Education (PRME).
You'll receive approximately two hours of weekly contact time per module, comprising lectures led by academic staff and smaller seminar groups.
For every hour spent in class, you'll complete a further two to three hours of independent study. You'll have access to well-designed resources for this self-directed study, and we will pair you with an academic adviser to support your progress at all stages of your degree.
Assessment
Assessment typically includes a combination of coursework (presentations, assignments, essay report writing, in-class tests, research and project work) and/or examinations in May or June.
Resources and facilities
The School offers excellent on-campus resources to aid your studies, including:
a purpose-built media suite designed to support student entrepreneurship
a dedicated Internships Coordinator for work experience opportunities and applications
a free four-day leadership development course for third year students, providing practical leadership training outside the classroom
an alumni network that can connect you to fellow Queen Mary graduates worldwide.
Entry requirements
A-Level
Grades AAA at A-Level. Excludes General Studies, Critical Thinking and Use of Mathematics.
IB
International Baccalaureate Diploma with a minimum of 36 points overall, including 6,6,6 from three Higher Level subjects. This must include a minimum of 4 in Standard Level Mathematics.
BTEC
See our detailed subject and grade requirements
Access HE
We consider applications from students with the Access to Higher Education Diploma. The minimum academic requirement is to achieve 60 credits overall, with 45 credits at Level 3, of which 30 credits must be at Distinction and 15 credits at Merit or higher. Applications are considered on a case by case basis. Due to the high volume of applications, we do not make offers of study purely on the basis of meeting grade requirements.
GCSE
Minimum five GCSE passes including English and Maths at grade C or 4.
EPQ

Alternative offers may be made to applicants taking the Extended Project Qualification.

For further information please visit: qmul.ac.uk/undergraduate/entry/epq

Contextualised admissions
We consider every application on its individual merits and will take into consideration your individual educational experiences and context. More information on how academic schools and programmes use this information as part of the admissions process, can be found on our contextualised admissions pages.
Academic requirements
This programme combines a three-year degree with a bespoke foundation year, providing you with a smooth pathway as an international or EU student whose prior education or English language proficiency does not enable you to apply directly for a three-year degree.
This programme is designed for students who have completed a good high school education that consists of at least 12 years study. For full country specific entry requirements and qualification equivalencies visit: qmul.ac.uk/international/countries
If you have taken both GCSE and A level exams (or equivalent qualifications) in the UK you will not be considered for admission to this programme. In such cases we recommend that you apply for the relevant three year programme with entry in year 1.
Applicants who have studied A levels in the UK will be considered on a case by case basis.
Current University Foundation Programme or International Foundation Programme applicants will not be considered for the Integrated Foundation level course.
Please contact the Admissions team if you are unsure about eligibility.
English language requirements
Minimum of IELTS 6.0, with a minimum of 5.5 in each component.
Non-UK students
We accept a wide range of European and international qualifications in addition to A-levels, the International Baccalaureate and BTEC qualifications. Please visit International Admissions for full details.
English language
Find out more about our English language entry requirements, including the types of test we accept and the scores needed for entry to the programme.
You may also be able to meet the English language requirement for your programme by joining a summer pre-sessional programme before starting your degree.
Further information
Funding
Loans and grants
UK students accepted onto this course are eligible to apply for tuition fee and maintenance loans from Student Finance England or other government bodies.
Scholarships and bursaries
Queen Mary offers a generous package of scholarships and bursaries, which currently benefits around 50 per cent of our undergraduates.
Scholarships are available for home, EU and international students. Specific funding is also available for students from the local area. International students may be eligible for a fee reduction. We offer means-tested funding, as well as subject-specific funding for many degrees.
Find out what scholarships and bursaries are available to you.
Support from Queen Mary
We offer specialist support on all financial and welfare issues through our Advice and Counselling Service, which you can access as soon as you have applied for a place at Queen Mary.
Take a look at our Student Advice Guides which cover ways to finance your degree, including:
additional sources of funding
planning your budget and cutting costs
part-time and vacation work
money for lone parents.
Careers
Graduates from our business degrees gain crucial skills that are highly valuable to employers – analytical and critical thinking, creative approaches to problem solving, numeracy and confidence in interpreting and applying business data, and the ability to allocate resources and undertake projects.
Some apply their degree knowledge directly, entering roles such as business analyst or marketing and sales manager, while others transfer skills gained during study into areas such as media, law or finance.
Recent graduates from the School of Business and Management have been hired by:
BDO
Deloitte
JP Morgan & Co
KPMG
Standard & Poor's
Unilever.
Career support
The School of Business and Management has a dedicated Employer Engagement and Internships Coordinator, and we run a tailored careers programme for students. In previous years this has included business-specific workshops, alumni panel events and office visits to Bloomberg.
Our careers team can also offer:
specialist advice on choosing a career path
support with finding work experience, internships and graduate jobs
feedback on CVs, cover letters and application forms
interview coaching.
Learn more about career support and development at Queen Mary.
Unistats data for these courses
Business Management - BSc (Hons)
Business Management with Integrated Foundation Year - BSc (Hons)
About the School
The School of Business and Management takes a unique interdisciplinary approach that promises students an inspiring educational experience: we teach you to think beyond textbooks, management fads and memorised formulas for success.
Our faculty come from all over the world and bring a sound practical knowledge to their teaching: they have worked for the BBC, UK government ministries and the European Union.
The School's Mile End location keeps us close to all the action in the City and Canary Wharf. We're also home to a number of research centres, groups and clusters focused on public engagement and having a real-world impact.
Contact us
Tel: +44 (0) 20 7882 2166