Dr Linda Cremonesi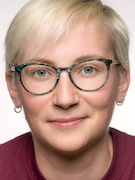 UK Future Leaders Fellow and Lecturer in Particle Physics
Email: l.cremonesi@qmul.ac.ukTelephone: 020 7882 6052Room Number: G. O. Jones Building, Room 412Twitter: @LindaCremonesi
Profile
Linda Cremonesi is a neutrino physics expert with research interests spanning neutrino oscillations, neutrino interactions and neutrino astronomy. She gained her PhD in 2015 at Queen Mary University of London, performing the first measurement of neutrino resonant pion production on water at the T2K experiment. She went on to do a post-doc at UCL, where she initially focussed on the ANITA experiment, making leading contributions to the integration and commissioning of ANITA-IV in Antarctica in 2016. In 2015 she also joined the NOvA and DUNE neutrino oscillation experiments. On NOvA she co-convenes the Near Detector working group, overseeing the 15 neutrino interaction cross-section analyses currently in progress. On DUNE she led the integration and commissioning of the purity monitors for ProtoDUNE dual-phase. In 2020, she was awarded a £1.5M UKRI Future Leaders Fellowship and joined the Particle Physics Research Centre as a Fellow and Lecturer in Particle Physics.
Research
Research Interests:
Linda's research interests revolve around neutrino interactions, neutrino oscillations and neutrino astronomy. Neutrinos are some of the most mysterious of the elementary particles, they are very abundant, but they rarely interact. Yet, neutrinos hold the keys to some of the most fascinating mysteries of the universe: why is the universe dominated by matter rather than antimatter? Linda's research is focussed on three main experiments:
NOvA is a currently running long-baseline neutrino experiment, aiming to make precise measurements of neutrino oscillations to understand the evolution of the universe.
DUNE is a future long-baseline neutrino experiment, using a higher power beam and a superior detector technology than NOvA is expected to make precise measurements of neutrino oscillations
ANITA is NASA-sponsored balloon experiment based in Antarctica. ANITA periodically flies over Antarctica looking for signatures of ultra-high energy neutrinos and cosmic rays.
Publications
In the course of her career, Linda has published more than 50 peer-reviewed papers with the T2K, Hyper-Kamiokande, ANITA, ARA, NOvA and DUNE Collaborations. For a complete list of publications please consult the INSPIRE HEP database.
Supervision
Below is a list of potential projects for PhD students. Other possibilities can also be discussed.
Public Engagement
Linda Cremonesi is deeply passionate about public engagement, and she takes every opportunity to deliver outreach activities to under-represented groups and the wider public, as recognised by her Institute of Physics High Energy Particle Physics Science in Society award. Since the start of her PhD she has organised and taken part in a variety of public engagement activities, including exhibitions for the Science Museum Lates, and the Royal Society Summer Exhibition. She is regularly invited to speak about her research and experience at public engagement events all over the UK and worldwide, including the Science Showoff, the Cheltenham Science Festival, the podcast Science Shambles, and the Wellcome Collection packed lunch series. In 2019 I became a member of the first DUNE Outreach Committee, aimed at improving general interest in particle physics, reaching potential new colleagues. In 2020 she also joined the SCREAM project at Queen Mary to bring Physics Research in School Environments.