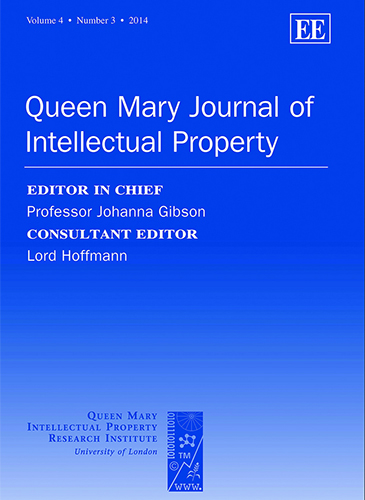 The Queen Mary Journal of Intellectual Property is available on Elgar Online, where you can find full information about author submissions.
The Queen Mary Journal of Intellectual Property (QMJIP) has become an important forum for quality scholarship in the field, publishing full-length articles as well as analysis pieces and case reports, on a quarterly basis.
Intellectual property law attracts diverse international attention and warrants considered scholarship and analysis. Not only is this an area of detailed practice and study, but also a significant part of each citizen's daily life. From the question of access to products to concerns for the creative and innovative process, this area of law is of considerable interest to scholars and the general public alike. Modern intellectual property practice and scholarship is necessarily interdisciplinary, intersecting not only with other areas of law, but also with cultural and socio-economic approaches to knowledge. Contemporary research considers the operation of intellectual property in the context of human rights, social, political and economic spheres. Engaging the diversity of perspectives on these important issues is essential to comprehensive debate, and it is this richness of debate and interrogation to which QMJIP seeks to participate, by publishing high quality contributions to the field.
Editors
Editor in Chief, Professor Johanna Gibson, Herchel Smith Professor of Intellectual Property Law
Consultant Editor Lord Hoffmann, former judge of the House of Lords and Honorary Professor of Intellectual Property Law, Centre for Commercial Law Studies, Queen Mary University of London.
Editorial Board
The outstanding quality of the editorial team and distinguished international advisory board ensures that this journal makes an important contribution to expanding critical and intellectual debate in the scholarship of intellectual property law, policy and development.
Professor Martin J. Adelman, Theodore and James Pedas Family Professor of Intellectual Property and Technology Law, George Washington University, USA
Professor Michael Blakeney, The University of Western Australia, Australia
Professor Kathy Bowrey, University of New South Wales, Australia
Professor Carlos Correa, University of Buenos Aires, Argentina
Professor Manuel Desantes, Professor of Private International Law, University of Alicante, Spain
Professor Graeme Dinwoodie, Professor of Intellectual Property and Information Technology Law, University of Oxford, UK
Professor Abraham Drassinower, Chair in the Legal, Ethical and Cultural Implications of Technological Innovation, University of Toronto, Canada
Professor Rochelle Dreyfuss, Pauline Newman Professor of Law, New York University, USA
Professor Susy Frankel, Victoria University of Wellington, New Zealand
Associate Professor Christophe Geiger, CEIPI, University of Strasbourg, France
Professor Gustavo Ghidini, University of Milan and Luiss Guido Carli University, Rome, Italy
Professor Frederik Willem Grosheide, University of Utrecht, The Netherlands
Professor Sheldon Halpern, The Honorable Harold R. Tyler Jr. Chair in Law and Technology, Albany Law School, USA
Professor Hugh Hansen, Fordham University, USA
Professor Chris Huang, National Tsing Hua University, Taiwan
The Rt Hon Professor Sir Robin Jacob, Sir Hugh Laddie Professor of Intellectual Property Law, University College, London, UK
Professor Phillip Johnson, Cardiff University, UK
Professor Hector MacQueen, Professor of Private Law, University of Edinburgh, UK
Professor Vytautas Mizaras, Vilnius University, Lithuania
Professor Sam Ricketson, University of Melbourne, Australia
Professor Janis Rozenfelds, University of Latvia
Professor Brad Sherman, Griffith University, Australia
Professor Peter Yu, Kern Family Chair in Intellectual Property Law, Drake University, USA
Faculty Advisor
Dr Gaetano Dimita, Lecturer in International Intellectual Property Law, Queen Mary University of London, UK
Book Reviews Editor
Shane Burke, Queen Mary University of London, UK