The Institute of Banking and Finance Law is one of Europe's leading research centres on Banking and Finance law. Its members have been successful in publishing books and articles in internationally refereed journals.
Research projects
The Institute's research covers the most topical subjects in the field of banking and finance and include: central banking, international banking, international capital markets, international monetary law, derivatives, corporate finance, M&As, EU financial law, resolution and insolvency of financial institutions and financial crisis management, banking and financial regulation, Islamic law, WTO law, Preferential Trade Agreements, international investment law, sovereign debt management and restructuring, insurance law, ethics in business and finance, and corporate social responsibility. The individual profiles of each member provide a more detailed description of their individual research projects. Moreover, the Institute is involved in a variety of joint publications and research projects, for example: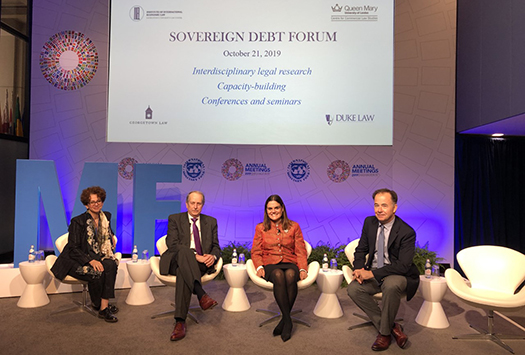 The Sovereign Debt Forum (SDF) is the result of a collaboration between Queen Mary University of London (Centre for Commercial Law Studies, CCLS) and Georgetown University (Institute of International Economic Law, IIEL) and was launched at the International Monetary Fund in Washington DC on 21 October 2019. In the spring of 2020, the European University Institute became a member of the SDF.
Professor Rosa Maria Lastra, Sir John Lubbock Chair in Banking Law and Chair of the Institute of Banking and Finance Law at the Centre for Commercial Law Studies (CCLS), is an academic director of the forum with Anna Gelpern (Georgetown). Visiting Professorial Fellow at the School of Law at Queen Mary, Lee Buchheit, is also a Founding Director of the forum with, Mitu Gulati (Duke), and Sean Hagan (Georgetown). Professor Rodrigo Olivares-Caminal, Professor of Professor of Banking and Finance Law at CCLS, Professor Ugo Panizza from Graduate Institute, and Mark Weidemaier of North Carolina University are affiliated scholars of the Forum.
This Project, administered by Queen Mary University of London Centre for Commericial Law Studies, is funded by the ESRC under the Macro-Economic Finance Hub of 'Rebuilding Macroeconomics,' a large collaborative Project at the National Institute of Economic and Social Research.
The research group comprises Principal Investigator Professor Rosa Lastra (Sir John Lubbock Chair in Banking Law, QMUL CCLS) and Co-Investigators Dr Jason Grant Allen (Senior Fellow, Weizenbaum Institute for the Networked Society), Dr David Andolfatto (Senior Vice President, St. Louis Federal Reserve Bank), Mr Simon Gleeson (Partner, Clifford Chance), Dr Michael Kumhof (Senior Research Advisor, Bank of England), and Professor Saule T. Omarova (Beth & Marc Goldberg Professor of Law, Cornell University). It will run from September 2019 to August 2020.
Lawyers and economists seem to approach money orthogonally—economists taking a more functional approach that includes a broader range of phenomena within the definition, lawyers emphasising legal tender status and the chattel characteristics of the conventional, core form of money—banknotes and coins. But there is commonality between legal and economic conceptions of money, too. Legal treatises over the past decade or two have given more importance to economic notions of monetary "aggregates" and the fact that things like commercial bank deposits—bi-lateral obligations between a bank and a customer—seem to function like money.
"Law and economics" is not a one-way street, either; law makes important contributions to economic conceptions of money. Some economists approach money as a spontaneous creation of private market forces. Law provides the essential micro-transactional apparatus that such theories assume. Others stress the role of state organs in the creation and maintenance of a money system, especially in the modern context. Law in turn provides the essential constitutional framework that such theories assume. In all cases, legal theory might provide important impulses that will assist macro-economists revising conventional theories and approaches to understanding money in light of technological change in our century. In particular, law highlights the need for a granular view of what is actually happening in e.g. payment with a banknote (change of property in a chattel), with bank deposits (e.g. destruction of one liability, creation of a new one possibly with a new bank), or with "virtual currency" (currently under debate). It highlights the importance of the legally-constructed notion of the monetary unit and promises to help organise and rank the classical functions of "money" as a medium of exchange, store of value, and unit of account.
On 4 November 2015 the European Parliament awarded the Framework Service Contract No P/A/ECON-BU/FWC/2015-057 – Lot 2 – Resolution of Banks to a consortium led by Queen Mary University of London (of which Professor Lastra is the team leader; other CCLS members are Rodrigo Olivares-Caminal and Costanza Russo). The framework Service Contract was signed on 13 January 2016 and is renewed annually for a maximum of 4 years. Briefing papers on bank resolution matters are published at Banking Resolution. In 2018 we were asked to write an in-depth analysis on Valuation Reports in the Context of Banking Resolution: What are the challenges? available here. In connection with one of the briefing papers (on critical banking functions), we were invited to contribute to the IMF Euro Area FSAP (Financial Sector Assessment Program) and held a meeting with staff of the International Monetary Fund in London to discuss our views on bank resolution and crisis management.
On 28 January 2015 the European Parliament awarded the five-year Framework Service Contract No IP/A/ECONMD/FWC/2014-026 to a consortium (of which Professor Rosa Lastra is a core member) led by the German Institute for Economic Research (DIW Berlin). Briefing papers are published at here. As part of this EU grant, Professor Lastra contributed: (1) a briefing paper with Charles Goodhart on the Interaction between monetary policy and bank regulation ahead of the Monetary Dialogue of 23 September 2015 with ECB President Mario Draghi; (2) a briefing paper with Michael Hachula, Michele Piffer and Malte Rieth on The Uncertainty after the Brexit vote: Economic effects and legal aspects ahead of the Monetary Dialogue of 28 November 2016; (3) a briefing paper with Mark Hallerberg on The Single Monetary Policy and its Decentralized Implementation: An Assessment ahead of the Monetary Dialogue of 25 September 2017; and (4) in July 2018, an in-depth study on Virtual Currencies in the Eurosystem: challenges ahead – co-written with Jason G. Allen available here. Dr Andromachi Georgosouli also contributed to this project.
Together with BIICL and Oxford.
A project coordinated by Professor Rosa Lastra and Sir William Blair at Queen Mary University of London, assisted by Andrea Miglionico and managed by Carlos Carvalho, which details and evaluates the impact of digital technology in the provision of financial services in the UK and internationally. The research examines the importance of the 'world of alternatives' - alternatives to money like virtual currencies, alternatives to credit like peer-to-peer and crowdfunding platforms and alternatives to payments, such as shadow payments - from the perspective of financial inclusion.
A series of annual lectures to be jointly organised by HSBC and by Sir William Blair, Prof. Rosa Maria and Carlos Carvalho at Queen Mary University of London (QMUL). The aim is to develop an understanding of financial crime globally, how technology is both driving it and can help combat it, and to develop a better appreciation of the challenges facing leading actors including financial institutions, regulatory agencies and central banks.
The institute publishes The Law and Economics Yearly Review Journal in collaboration with Queen Mary University of London. Professor Rosa Lastra and Professor Rodrigo Olivares-Caminal are on the editorial board. Professor Ioannis Kokkoris is on the advisory board.
The Law and Economics Yearly Review is an academic forum to promote legal and economic debate. The journal is published twice a year (Part I and Part II), by the Fondazione Gerardo Capriglione Onlus (an organization aimed to promote and develop the research activity on financial regulation) in association with Queen Mary, University of London. The Review faces questions about development issues and several other matters related to the international context, originated by globalisation. Delays in political actions, limits of certain Government's policies, business development constraints and the "sovereign debt crisis" are some aims of the journal's studies. The global financial and economic crisis is analysed in its controversial perspectives; the same approach qualifies the research of possible remedies to override this period of progressive capitalism's turbulences and to promote a sustainable retrieval.
Read more about the Law and Economics Yearly Review.