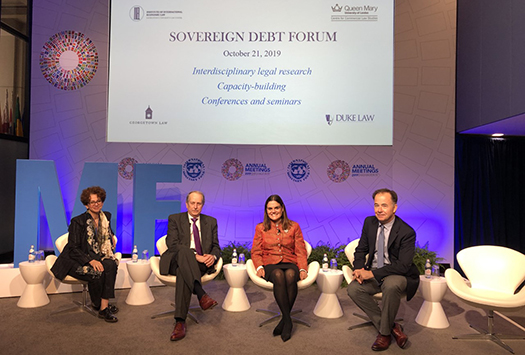 The Sovereign Debt Forum (SDF) is the result of a collaboration between Queen Mary University of London (Centre for Commercial Law Studies, CCLS) and Georgetown University (Institute of International Economic Law, IIEL) and was launched at the International Monetary Fund in Washington DC on 21 October 2019. In the spring of 2020, the European University Institute became a member of the SDF.
Professor Rosa Maria Lastra, Sir John Lubbock Chair in Banking Law and Chair of the Institute of Banking and Finance Law at the Centre for Commercial Law Studies (CCLS), is an academic director of the forum with Anna Gelpern (Georgetown). Visiting Professorial Fellow at the School of Law at Queen Mary, Lee Buchheit, is also a Founding Director of the forum with, Mitu Gulati (Duke), and Sean Hagan (Georgetown). Professor Rodrigo Olivares-Caminal, Professor of Professor of Banking and Finance Law at CCLS, Professor Ugo Panizza from Graduate Institute, and Mark Weidemaier of North Carolina University are affiliated scholars of the Forum.
Vision
The Forum serves as an interdisciplinary research hub and a platform for capacity building, policy development, and research-dissemination programs. The Forum's capacity building work focuses on low- and middle-income countries at risk of sovereign debt distress, as well as countries that have recently gained market access and have limited debt management experience.
Forum activities include:
Conducting and disseminating innovative, policy-relevant interdisciplinary research on all aspects of sovereign debt management
Development and delivery of capacity-building programs with emphasis on the legal aspects of sovereign borrowing, debt management, restructuring, and litigation
Convening experts, researchers and practitioners from diverse academic, policy, and market spheres; organizing conferences, seminars, and policy fora
Members
Georgetown Law Institute of International Economic Law
Centre for Commercial Law Studies, Queen Mary University London
European University Institute
Officials from the following governments and institutions are part of the Consultative Group for the Sovereign Debt Forum: African Legal Support Facility, Central Bank of Ghana, IMF Legal Department, the Dutch Ministry of Finance, HM Treasury (UK), Ministry of Finance (Germany), Paris Club Secretariat, US Department of the Treasury.
People
Academic Directors
Founding Directors
Affiliated Scholars
Selected Events
The Sovereign Debt Forum Launch took place at the International Monetary Fund in Washington DC on 21 October 2019, in conjunction with the Annual Meetings of the IMF and the World Bank. The program - organized by SDF Academic Co-Directors Anna Gelpern and Rosa Lastra together with IMF General Counsel Rhoda Weeks-Brown - featured remarks by Forum directors, affiliated scholars, officials from member universities, international financial institutions, the African Legal Support Facility, and the Netherlands Ministry of Finance. In addition, Official Consultative Group members representing the governments of France, Germany, the United Kingdom and the United States took part in the launch, along with a wide range of academics, civil society representatives, financial market participants, law practitioners, and policy makers.
Watch now: How to Manage the Coming Sovereign Debt Crisis. On 10 June 2020, Sovereign Debt experts and policy officials from the IMF and the World Bank consider the rising tide of debt distress, further aggravated by the COVID-19 pandemic, and review historical precedents, legal and policy options for managing the crisis in low- and middle-income economies.
The Fourth Interdisciplinary Sovereign Debt Research and Management Conference (DebtCon4) is scheduled to take place in September 2020 at the European University Institute. Format changes to adapt to the COVID-19 pandemic will be announced in June 2020. Past DebtCon conferences have featured keynote remarks by finance ministers and central bank governors, research presentations by leading scholars and practitioners in law, economics, finance, history, sociology and anthropology, and panel discussions of pressing policy challenges, from climate change to financial technology.
News
Bloomberg: With Virus Crisis Receding, Poor-Nation Debt Relief Stalls with Lee Buccheit
New York Times: Poor Countries Face a Debt Crisis 'Unlike Anything We Have Seen' with Mitu Gulati
Bloomberg Podcast: How The World Can Bring Aid To Emerging Markets? by Lee Buchheit and Mitu Gulati along with Ugo Panizza
La Nación, Argentina "Para el país y los bonistas, lo mejor sería tomarse un tiempo", dice el experto en deuda Mitu Gulati" by Mitu Gulati
Expansión: La crisis de deuda de los mercados emergentes necesitará un 'rescate' with Anna Gelpern
Rebuilding macroeconomics Webinar: Should Private Sector Debt Relief be part of the Exit Strategy?" by Rosa Lastra and Rodrigo Olivares-Caminal along with Alexander Douglas, Katharina Pistor and Franklin Allen
org: We need a Covid-19 debt standstill by Mitu Gulati along with Ugo Panizza
Project Syndicate: The Necessity of a Global Debt Standstill that Works by Lee Buchheit and Mitu Gulati, along with Patrick Bolton, Pierre-Olivier Gourinchas, Chang-Tai Hsieh, Ugo Panizza, and Beatrice Weder di Mauro
Born Out of Necessity: A Debt Standstill for COVID-19
CEPR Policy Insight No 103 by Lee Buchheit and Mitu Gulati, along with Patrick Bolton, Pierre-Olivier Gourinchas, Chang-Tai Hsieh, Ugo Panizza, and Beatrice Weder di Mauro
Born Out of Necessity: a debt standstill for COVID-19, LSE Webinar by Lee Buchheit and Mitu Gulati, along with Patrick Bolton, Pierre-Olivier Gourinchas, Chang-Tai Hsieh, Ugo Panizza, and Beatrice Weder di Mauro
Council on Foreign Relations: How Can Low-Income Countries Cope With Coronavirus Debt? with Anna Gelpern
Bloomberg: IMF Works to Speed Support for Record Developing-Nation Requests by Anna Gelpern and Sean Hagan
Le Monde: Avec le senior coronabond, les Etats européens pourraient emprunter sur les marchés obligataires en leur propre nom by Lee Buccheit
Peterson Institute for International Economics: Debt standstills can help vulnerable governments manage the COVID-19 crisis by Anna Gelpern and Sean Hagan
Financial Times: From coronavirus crisis to sovereign debt crisis by Lee Buchheit and Sean Hagan
World Bank-IMF Event Development And Debt In Lower-Income Economies - A Conversation Between Kristalina Georgieva And David Malpass by Anna Gelpern