Research environment and facilities
What a School you've got! I had wonderful interactions with so many people, and got terrific, inspiring and incredibly useful feedback on my work in both the research frameworks and more formal sessions, as well as in all the various informal gatherings. I so appreciated ... your colleagues' generosity intellectually
Professor Cindi Katz, Visiting Research Fellow and City University of New York
Research environment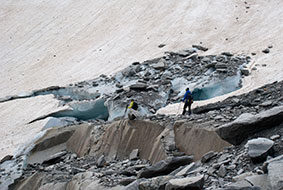 We offer a thriving and supportive research environment organised around our research themes: Culture, Space and Power; Earth Surface Science; Economy, Development and Social Justice; and Knowledge, Interventions and Networks in Health.
As members of one or more of these themes, academic staff and postgraduate researchers host regular research events including weekly Lunchtime Research Seminars, the David M. Smith Annual Lecture, and our Research Frameworks which allow more informal engagement with visiting scholars.
Regular research activities are also hosted by our interdisciplinary research centres:
Centre on Labour and Global Production
Research facilities
Postgraduate students in the School of Geography have desk and computing space in dedicated postgraduate offices with access to specialist equipment, software and technical support; as well as access to the staff and postgraduate common room and kitchen within the Geography Building. The School has invested considerably in our laboratory facilities, which are amongst the best of any Schools of Geography in the UK. In addition to the School of Geography's Laboratory and Field Suite, physical geographers and environmental scientists also have access to the laboratories located in the School of Biological and Chemical Sciences.
All postgraduate researchers are supported by the Doctoral College at QMUL, which provides a wide range of facilities and learning resources in the brand new Graduate Centre, opened in early 2017. The Graduate Centre provides excellent teaching and learning spaces for all postgraduate students, including a 200-seat lecture theatre, study spaces, seminar rooms, an open-plan group study area, landscaped courtyard and a café. As well as providing a work-base for taught and research students, the seven-storey building also provides ample space for socialising and interaction amongst students encouraging idea generation and collaboration; as well as work areas tailored specifically to the needs and working patterns of postgraduates. Take a look at the Graduate Centre here.
Your professional development requirements are also supported by the Centre for Academic and Professional Development.