Projects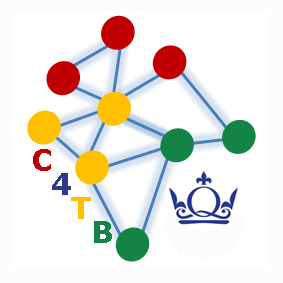 Some of the projects developed at the C4TB:
CORBEL: Integrating EU-wide cardiovasular research datasets;
HDRUK: A Cardiovascular Translational Biomedicine Platform for HDR-UK;
ADNI: Alzheimer's Disease Trajectory Prediction using Machine Learning;
PPMI: Parkinson's Progression Markers Initiative Data Analysis;
RNASeq: Mouse Transcriptomics Data Analysis using Machine Learning;
Development of R software packages for cluster analysis of omic data, for the aim of patient stratification and single cell RNA-seq analysis;
PSORT: Psoriasis Stratification to Optimise Relevant Therapy;
RA-MAP: Rheumatoid Arthritis Map;
IMID-Bio: Immune-Mediated Inflammatory Disease Biobanks;
IMPC: International Mouse Phenotyping Consortium;
Exomiser: software package development;
PheneBank: a database of disease, gene and phenotype associations from the literature;
Effects of ubiquitination pathways on the immune system, and their impact on autoimmune rheumatic diseases;
Pathway analysis of Genetic and Genomic data: Genome-wide association studies (GWAS) and exome studies of complex trait pathology and drug response, including, Hypertension, Arrhythmia and Cardiovascular disease;
Exome and Whole Genome Re-sequencing: NGS pipeline development, Re-sequencing studies, causal variant identification and functional analysis;
Multi-Omics and Stratified Medicine: RNA-seq based transcriptomic analysis, proteomics and epigenomics for biomarker identification and stratification of medicine response in Inflammatory diseases;
Trauma Injury Research: Transcriptomic and epigenomic analysis of early response to trauma injury as determinant of patient clinical trajectory in critical care;
Chemogenomics and Drug Discovery: Target identification and druggability assessment, Chemogenomic analysis and connectivity map analysis. Drug Repositioning;
Clinical Informatics: Development of Clinical datamarts to support translational research and stratified medicine. Currently developing i2b2 and TranSMART based systems;
Cloud Computing: Development of virtual machine infrastructure for flexible scientific cloud computing across omics and clinical informatics applications.
IMI Necessity - New clinical endpoints in primary Sjögren's syndrome: an interventional trial based on stratifying patients.
The CLUSTER Consortium - a MRC funded UK-wide consortium that aims to transform treatment for children & young people with Juvenile Idiopathic Arthritis (JIA) and Uveitis.
The C4TB team are working across diverse domains, including genomics, drug discovery, stratified medicine, high performance computing and health informatics with a unified objective to drive forward translation into the clinic.

— Michael Barnes