Dr Evi Argyriou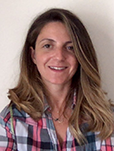 Lecturer in Psychology
Email: p.argyriou@qmul.ac.ukTelephone: +44 (0)20 7882 6894Room Number: Fogg 2.02Website: https://qmul.academia.edu/ParaskeviArgyriou
Profile
Qualifications
BA Greek Language and Linguistics (University of Athens)
MSc Applied Linguistics (University of Athens)
MRes Speech, Language and Cognition (UCL)
PhD Psychology (University of Birmingham)
My research area is the psychology of language and communication (including non-verbal communication), and the overarching goal of my research work is to understand how language interacts with other aspects of cognitive functioning and influences human behaviour. More specifically, in my PhD I demonstrated a hand-specific effect of gestures on speech, such that left-hand gestures enhance figurative language processing. Currently, I am working on a project (initially funded by the British Academy) which investigates the relationship between gestures and empathy.
As an educator, I am dedicated to teaching excellence and I am very keen to enhance student experience and employability. I have presented my scholarship projects in HEA Conferences, with a particular focus on improving assessment and feedback, and diversifying the curriculum. I am also the co-ordinator for the psychology programmes with professional experience and year abroad, and I am happy to provide relevant advice.
I am keen on bringing researchers together to disseminate outcomes of their work. I have successfully organised research events in my previous role at the University of Manchester and I will be hosting an EPS research workshop in 2021 at QMUL focused on the current trends and future directions on embodiment and social interaction.
I am a member of the Experimental Psychology Society and a Fellow of the Higher Education Academy.
Teaching
Emotion (PSY127)
Cognitive Psychology (PSY211)
Business Psychology (PSY318) [this is a new module introduced in 2020/21]
I also serve as a tutor and as a final-year research project supervisor
Research
Publications
Argyriou, P., Mohr, C., & Kita, S. (2017). Hand Matters: Left-Hand Gestures Enhance Metaphor Explanation. Journal of Experimental Psychology: Learning, Memory, and Cognition, 43(6): 874-886.
Argyriou, P., Byfield, S., and Kita, S. (2015). Semantics is crucial for the right-hemisphere
involvement in metaphor processing: Evidence from mouth asymmetry during speaking. Laterality: Asymmetries of Body, Brain and Cognition, 20 (2): 191-210.