---
"Hello everyone and happy Pride Month 2022!
This year's Pride Month marks a significant moment for LGBTQA+ people, as we celebrate 50 years of progress since the United Kingdom's first parade was held in London in 1972.
At Queen Mary, we are proud to running a programme of events and activities across the University that focus on the theme, 50 Years of Pride, creating space for celebration, reflection, new knowledge and growth.
I hope everyone, staff and students, take the opportunity to engage with activities throughout Pride Month 2022."
- Sheila Gupta, Vice Principal for People, Culture and Inclusion
In the UK 2022 is an especially important year in LGBTQA+ history as it marks the 50th anniversary of the first UK Gay Pride organised by the Gay Liberation Front (GLF). This took place in London on 1st July 1972 (chosen as the nearest Saturday to the anniversary of the Stonewall riots of 1969).
This followed the GLF's first LGBT+ march on 28th August 1971 that demanded an equal age of consent and the first LGBT+ protest in Britain on 27th November 1970 against police harassment, also organised by the newly-formed GLF.
Check out Queen Mary's programme of content and activities throughout Pride Month. This page will be updated throughout the month, so do check back.
Take part in…
Lunch & Learn: Exploring and Understanding Asexual Identities and Desire through Language - Monday, 27 June 2022, 14:00 – 15:00
Have you ever wondered what the A in LGBTQA+ stands for?
Are you curious about how we think and talk about attraction and desire?
This lunch and learn will introduce asexuality and draw on academic research to understand this emergent identity and draw important lessons about attraction each of us can learn from the asexual community.
Whilst drawing on academic research techniques (linguistic ethnography), the content is designed to be accessible to all, regardless of identity, qualifications, discipline, or lack of.
This session will be run via MS Teams, with an opening key note followed by informal Q&A and discussion. Feel free to bring lunch and participate.
Delivered by Alex Prestage, Head of EDI, Queen Mary University of London
*Please note this event has now taken place, however you can still find out more about asexuality and how to be an ace ally via these resources:
Active Bystander Training
To support LGBTQA+ Pride Month we are running an Active Bystander session on the morning of 15 June that will give you the tools to challenge incidents of homophobia, biphobia and transphobia, as well as other unacceptable behaviour. To book your place, visit our course booking site and search for Course Code PD230.
Read our…
For this year's LGBTQA+ Pride Month, we want to highlight your stories using your own words and voice. We would like to celebrate stories of your personal journey, individuality, your community, and being proud of who you are.
Hear from our LGBTQA+ community and allies about what Pride means to them.
Want to share your story? Tell us 'What Pride means to you'!
We are accepting profiles throughout Pride Month to share with our Queen Mary community. Please send your submission (approximately 200-300 words, along with a photo) via email to Darren Hunwicks (d.hunwicks@qmul.ac.uk) with the subject line 'What Prides means to me - Submission 2022'.
Keep an eye out for...
An exciting Instagram takeover from our alumni!
A special LGBTQA+ Alumni podcast - To acknowledge and celebrate Pride 2022, the Alumni Engagement Team will be releasing a special podcast episode which will explore the richness and nuances within the LGBTQA+ community, progress made to progress the rights of LGBTQA+ individuals, and what still needs to be done to bring about full inclusion, acceptance and rights to the LGBTQA+ community.
Blogs posts throughout the month!
Pride Alumni profile - Jawying Honey Lyster
This Pride Month, we spoke to Jawying Honey Lyster (Comparative Literature BA, 2014), who champions the contributions of LGBTI communities in Asia and the Pacific in her role with the UN. In her profile, Jawying talks about her experience at Queen Mary, how she got into her role and why it's so important that we continue to strive to promote justice for LGBTI persons who are often excluded from their wider communities and legal systems.
Pop-up stands around our campuses - have a chat with members of the Equality, Diversity and Inclusion Team and collect a rainbow lanyard to signify you commitment to providing a safe and comfortable environment for all of our LGBTQA+ staff and students (or request one).

Whitechapel campus, Garrod and the Blizard buildings, Thursday 30th June 12.00-3.00pm
The pop up will be at the Garrod building from approximately 12.00-1.30pm and then at the Blizard building, in the main space by the stairs going down to the labs from approximately 1.30-3.00pm.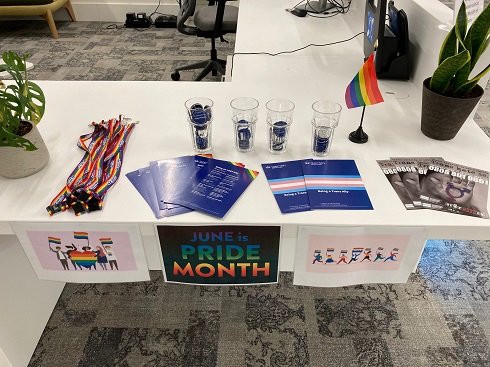 Dept W Pride Month display - if you are in Dept W you can pop by the Staff Hub on the 1st floor to collect a rainbow lanyard or pronoun badge.
Running an event or activity for Pride Month that doesn't appear above? Send details anytime during Pride Month to Darren Hunwicks (d.hunwicks@qmul.ac.uk) for it to be added throughout the month.
Looking for external Pride Month events?
Pride in London
Find out more about LGBTQA+ events for the queer community taking place across the city, via the Pride in London webpage.
UK Black Pride
UK Black Pride is Europe's largest celebration for African, Asian, Middle Eastern, Latin American and Caribbean-heritage LGBTQI+ people. This year UK Black Pride's 2022 in-person celebration of collective power will take place on Sunday, 14 August, 2022.
Looking for future Pride events?
Bi Pride will be holding their first ever online and in person Bi Pride on Saturday, September 3rd 2022 - 2pm to 10pm. The event will feature an array of artists and performers as well as various panels and interviews. Bi-Pride will be holding their event at Queen Mary Venues in The People's Palace on Mile End Campus.