Inside the lab testing thousands of NHS samples for COVID-19
Queen Mary University of London has been providing support to the UK Lighthouse Labs Network – the national COVID-19 diagnostic lab network. As well as donating a number of laboratory machines, a team of research staff have been seconded to help test thousands of samples from NHS workers every day.
Dr Neil Dufton, Lecturer in Inflammatory Sciences at Queen Mary's William Harvey Research Institute, has been volunteering at one of the Lighthouse Labs in Milton Keynes and shares his experiences in this blog post.
Published on:
For me the worst thing about the lockdown is not the isolation but the feeling of uselessness. As soon as the call for volunteers to help with COVID-19 testing was emailed around the institute, my wife and I immediately signed up, eager to use our lab skills. We were both called up by the COVID-19 response team at UK Biocentre and asked if we could go to Milton Keynes to help. They needed people for 12 hour shifts, 3-4 days a week. With juggling childcare we decided that just one of us could go.
I drove up early on a sunny April morning on an eerily quiet M25 and M1. I was quite surprised when the Sat Nav led me to a business park on the outskirts of Milton Keynes passing numerous warehouses including the home of Red Bull racing.
The UK Biocentre was just another unremarkable office block - which belied the preparations inside for becoming the national hub for testing COVID-19 samples for front line NHS staff. As I parked up I could see a queue of volunteers snaking out of the front door. We formed a socially-distanced queue but it very quickly became obvious that this was not possible once we got inside – we were there to work together.
Once registered, the 30 volunteers of my cohort were funnelled into an empty office space which had hastily been converted for staff induction. The first couple of hours were spent working our way through health and safety, human ethics, diagnostic lab regulations and legal requirements and finally a tour of the site. It was quite frankly jaw dropping!
Building a mega-lab in two weeks
The labs are usually home to around 30 staff processing and archiving human samples, with a floor dedicated to more than 120 freezers, and eight huge, fully robotic, ultracold storage units. The lab spaces had been completely re-purposed in just two weeks to cope with the projected influx of samples, while a brand new five-a-side football pitch sized mega lab was being built from scratch. This was quite something to have watched being built one week and then working in it the next.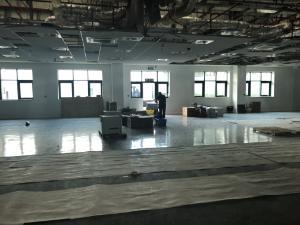 Contractors were putting the floor in that day. The army were also on site bringing construction supplies, lab equipment and PCR machines from universities (including ours) and government testing labs from all over the country. This was to be the first of the three Lighthouse labs (With Alderley and Glasgow coming online the following week).
On my first day we had a brief introduction to the labs, following each of the processes in the work flow to take the sample from the swab to the PCR. Each step was being constantly reviewed to go from manual to high-throughput liquid handling robots. Head spinning from the whistle stop tour, I agreed to start the next day.
Working through thousands of samples
Swabs are delivered at around 6 am every morning, and operators like me arrive for a briefing at 8 am sharp. This is an opportunity to get an update on the statistics, such as number of samples and success rates, alongside any changes to the process (which were occurring almost daily as new robotics came online).
Initially we were three operators to a bio-hazard safety hood rotating through three tasks. The first is to register each sample using a barcode on the outer bag and confirm this matches the barcode on the side of the tube within. This allocates each sample a place in a 96 well plate and is passed to the second member of the team 'the witness'. They oversee the right sample is placed in the right well by the third team member who is in the safety cabinet. Once they receive the swab it is safely unbagged within the hood, sampled and placed into each well, with the witness checking at every stage. Each plate takes about 1.5 to 2 hours to process.
The complete plates are then processed by a sequence of other teams and machines, which process the genetic material from the sample and are analysed for presence of the virus. From registry to result it takes about 8 hours. The next day the team on shift is given the daily feedback and the process starts again.
'An intense but incredibly rewarding experience'
The atmosphere on site is brilliant and it's a really diverse group of volunteers, UK Bioscience staff, civil servants and the army, all coming from all across the country. It is a very strange but incredibly heartening experience with everyone from top to bottom working with a shared single goal. It has also been great to work together with colleagues from the William Harvey Research Institute, with Vanessa Lowe, running PCRs, and James Whiteford, as the shift co-ordinator.
I have never worked in a diagnostic lab before so the level of individual sample tracking, witnessing of every action and inclusion of multiple robotic machines is a very different experience.
On top of this we are also aware of the individuals we are testing. Each is from a member of NHS staff, with 1 in every 3 samples we test returning a positive result. Because of the national importance of testing, we also all feel like we are in a fish bowl particular with the likes of Matt Hancock visiting one day and ITV news the next (I even made an appearance in full PPE on both the 6 and 9 pm news). All of these things make it a very intense but incredibly rewarding experience.