Alumni view: "Our time at Queen Mary laid a brilliant foundation for our future"
Shahid Dharamsi (MSCi Pharmaceutical Chemistry, 2015), Digital Finance Manager at EY.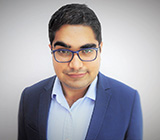 "In September 2011, I began a four-year journey that would end with a Masters degree in Pharmaceutical Chemistry. As a proud alumni, I take myself back to the first day – walking through the East Gate and looking at the Joseph Priestly building wondering whether I had made the right decision to take Chemistry at university level.
"It struck me that this was actually happening – the lectures, the workshops, the experiments – I had arrived. Over the coming semesters I found that confidence replaced my uncertainty in relation to carbon chains, bass in my voice replaced the indecision when it came to matter and anti-matter, but most importantly I felt that I belonged.
"I enjoyed physical chemistry, and with lectures and guidance from Dr Zarbakhsh, I got a First Class in my fourth-year thesis entitled: The Characterisation of Surface Biocompatibility.
"Queen Mary nurtured my strengths and boosted my confidence to such a level that I felt I could achieve anything. From the lecturers and lab assistants, to friends and fellow students; there is a sense of belonging that I have been unable to recreate beyond university. I often look back at my university career, citing it as my biggest achievement to date."
Indigo Dean (BSc Chemistry, 2015), Application Laboratory Technician - Cosmetics at RAHN-UK.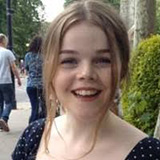 "Since studying Chemistry at Queen Mary, the door has opened to so many opportunities and industries. After completing my Bachelors degree in 2015, I obtained a position within the Teaching Laboratories as a Chemistry Teaching Technician.
"It gave me such a great insight into how the undergraduate practicals are prepared and I was able to help and give first-hand advice to the students.
"After two years, I moved onto Martindale Pharma, a pharmaceutical company specialising in bespoke medicines. I gained valuable experience of life in industry and a GMP environment but I felt that I suited a more creative field. This led me to my current position at RAHN UK, a cosmetic ingredient supplier and distributor. I work in the laboratory formulating new cosmetic concepts that contain specialised actives. I am able to think of new ideas and bring them to life within the lab!
"The cosmetic industry is constantly changing which makes it fresh and exciting. It has given me the opportunity to advance my scientific knowledge and build on the fundamental skills I developed at Queen Mary."