Alumni profile - Mary Ojo
My time at Queen Mary showed me that I am at my best when serving others, so I plan and hope to engage with organisations delivering innovative solutions, to solve complex issues, for the public good.
(History BA, 2017; MA, 2019)
Published:
Why did you choose to study History at Queen Mary?
I chose to study History at Queen Mary mainly because of the diverse module options at the School of History. I also enjoyed A level History, and I wanted to continue learning about a range of different histories. After attending a taster course and open day, my interest grew, and I was certain that Queen Mary would be my first choice.
What aspects of your undergraduate degree did you find most enjoyable and was there anything that surprised you in your studies?
I enjoyed the different opportunities to engage with the student community. I became a student ambassador, course representative, Afro-Caribbean Society (ACS) president and Peer Assisted Study Support mentor; in second year I managed the PASS programme for the School of History.
I was surprised by the diversity of the module options. For example, I studied Europe in a Global Context, and it really was an examination of Europe from a global viewpoint. The module included a range of perspectives, histories and approaches, there was something for everyone to engage with. Furthermore, I was inspired by the passion of the academics in the department.
How did these extra-curricular activities enrich your experience at Queen Mary?
I found that being involved in these roles also helped me remain consistent academically. Additionally, as a commuter student, it helped me feel a part of the student community. It also allowed me to connect with many wonderful students and staff, across the Queen Mary Community. As a result of my engagement, I was elected Vice President Education in 2017, this led me into a full-time role after my undergraduate degree. I'm especially grateful for the unique friendship I have with Ahmed Mahbub (Vice President Welfare 2017 – 2018 and QMSU President 2018-2019) and Dr Rakin Choudhury (Vice President Barts and London 2017-2018).
You went on to study your masters at Queen Mary. What motivated you to continue your studies and what was the application process like?
I was motivated by my passion for history, which developed during my undergraduate degree. I had the opportunity to attend a variety of lectures, I enjoyed the research process and being part of the Queen Mary community. The process was fairly straightforward, I found focusing on my areas of interest helped with writing the application.
What was the focus of your postgraduate research and what was your postgraduate experience like in general?
My postgraduate research focused on Pan-Africanism and Communism during the cold war (1945-1960). I utilised sources from the British intelligence service to demonstrate the misconceptions of Pan-Africanism, and their leaders. In general, my experience was positive, I focused on my research, attended academic conferences, and continued as a course rep for MA History.
Can you describe your career path to date and what you do now?
Following my postgraduate studies at Queen Mary, I worked in the NHS for 18 months, where I trained as a student midwife, which was an unexpected shift. I was looking to enter a role that aligned with my values, and due to long term interest in science and maternal health, I chose to study Midwifery. I delivered six newborns, before switching paths. I moved back into Higher Education, working in student engagement, conducting and coordinating research. I presented at sector (UUK) and internal conferences. I am now on a project management programme at the Parliamentary Digital Service.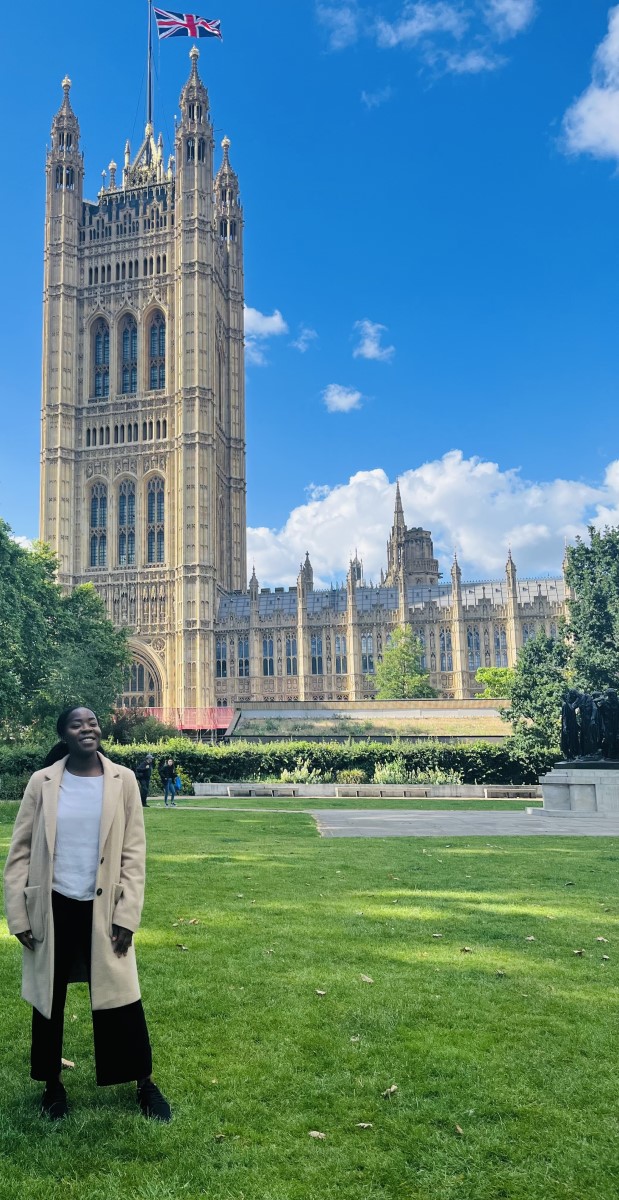 As an Apprentice Project Manager, I am training towards an Associate Project Management qualification, while gaining experience and delivering projects across the parliamentary estate.
How did your history degree help prepare you for your career and are there any skills that you gained from your degree that you still use today?
My history degrees provided me with key transferable skills such as scheduling, time management, data analysis, database management, writing and presentation skills. Nonetheless, I developed many crucial skills from my engagement in extra-curricular activities. These include leadership, management, stakeholder management, stakeholder engagement, budgeting, risk management, networking, communication skills and planning.
What are some of your favourite memories from your time at Queen Mary?
Some of my favourite memories include project managing Charisma, which is an annual cultural showcase, produced by Queen Mary's African and Caribbean Society. It was exhausting and difficult, but I enjoyed the thrill of late nights and early mornings. I really enjoyed welcoming student representatives from Twente University in the Netherlands to Queen Mary with my fellow executive officers. I particularly enjoyed all the work I supported with the Widening Participation Team. From delivering lectures, workshops, summer schools, to creating promotional videos and supporting open days; I enjoyed every moment. I come from a low-income household, so I am grateful for every opportunity I had to support their strategy.
What are your hopes and plans for the future?
I hope to continue engaging in work that fulfills and inspires me. My time at Queen Mary showed me that I am at my best when serving others, so I plan and hope to engage with organisations delivering innovative solutions, to solve complex issues, for the public good.
This profile was conducted by Alumni Engagement Coordinator, Nathalie Grey. If you would like to get in touch with Mary or engage her in your work, please contact Nathalie at n.grey@qmul.ac.uk.