Kamran Khan (French and Geography BA, 2008)
When the role I am in now came up, it felt like a sign - firstly because it was within the sector that I had my heart in but had yet to pursue, and secondly, because I was much more secure in my queer identity and I felt that being able to work at an organisation that affirms, supports, and advocates for LGBTQ+ people, was something I had to focus on.
Published:
Why did you choose to study French and Geography at Queen Mary and what did you enjoy most about the course?
As random as that combination sounds, I just loved those two subjects at school - I felt that both subjects (and Human, rather than physical, geography in particular) spoke to my interests in people, communication, and politics.
If I am honest, Queen Mary wasn't necessarily my first choice until I came to the Open Day and felt like there was a strong and cohesive student dynamic. The overview of the French and Geography departments just gave me such a buzz - it's so weird thinking back to that time and remembering all those emotions and feelings!
I enjoyed the flexibility of the course - there was such a breadth of topics that I could choose, so in one day I might be talking about French art of philosophy and then go to a lecture on ecofeminism or population studies. I was being exposed to so many different perspectives and lived experiences every day, which was overwhelming at first, but I quickly adapted and embraced it and I feel like this passion hasn't gone away (13 years later!!).
What are some of your most prominent memories from your time at Queen Mary?
Meeting friends that I am so incredibly close with till today - our catch ups after lectures in bar Med in particular (is it still called that?) and their curly fries randomly stick in my mind.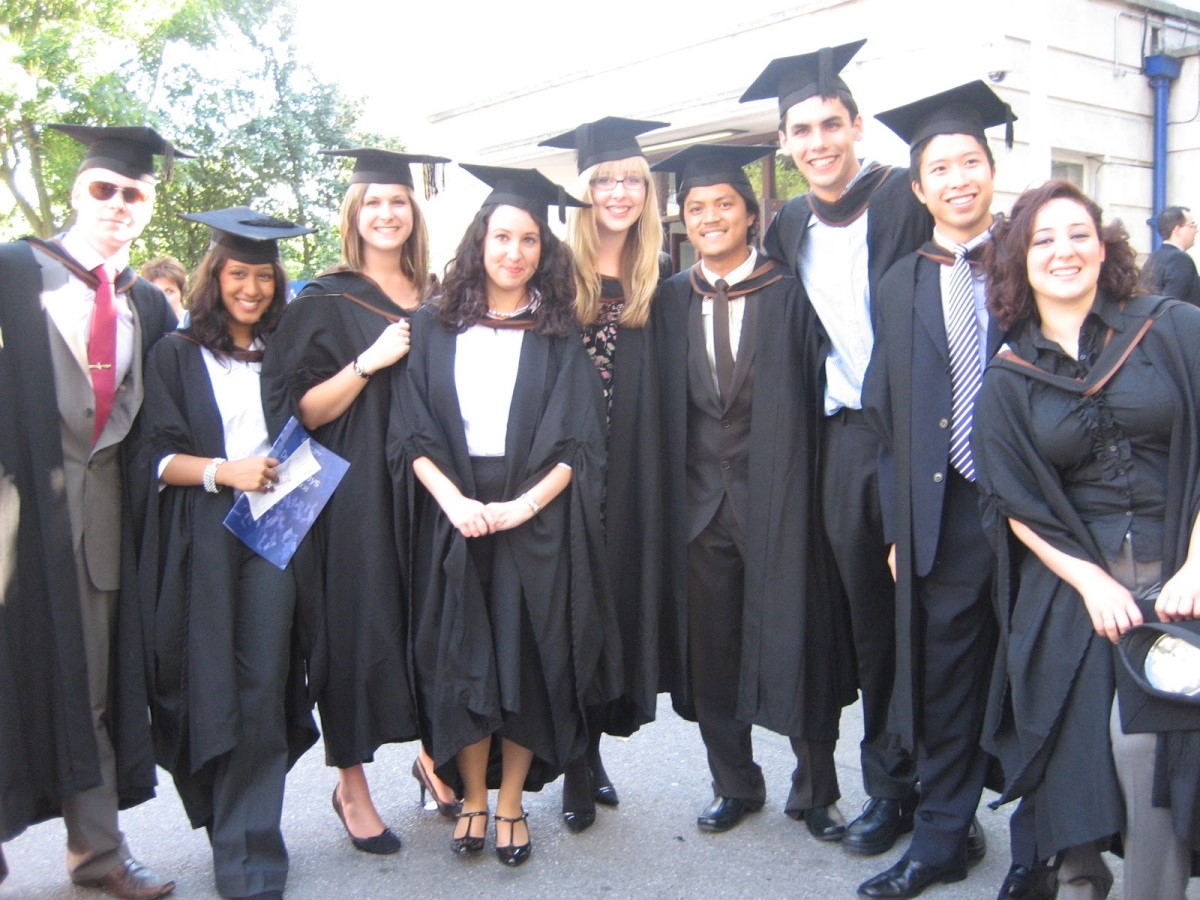 Kamran with his friends at their graduation ceremony.
Also, the year abroad in France - I lived and worked in Lyon for a year and that was an experience of overwhelmingly positive and character-building experiences! This helped remind me of the protective and idealistic progressive bubble that university nurtures for the most part and what society is beyond this.
Can you describe your career path to date and tell us about your role at the LGBT Foundation?
I left university quite idealistic - I graduated in 2008 at the height of the financial crisis so all the charities and NGOs I had been contacting were looking for more fundraising/income generating roles rather than in policy and research where I wanted to focus my job search. I therefore decided to go abroad and find a public policy or non-government organisation to work for and this ended up with me securing a placement at an NGO in Indonesia. In the interim, I worked two temporary jobs to save up the money for my year abroad.
I was in Indonesia for 8 months and worked all over the country on various research and advocacy programmes, mostly around highlighting and exposing corruption in how money was allocated to the education sector. This was an eye opening and life changing experience for me, as I had the opportunity to meet with UN representatives, government funding agency reps from the UK, US, the EU, Australia, and New Zealand, and ambassadors. What became very apparent to me was the impenetrable ceiling that was presented before me - the sector was incredibly incestuous and favoured a very mundane copy and paste privileged type of person. In multiple situations, and in slightly different ways, my mixed ethnic background and English accent made me feel incredibly 'othered' by these western representatives, with one actually making an (incorrect!) assumption that I was the privately educated child to diplomats - I had to correct him by saying my parents were both nurses in the NHS and I was state educated. I still remember the look on his face when he realised I was not of the same stock.
Working at a charity has been an eye opener. Every single one of my colleagues embodies passion and integrity on a level that I have never been exposed to in any place I've worked. I have never been surrounded by such fire to support marginalised people.
I came back to the UK slightly defeated that my career plan was not on track but felt the best thing I could do was continue applying to multiple NGOs in the UK whilst continuing to work in temp jobs. None of these opportunities turned into jobs, however my temping soon turned into employment with the NHS, and that's where I fell into the 'wild' world of project management.
I spent the next 6-7 years moving around the public sector, mostly in project manager roles, and then moved into Local Government as a transformation and change professional. I kept close to the public sector as I wanted to feel like the changes I was delivering still had as positive an impact as possible on people, so whether it was recruiting NHS staff, dental regulation, education inspection policy, to transforming workforce culture, I could feel a tangible link to improving people's experiences for the better.
I did, however, feel there were fundamental limitations, and being a bit older and more aware of my value system, I felt that, at times, there were clashes with my personal ethics and morals in decision making. I therefore felt that my time, for now, had come to an end in the public sector and I started to look wider into the charity sector. When the role I am in now came up, it felt like a sign - firstly because it was within the sector that I had my heart in but had yet to pursue, and secondly, because I was much more secure in my queer identity and I felt that being able to work at an organisation that affirms, supports, and advocates for LGBTQ+ people, was something I had to focus on. I applied and here I am today being a professional queer! hah!
What do you love about working for a charity and how does your job allow you to explore your passions?
Working at a charity has been an eye opener. Every single one of my colleagues embodies passion and integrity on a level that I have never been exposed to in any place I've worked. I have never been surrounded by such fire to support marginalised people. There is such solidarity and respect for one another and there is a nurtured and supportive culture of learning (and un-learning) as we seek to ensure we are truly intersectional at our core. In a very short space of time, the role has taken me beyond exploring my passions; I have been exposed to new passions and affirmed my own identity; it has felt like 'coming home.'
What does LGBTQIA+ History Month mean to you and why do you think it is important that we acknowledge the contributions of LGBTQIA+ people throughout history and in present times?
It is important that it exists because LGBTQ+ (like Black and Brown and other marginalised and minoritised) history is so absent from our curriculum and therefore having time dedicated to have space to talk about events in history is so vital to demystify, challenge, and dismantle structures and opinions that have rendered our identity invisible or mis-represented us.
I think right now, especially in the UK, unfortunately we see a wholesale attempt at disrupting the many rights we are fighting for in the LGBTQ+ community and beyond. Learning about our history is therefore vital as it gives us an appreciation of how long this spans, but also how our fights of today are so rooted in the struggles of the past. It also gives us the opportunity to be grateful and to celebrate the brave people who fought before us, and we owe it to them to keep on fighting in their memory towards their ultimate goal for justice and equity. Some people have become complacent with how 'liberal' our laws are now and do not believe that there could possibly be any issues within the LGBTQ+ community - our experiences and challenges today are directly linked to the on-going struggles of privilege and that is compounded when thinking about how other intersectional marginalised identities come into play here too.
You've shared that you weren't ready to come out when you were at university. How did that affect you and how did you come to a place where you were ready?
I shared my sexuality with a few close friends at uni but didn't engage in anything related to LGBTQ+ life/events in and out of uni. There was a lot at play (in retrospect, fortunately just in my mind); my mixed Chinese and Pakistani cultures and my Muslim upbringing made me feel, at times, that my destiny had already been written. I was too scared and unsafe to be more open than with a few dear friends who I knew would always support me. I felt that this part of my life was on hold as I became comfortable pushing my sexuality into a box and not engaging with it explicitly, however this would become uncomfortable when the odd person would ask if I was gay or not - I wanted to scream "yes, I am so freaking gay!" but built in my head the mess that my life would spiral into if I admitted it publicly. Psychological safety was nonexistent, so my coping mechanism was to deflect, but this was so damaging for me.
It would be another good four years before I would feel confident enough and that was molded around a number of things - more friends were aware and supporting me, I had gone on a journey of reconciling my religious queer identities thanks to some amazing organisations and people, and that gave me so much validation, I met more wonderful queer people who encouraged me in a supportive way to explore my sexuality more, and in this time met my amazing partner who I am still with today. In addition to this, I was also earning a bit more money in full time employment so I had financial stability and I had moved out of my home. I felt the structures around me would support me coming out to my family, which I did, and it wasn't a linear happy story, but it was one that could not have gone better in my eyes.
I wasn't able to navigate the multiple 'lives' and versions of me to my family, my partner, friends and colleagues, so I'm grateful that I got to a psychologically safe place to do this. My only big regret was that my mum passed away before I could tell her, but I remember her telling me when she wanted to have a conversation about my sexuality when I was a teenager that it didn't matter if I were gay or not and that she would love me the same regardless and whatever the cost to her. I owe her a lot and my strength and certitude in my identity is fueled by this unconditional love. I am so fortunate to have had that.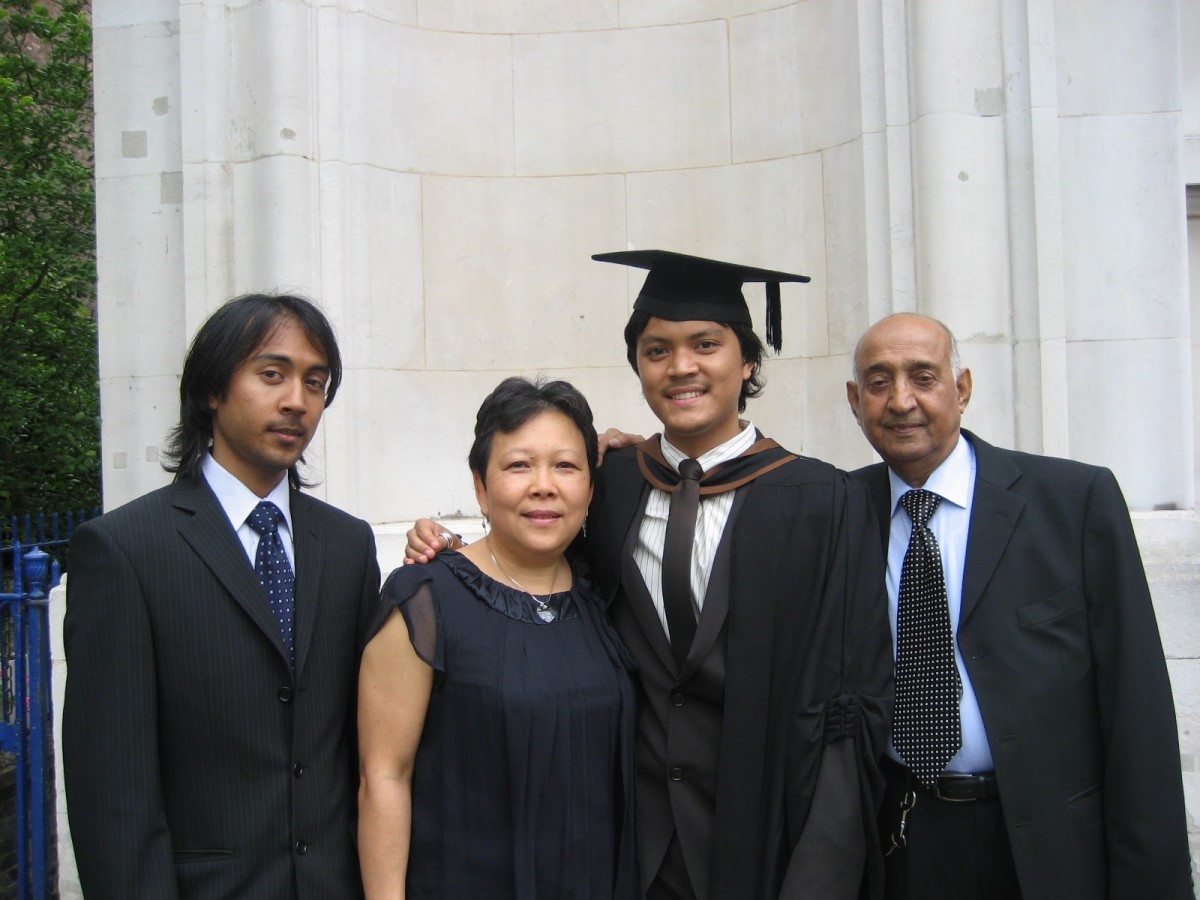 Kamran at his graduation with his mother, father, and brother.
Do you think society has come a long way since you were a student and in what ways do you think the experience is different for young LGBTQIA+ people today?
Society has definitely progressed in a good way - there is more open discussion and acknowledgement that life is more than a binary identity. Discussions about authenticity are much more apparent - there are more discussions about not feeling like we have to mold ourselves or play a role to fit in, however our experience will still be marginalised as our systems and structures are built to support a cisgendered and heteronormative way of life. There's also so much information, groups, and discussions to access on social media and other virtual and physical places.
What do you think still needs to be done to give greater equality and representation to the LGBTQIA+ community?
Gosh, where to start with this! Reform the Gender Recognition Act - gender identity should be solely a personal decision and not one for others to diagnose! Ban the awful practice of conversion therapy which is nothing more than coercive and violent abuse! I would like us to stop debating things where no debate is needed - we shouldn't be debating any of the above - people's sexuality and gender identity is not up for debate, it's about human rights. I would actively give the platform to the intersectional experiences of the full LGBTQIA+ community - we need more visibility from Queer People of Colour, Trans and non-binary folk, queer disabled people and all the many other identities that are currently rendered invisible. Representation is fundamental to changing people's hearts and minds.
What do you love about belonging to the LGBTQIA+ community?
The diversity of the community - the acronym says it all. It is more than lesbian and gay people; it is a whole wonderful community of people who have diverse sexualities and gender identities. For me, being queer almost feels like being in perpetual revolt against a system. I do not want to embody anything that the state sees as 'normal' and so our queerness shakes that foundation. I am obviously not naive and there are a number of challenges even within the community, and an attempt by others to divide and conquer how we identify as a cohesive community, but I love how the community roots themselves in other causes too, as our experiences are shaped by other identities and societal events - being active and present in the plight of Afghan refugees, the on-going fight to kill the Police, Crime, Sentencing and Courts bill amendments, the rise in living costs and such a plethora of other things - it's this solidarity that keeps the fire in my belly.
Do you have any words of advice or support for young LGBTQIA+ people today?
Our journey and where we start is shaped by our life circumstances, so do not feel like there is any prescribed LGBTQIA+ checklist you need to follow. The fundamentally important thing is psychological and physical safety - if you're able to surround yourself with supportive friends and family then that's great, if not, there are groups and charities (Like LGBT Foundation and university societies) that can support you in multiple ways. For those on that journey - it's exactly that, it's a journey (it's not a linear one either) and one that will hopefully help build you into a more assured version of yourself and one where you will hopefully become fearlessly authentic and inspire others in a similar situation to you.
This profile was conducted by Alumni Engagement Coordinator, Nathalie Grey. If you would like to get in touch with Kamran or engage him in your work, please contact Nathalie at n.grey@qmul.ac.uk.