Distinctive 1960s university chapel recognised as East End landmark
The unusual domed chapel at Queen Mary University of London's Mile End campus has been recognised as an important East End landmark, receiving a Grade II listing from English Heritage.
Published on:
Described as 'a distinctive contribution to the streetscape', the St Benet's Chaplaincy building on Mile End Road is owned by the Church of England, and its chapel and lounge are used by QMUL staff and students for meetings, social events, quiet study, meditation, and midweek interdenominational services of worship.
"I'm delighted that English Heritage has recognised the significance of our beautiful chapel," says QMUL's chaplain, the Rev Jenny Petersen.
"That grey quirky exterior barely does justice to the treasure within. We're surrounded by noise and traffic - the underground even rumbles beneath us - but the chapel somehow remains a peace filled, quiet haven for anyone who wants to pray or be still."
The chapel was designed by university architect Edward Playne (1907-1997) and built in 1961, in an attempt to achieve 'architectural unity' as the QMUL campus expanded between 1945 and 1967. It occupies part of the site of the Victorian St Benet's Church and Mission Hall which was built in 1872 but heavily damaged by bombs in 1940.
With its dome implying a place of worship without the overt symbolism of any particular faith group or denomination, the chapel reflects the inclusive outlook of a university place of worship.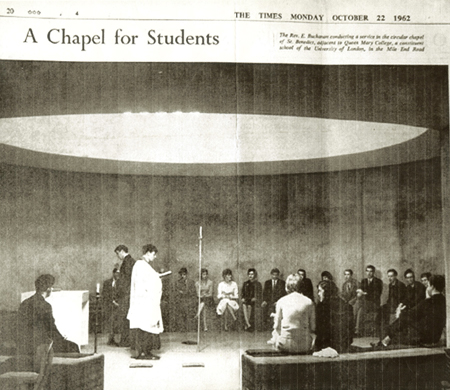 The chapel's 1964 mural, The Apocalypse of St John by Polish-born artist Adam Kossowski (1905-86) is noted as 'the principle claim to interest in St Benet's' by English Heritage. The mural has long been regarded as Kossowski's crowning achievement.
Kossowksi's work became strongly associated with a post-war Catholic revival, and while the majority of his pieces are located in Catholic churches, notably Aylesford Priory in Kent, the St Benet mural is a relatively rare instance of an Anglican commission.
An intensely religious man, Kossowski was especially interested in the symbolism of the Book of Revelation and English Heritage note that, as a former Polish soldier and Soviet prisoner of war, the apocalyptic imagery of unrest and conflict reflects the artist's life story.
Kossowski executed the design himself, laboriously and expertly reviving an ancient technique called sgraffito, which involves scraping off a light-coloured surface layer to reveal the dark background figures in outline. The technique was an apt choice for the subject matter, as the Greek word apokalupto means to uncover or reveal.
The chapel is also noted as an early example of the influence of the post-Vatican II Liturgical Movement on the reform of worship and architecture in the Catholic and Anglican Churches. Architects Keith Murray and Robert Maguire were consulted on the chapel's interior and layout. The result is a 'unified, non-hierarchical worship space' and the absence of fixtures and fittings allows Kossowski's mural to dominate and encourages informal and ecumenical use.
St Benet's is open 9am-5pm, Monday to Friday during term time. For more information, visit http://www.faith.qmul.ac.uk/StBenets.