24 February 2020
7 per cent of young people in the UK with learning difficulties are in full-time employment
On average, 7 per cent of young people in the UK with learning difficulties and/or autism are in full-time employment. The national average of Project SEARCH graduates who gain full time employment is 65 – 70 per cent.
The five interns currently enrolled in the Queen Mary programme are each working in different departments across the Mile End campus. The aim of Project SEARCH is to empower these young adults with valuable skills and experience that can enhance their future job prospects, through a fully immersive workforce placement. By the end of the programme each intern will have experienced three different roles and developed the required skills to help in them gaining full-time paid employment.
The interns, currently in their second rotations, are working across various departments on campus including: the Curve Café, the portering and post room department, campus retail shops, the Queen Mary reception desk, and with the residential cleaning team.
Interns are supported by two onsite job coaches throughout the programme
Throughout their rotations the interns are supported by two onsite job coaches, Matt Snow and Uroosa Binapal, who work closely with the interns and the host Queen Mary department. By the end of each rotation, the expectations are that each intern will be able to complete most tasks in their role independently.
Tanya Choudhury, Queen Mary Students Union; Business Liaison and host facilitator for Project SEARCH said: "Project SEARCH is an excellent programme, which provides opportunities to help remove unfair barriers to workforce participation for a person with a learning disability or autism. Autism is a condition for life; it is not an illness or a disease that has a cure. Lack of awareness and acceptance in the workplace can lead to isolation for an autistic person and their families.
"I feel a sense of accomplishment in assisting with this programme. All of these work placements are specifically tailored to provide each intern with valuable life skills that can be transferred to practical work experience for the future."
I enjoy the different areas that I have been able to work in
Samil is one of the programme participants undertaking his placement at the Queen Mary reception desk and said: "I enjoy the different areas that I have been able to work in, as well as meeting new colleagues in my rotations, and becoming friends with the other interns.
"I would tell others to join Project SEARCH because it can help you decide what you want to do with your career."
It is a great programme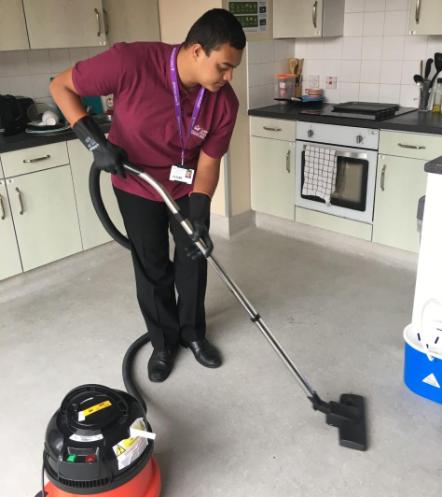 Yusuf, another Project SEARCH intern working with the residential cleaning team, said: "It is a great programme. I have really enjoyed learning about health and safety in the workplace and using this knowledge in my work rotations.
"I would encourage others to take part in Project SEARCH so that they can develop their skills and hopefully get a full-time job by the end."
Queen Mary is working in partnership with Tower Hamlets, Phoenix School and the supported employment service Kaleidoscope Sabre to deliver the Project SEARCH programme. The Queen Mary Project SEARCH team are aiming to double the supported internship placement opportunities on campus for the next intake.
More information: