Online, on-campus blended learning starts as Queen Mary's commitment to inclusion is recognised
Queen Mary's new and returning students are beginning their studies this week thanks to the innovative blended learning experience that Queen Mary has developed in response to the Covid-19 pandemic.
Published on:
The mixture of online and on-campus education is kicking off as the University celebrates a successful Welcome Week and recognition in the Times and Sunday Times Good Universities Guide for its joint commitment to academic excellence and inclusion.
Welcome Week success
The start of teaching follows a week of discovery in which the University welcomed a cohort of new students to the Queen Mary community. Those that were able to travel to London enjoyed an introduction to our campuses, a range of face-to-face activities and an introduction to our facilities and services. They also got see first-hand the measures we have put in place to ensure our campuses are Covid-secure. Those unable to join us in person took part in a range of online activities, enjoying a digital introduction to the Queen Mary community.
Blended learning
As teaching gets underway, every Queen Mary student will be able to make the most of the opportunities of blended learning. The backbone of this is a full programme of online educational activities, fully accessible to all wherever they are studying. This ensures that every student has full access to their education and that learning can continue uninterrupted whatever happens in the coming months.
Those who are able to join us on campus, either immediately or in due course, will find their online experience complemented by a range of in-person activities. The lynchpin of this is Academic Advising – 1:1 or small group meetings giving opportunities to discuss learning in depth, to challenge thinking and explore techniques to help progress through degrees and into careers.
Students on every course will also be able to take up opportunities unique to their subject. For example, Mental Health postgrads will be invited to attend case presentations by senior clinicians; Law students will be able to get real-world experience though our Legal Advice Centre; scientists will be offered substantial laboratory time; and History students will enjoy local history walking tours and weekly small group study sessions.
National recognition for inclusion and academic excellence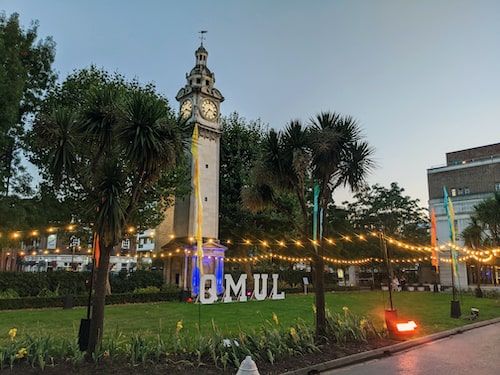 Teaching at Queen Mary starts as the University celebrates recognition as the most inclusive Russell Group University in the prestigious Times and Sunday Times Good Universities Guide 2021. The guide's authors have highlighted how 80% of Queen Mary students are non-selective state school educated, 70% are BAME and 48% are the first in their family to attend university. They note that "Queen Mary continues to prove that social inclusion and academic success are not mutually exclusive."
With an innovative new learning experience and national recognition, the new academic year is off to a flying start at Queen Mary!