Father and son team win prestigious prize for surgery innovation
A team of clinical researchers from Queen Mary University of London (QMUL) and the Barts Heart Centre have won a prestigious prize at the Society of Cardiothoracic Surgery's Annual Meeting in Belfast.
Published on:
The Patrick Magee Prize for Innovation was presented to Ben Wald, an A level student from Dulwich College, London. It arose from his work experience at the Barts Heart Centre.
Ben was supervised by his father Professor David Wald, an interventional cardiologist from QMUL's Wolfson Institute of Preventive Medicine and the Barts Heart Centre.
The prize was awarded for a poster describing a novel sternal wire code for permanently recording the details of coronary artery bypass surgery inside the patient. The code requires no new technology or techniques – the orientation of the metal wires used to close the chest after the operation indicates precisely what surgical procedure was done.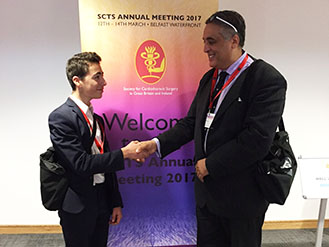 About one in six patients who have had coronary artery bypass surgery and are admitted with a heart attack are at increased risk of complications because the necessary surgical records are not available. This sternal wire code solves this problem; the patient has their own surgical details in his or her chest.
Professor David Wald said: "This is an example of an A level student inspiring a fresh look into a common medical problem prompted by his question that lead to a neat solution."
Mr Alex Shipolini, a cardiac surgeon at the Barts Heart Centre, used the wire code on a patient. He said: "The code is easy to apply and makes intuitive sense, using surgical equipment that is already in place. The challenge is how to make this routine."
For media information, contact: