Festival of Communities returns to East London with two days of family fun
Published on:
Hosted by Queen Mary University of London (QMUL) and organisations in Tower Hamlets, the festival will combine the best of east London, with a family-friendly focus on health, science, engineering, film, local history and performance.
From fun inflatables, face painting and give-it-a-go sports, to QMUL researchers hosting thought-provoking and hands-on activities, and community organisations running stands and events, there will be something for all to get involved in.
It will take place over two days starting on Saturday 20 May in Stepney Green Park with the second day on Sunday 21 May 2017 at QMUL's Mile End Campus. Both days will run from 11am to 5pm and attendance is free.
Queenie the T-Rex
Over the weekend, visitors will be able to take part in QMUL research, from sitting down for a cuppa to learn about the history of tea, to coming face to face with QMUL's replica T-Rex skull 'Queenie'. Elsewhere Geographers will be sharing the tales of Londoners that arrived in the UK as child migrants and collecting visitors' own stories and experiences.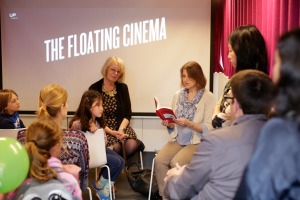 The team from Centre of the Cell – QMUL's interactive science education pod in Whitechapel - will also be presenting hands-on science based activities. Participants will put their sense of smell to the test, compete to build and break down bones, learn to distinguish their incisors from their canines, and take part in a 'gene pool' lucky dip!
Peter McOwan, Vice Principal for Public Engagement and Student Enterprise at QMUL said: "There will be something for everyone, from little kids to big ones, whether your interests lie in anything from science to sports or society, with a programme full of free interactive demonstrations, hands-on activities and information stalls."
Getting active
The festival also features a range of local organisations and services, from health providers raising awareness of smoking cessation, getting active with Thai boxing and crazy golf, and amazing performances of east London teens-with-talent curated by the Spotlight creative youth space.
The festival builds on the inaugural 2016 programme, which welcomed more than 3,000 visitors taking part in activities and stalls run by over 100 university staff, students and community organisations based in Tower Hamlets.
The programme has been developed in collaboration with Tower Hamlets Council, the Stifford Centre, the Salvation Army, and Spotlight youth service.
For more details on the festival head to http://www.qmul.ac.uk/festival/.