News story
QMUL signs major strategic collaboration with China's Northwestern Polytechnical University
Queen Mary University of London (QMUL) has signed a major strategic collaboration agreement with Northwestern Polytechnical University (NPU), based in Xi'an, China, to develop teaching and research partnerships and faculty and student exchange, initially in the areas of Materials Science and Engineering.
21 September 2015
A memorandum of understanding outlining the intent for the alliance was signed at the 8th UK-China Education Summit on Thursday 17th September.
A further signing to confirm the development of the collaboration was then made on the following day at the QMUL Mile End campus by Professor Simon Gaskell, QMUL President and Principal with Professor Wang Jinsong, President of NPU.
Work is ongoing at both institutions to finalise detailed plans before an official application for a new teaching initiative is submitted to the Chinese Ministry of Education for approval later this year. This is intended to lead to two new undergraduate programmes plus an MSc programme, all of which will be taught jointly by QMUL and NPU.
The partnership is part of a wider QMUL strategy of internationalisation and long-term commitment to working in China. Combining the best in UK and Chinese academic practice and quality assurance, the collaboration aims to provide high quality education, underpinned by research, to a new generation of internationally aware of students.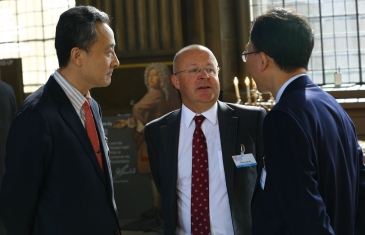 L-R: President of NPU Wang Jinsong, QMUL Vice Principal (International) David Sadler and Vice President of NPU Professor Zhang Weihong

Northwestern Polytechnical University (NPU) is located in the ancient capital city of Xi'an, Shaanxi Province. It is a research-oriented, multi-disciplinary university with particular strengths in aerospace and marine engineering and materials science. It is one of the national 985 project universities in China (the group of top 39 universities in China) and is affiliated to the Ministry of Industry and Information Technology.

NPU currently has over 26,000 full-time students and around 3,200 academic staff, 1,700 of whom are in senior positions and 19 who are academicians of the Chinese Academy of Sciences or the Chinese Academy of Engineering.

For media information, contact:

Rupert Marquand
Public Relations Manager
Queen Mary University of London
email: r.marquand@qmul.ac.uk