Professor Peter Congdon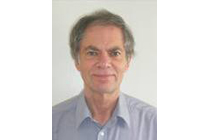 Research Professor in Quantitative Geography and Health Statistics
Email: p.congdon@qmul.ac.ukTelephone: +44 (0)20 7882 2778Room Number: Geography Building, Room 204
Profile
I am a quantitative geographer with particular interests in geographic epidemiology, application of spatial statistical methods to area health and health survey data, and spatial demography. Since 2001 I have been a Research Professor in the School of Geography, and am also affiliated to the QMUL Life Sciences Institute. I have authored a range of articles and books, including 'Applied Bayesian Hierarchical Methods' (CRC, 2010) and 'Bayesian Statistical Modelling' (Wiley, 2006). My major projects recently have been development of health indicators (e.g. diabetes, obesity) for US micro areas (Zip Code Tracts), developing Scotland datazone population estimates using administrative datasets, and geographic interpolation to estimate area disease prevalence in North East London.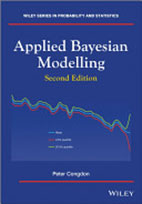 Key Publications
Congdon P (2016) Explaining Variations in Obesity and Inactivity between US Metropolitan Areas, GeoJournal, 81(2): 211-229
Congdon, P (2014) Applied Bayesian Modelling, 2nd edition, John Wiley.
Jonker, M, Congdon P, van Lenthe F, Burdorf A, Mackenbach J (2013) Small-area health comparisons using health-adjusted life expectancy: a Bayesian random-effects approach, Health & Place
Jonker M, van Lenthe F, Congdon P et al (2012) Comparison of Bayesian random effects and traditional life expectancy estimations in small area applications, American Journal of Epidemiology, 176 (10): 929–37.
Congdon, P (2012) A Latent Variable Model for Suicide Risk in relation to Social Capital and Socio-economic Status. Soc Psychiatry Psychiatr Epidemiol. 47 (8): 1205–19.
Congdon, P, Lloyd C (2012) A spatial random effects model for interzone flows: commuting in Northern Ireland, Journal of Applied Statistics, 39, 199–213
Congdon, P (2010) Applied Bayesian Hierarchical Methods, Chapman & Hall/CRC
Congdon, P (2010) Random effects models for migration attractivity and retentivity: a Bayesian methodology, J Roy Stat Soc Series A, 173 (4): 755–774
Professional Activities and Outreach
Elected Member, International Statistical Institute
Editorial Board (Spatial Statistics), Springer Handbook of Regional Science, 2013
Editorial Board Member, Journal of Biometrics & Biostatistics
Editorial Board of the International Journal of Environmental Research and Public Health
Refereeing grant applications/project reviewing on behalf of ESRC, NHS Service Delivery and Organisation R&D Programme, Alberta Heritage Foundation for Medical Research, Arts and Humanities Research Board; Research Grants Council (Hong Kong); Health Research Council of New Zealand; ESRC-NWO Bilateral Research Scheme, Chief Scientist Office (Edinburgh) HSR Training Scheme.
Referee Panel ESRC/MRC Joint Studentship and Post-Doctoral Fellowship Scheme
Chartered Statistician (Royal Statistical Society)
Downloads:
Teaching
Teaching: MSc International Health (Social Determinants of Health: Ecological Approaches)
Research
Research Interests: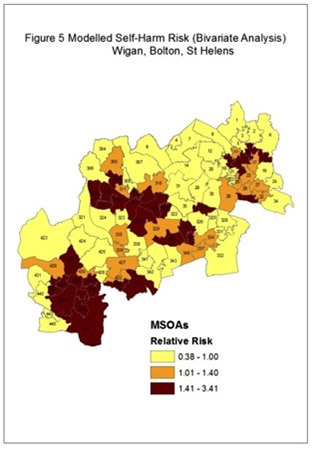 I Spatial Statistics in Geographic Epidemiology
This strand of research considers application of statistical methods to analyse spatial variations in population mortality and chronic disease outcomes. This includes work to explain geographic variations in self-harm and suicide, to assess spatial clustering of disease, and to disease prevalence estimation for small areas. A particular aspect of this work is the use of Bayesian techniques.
Illustrative Outputs
Congdon P (2013) Assessing the impact of socioeconomic variables on small area variations in suicide outcomes in England, Int J Environ Res Public Health. 10 (1): 158–77.
Congdon P (2013) Assessing Univariate and Bivariate Spatial Clustering in Modelled Disease Risks J Biomet Biostat 2013, 4:161 doi: 10.4172/2155-6180.1000161
Congdon P (2014) Modelling Changes in Small Area Disability Free Life Expectancy: Trends in London Wards between 2001 and 2011, Statistics in Medicine, In Press
Congdon P (2017) Representing Spatial Dependence and Spatial Discontinuity in Ecological Epidemiology: a Scale Mixture Approach. Stochastic Environmental Research and Risk Assessment, 31(2): 291–304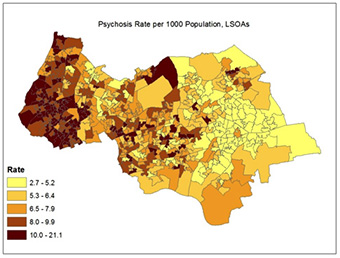 II Methods for Public Health Needs Assessment
This work focuses on strategic analysis and health care profiles for small areas and GP practices in NE London, in collaboration with local public health departments. This work involves use of a variety of health indicators (mortality rates, hospital admission rates, population prevalence, etc.) to inform public health needs assessment. Research outputs include small area analysis of premature mortality using years of life lost indicators, and geographic interpolation methods to develop small area estimates of health indicators (such as the psychosis prevalence rate in outer North East London LSOAs) from the Quality Outcomes Framework dataset for GP practices.
Illustrative Outputs
Congdon P (2013) Interpolation between spatial frameworks: an application of process convolution to estimating neighbourhood disease prevalence. Stat Methods Med Res. 2012 May 2. [Epub ahead of print]
Congdon P (2013) Modelling small-area inequality in premature mortality using years of life lost rates. Journal of Geographical Systems, 15 (2): 149–167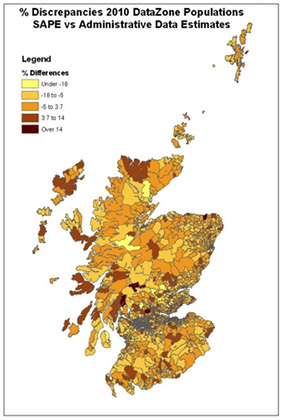 III Small Area Demography
This group of projects includes development of small area life table methods (in collaboration with Department of Public Health, Erasmus MC) and investigating Bayesian techniques to produce small area population estimates using administrative datasets (funded by GRO Scotland). The former work illustrates the principle of borrowing strength (via Bayesian methods) to make life expectancy estimates for small areas, when conventional estimates may be subject to instability. The latter study, funded by GRO Scotland, investigated possible alternatives to Census based population estimates (known as the SAPE estimates) for 6505 Scotland datazones, using administrative datasets with comprehensive population coverage such as the NHSCR and DWP customer populations.
Illustrative Outputs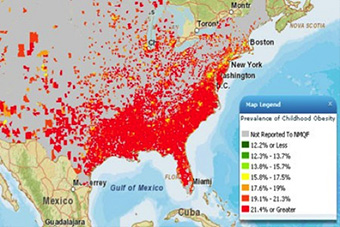 IV US Micro-Area Health
Health care profiles for US micro areas (Census 2000 and 2010 Zip Code Tracts) have been developed in collaboration with the National Minority Quality Forum (http://www.nmqf.org/). This has involved a variety of modelling techniques (multilevel, spatial) in the development of chronic health indicators, especially indicators of population prevalence (e.g. diabetes, obesity, cancer prevalence) or risk exposure (lead risk). The estimates are disaggregated by age group and ethnicity.
Illustrative Outputs:
PhD Supervision
Recent PhD Students
Alison Copeland 2011. Socioeconomic and Community Influences on Potentially Avoidable Emergency Admissions to Hospital for Older People in London
Michael Grayer 2011. Analysis of Variation in Small-area Life Expectancy within London, 2000–2008
I welcome expressions of interest and enquiries from potential PhD students who would like to work on research projects related to my areas of interest, including quantitative and GIS applications to area health and spatial demography.
Public Engagement
ESRC Advanced Quantitative Methods (AQM) Assurance Checking, 2015-16
Collaboration with local health agencies in strategic analysis of health need, health demand and healthcare.
Collaboration with GRO Scotland on Development of Micro-Area Population Estimates
Editorial Board (Spatial Statistics), Springer Handbook of Regional Science, 2013
Editorial Board Member, Journal of Biometrics & Biostatistics; Editorial Board of the International Journal of Environmental Research and Public Health;
Refereeing grant applications/project reviewing on behalf of ESRC, NHS Service Delivery and Organisation R&D Programme, Alberta Heritage Foundation for Medical Research, Arts and Humanities Research Board; Research Grants Council (Hong Kong); Health Research Council of New Zealand; ESRC-NWO Bilateral Research Scheme, Chief Scientist Office (Edinburgh) HSR Training Scheme.
Referee Panel ESRC/MRC Joint Studentship and Post-Doctoral Fellowship Scheme;
Chartered Statistician;
Elected Member, International Statistical Institute
Guest Editor, Computational Statistics & Data Analysis (Special Issue, Spatial Statistics)
External Reviewer NORFACE(Research Funding Agency Cooperation in Europe)