Professor Martyn Frampton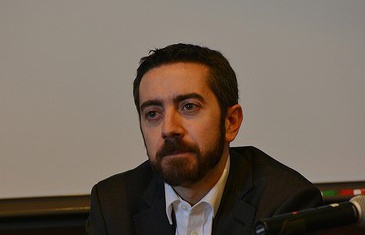 Professor of Modern History
Email: m.frampton@qmul.ac.ukTelephone: +44 (0)20 7882 8371Room Number: ArtsTwo 2.29
Profile
I joined Queen Mary in 2009. I have worked primarily in the spheres of modern British and Irish history until now. I also have a burgeoning interest in Anglo-US foreign policy and its role in the development of the modern Middle East and the politics of Islamism.
Teaching
Undergraduate Teaching
Research
Research Interests:
My research interests include Irish Republicanism and the conflict in Northern Ireland; political Islam/Islamism; and modern Egyptian history. My publications have explored the strategies and ideologies of different socio-political movements that challenge the State; the nature and function of political violence; and State responses to political insurgents. In 2014-15, I was awarded an AHRC Leadership Fellowship worth £122,000 for a project entitled 'Britain, the United States and the Muslim Brotherhood: Where "East" meets "West"''.
Publications
Books:
Articles in Peer-Reviewed Books:
Articles in Peer-Reviewed Journals:
Pamphlets/Reports:
Supervision
I would welcome PhD applications in:
The History of the Muslim Brotherhood

The History of Islamist Movements/Political Islam

Anglo-American Foreign Policy in the Middle East

Irish Republicanism and/or the conflict in Northern Ireland

The ideology and culture of terrorist/insurgent/subversive groups

State responses to subversive/violent challenges
Current PhD Students:
Will Watson, 'Fear and Anger: The Civil Rights Movement in Northern Ireland, 1963 – 1973' (Co-Supervisor, April 2019 -- )
Past PhD Students:
Claire Alexandra Green – 'Identity, authority and myth-making: Politically-motivated prisoners and the use of music during the Northern Irish conflict, 1962 – 2000' (Co-supervisor, Jan. 2016 - July 2019)

Timothy Riding – 'Producing Space in the English East India Company's Western Presidency, 1612-1780' (Second Supervisor, September 2015-June 2018).

Kaj Andrew Arends – 'An Economic History of Association Football in England, 1920-2010' (First Supervisor, 2014-18)

Ghada Rifai – 'British Economic Policy in Palestine, 1919-1935: Haifa Habour Construction, A Case Study' (Co-Supervisor, Oct. 2012 - Oct. 2016)

Mark Sampson – 'The Transformation of Elite-Level Association Football in England, 1970 to the Present' (Co-Supervisor, Sept. 2011 - Oct. 2016) [part-time student, inherited from Peter Catterall]
Current PHD Students
Claire Green – The Role of Political Music in Northern Ireland's Prisons during the Troubles