Black History Month Art Exhibition
Welcome to our visual art page. The sheer wealth and scope of Black visual art spanning the centuries is too numerous to include here, therefore we have made the decision to limit this page to UK artists both from the Black community and others whose work explores celebration within the "Black" diaspora.
Our intention is to add other UK artists to this page and therefore it will be an ongoing process, which you are also invited to contribute to. More details to follow.
To start this off we are showcasing three talented artists whose work covers both traditional pen and ink drawing, albeit with contemporary themes and influences, to rich and vibrant portraiture produced by digital mediums.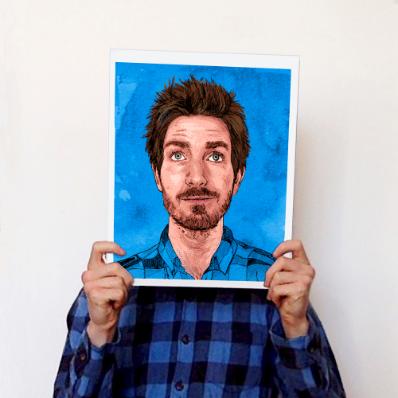 Matthew Brazier
Matthew Brazier is an Illustrator based in Chelmsford. With a BA (Hons) in Illustration from Norwich University of the Arts, Matthew uses a combination of traditional and digital drawing techniques to make images for a wide range of editorial and publishing briefs. Some of his recent clients include Reader's Digest, Time Out and The Washington Post.
With experience in storyboarding and live event drawing, Matthew has also had work exhibited in London, Los Angeles and New York City. Matthew's online portfolio can be viewed at www.brazierillustration.co.uk.
Chadwick Boseman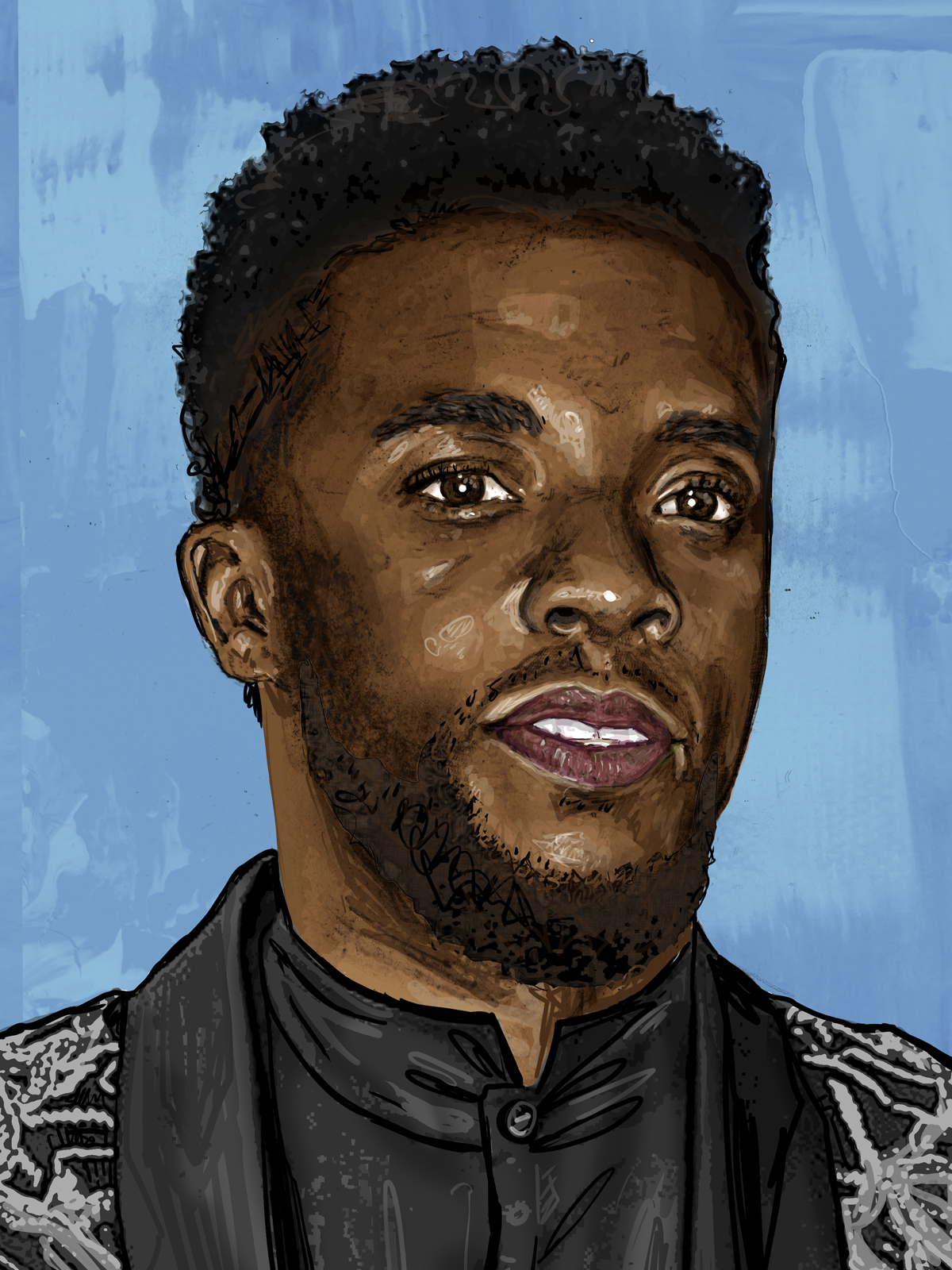 Chadwick Boseman was an American actor who died in August 2020 from colon cancer. He was diagnosed with his illness in 2016, but kept his condition private, continuing to act while receiving treatment.
He first came to prominence in 2013 as baseball player Jackie Robinson in the biographical film 42.
He continued to portray historical figures, starring in Get on Up as singer James Brown and Marshall as Supreme Court Justice Thurgood Marshall.
Boseman achieved international fame playing King T'Challa, the Black Panther in the 2018 film of the same name. His performance earned him an NAACP Image Award for Outstanding Actor in a Motion Picture and a Screen Actors Guild Award for Outstanding Performance by a Cast in a Motion Picture. The film is notable for having an African-American director and a predominantly black cast, including an elite corps of black female warriors. The film has taken the fictional African country of Wakanda into the realms of success worldwide and has blazed a trail for future black superheroes to follow.
Floella Benjamin
Baroness Floella Benjamin DBE DL is an actor, presenter, writer, independent producer and entrepreneur. She was born in Trinidad but moved to Kent in 1960 following her father's decision to emigrate to the UK.
Having left school to work in a bank, she studied for A-levels at night school. After acting in the West End, she began presenting children's television programmes in 1976. She became a life peer in 2010 and is actively involved in a number of charities.
Naomie Harris
Naomie Harris OBE is an actor. Her mother moved from Jamaica to North London and raised her as a single parent in a council flat in Finsbury Park. When she was about 11 years old, Harris was diagnosed with scoliosis. The condition progressed severely into her teen years, and eventually necessitated a spinal fusion. However, this did not stop her starting her acting career as a child, first appearing in the television series Simon and the Witch in 1987.
One of her most high profile roles was appearing as Winnie, partner of Nelson Mandela in Mandela: The Long Walk to Freedom. In 2016, she starred in the critically acclaimed film Moonlight, which led to nominations for the Golden Globe, BAFTA, and Academy Award for Best Supporting Actress.
Nicola Adams
Nicola Adams is an OBE British former professional boxer and offically Great Britain's most successful female boxer of all time.
In August 2016, Nicola achieved what was the proudest moment of her career so far, in becoming the first British boxer to successfully defend their Olympic title for 92 years.
Having also become World Amateur Champion in May 2016 she has now secured a grand slam of titles, and is the only female boxer in the history of the sport to have won every major title available to her; Olympic, World, European and Commonwealth.
Over the course of the London 2012 games, she became an icon of the games after winning Great Britain's first ever female boxing Gold, having defeated three time world champion Ren Cancan.
Oti Mabuse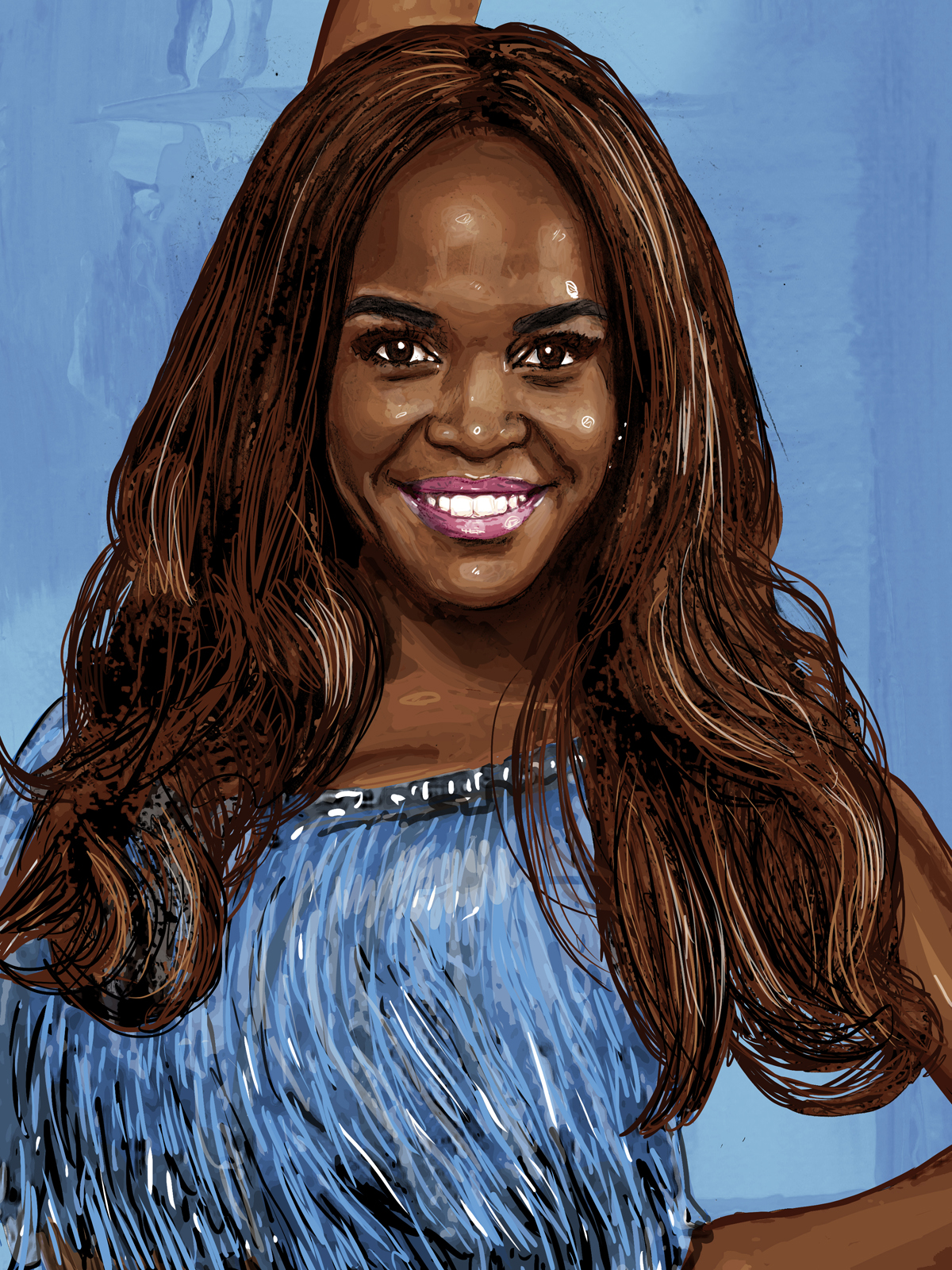 Oti Mabuse is a South African professional Latin American and ballroom dancer. She is best known as a professional dancer on the British television series, Strictly Come Dancing, and its German equivalent, Let's Dance. She was a judge on The Greatest Dancer.
Mabuse has achieved many titles in her dancing career, including third place in World Cup Freestyle Latin in 2014, second place European Championship Latin in 2014 and first place in German Championship PD Freestyle Latin.
In 2019, Oti Mabuse and Kelvin Fletcher won the 17th Series of the much-loved programme Strictly Come Dancing.
Marcus Rashford
Marcus Rashford is an English professional footballer who plays as a forward for Premier League club Manchester United and the England national team.
Rashford scored on his England debut in May 2016, becoming the youngest English player to score in his first senior international match. He played at the UEFA Euro 2016 as the tournament's youngest player, and at the 2018 FIFA World Cup.
In March 2020, during the lockdown in response to the COVID-19 pandemic, Rashford teamed up with the poverty and food waste charity FareShare to deliver meals to those in the Greater Manchester area who were no longer having their free school meals, as well as to children who attended community centres and school breakfast club. With an initial target of supporting 400,000 children in the region, the initiative quickly raised over £20m to provide food for children nationwide.
In June, Rashford wrote an open letter to the government calling on them to end child poverty in the United Kingdom. A day later, the government announced a change in policy regarding the extension of free school meals for children during the summer holidays.
In recognition of his work to end child poverty in the United Kingdom, Rashford received an honourary doctorate from the University of Manchester in July 2020.
Mrgzart - Monotone Alchemist
The works that we have showcased for Morgan Malcolm (Mrgzart) have a distinctive style, who in his own words describes as "encapsulating my monotone style" sic, it covers both traditional and up to the date themes.
Morgan continued, " I have been influenced by the era and images that I grew up around and also my appreciation for fine art."
From the celebration of the tradition of visiting the local photographic studio to have a group family photo taken, for those "back home". To Manga influenced "futuristic" portraits and lastly to a powerful "Black lives matters" cartoon drawn in a powerful style that harks back to the traditions of DC and Marvel comics.
Morgan's work highlights his enormous talent and ability to fuse the influences and experiences of what it is to be a black person living in London in the 21st century. Morgan's online portfolio can be viewed at https://www.instagram.com/mrgzart/?hl=en.
Two Men and Mother
Afro Love
Black Lives Matter
Grandmother's Two Boys
The Set From War to Windrush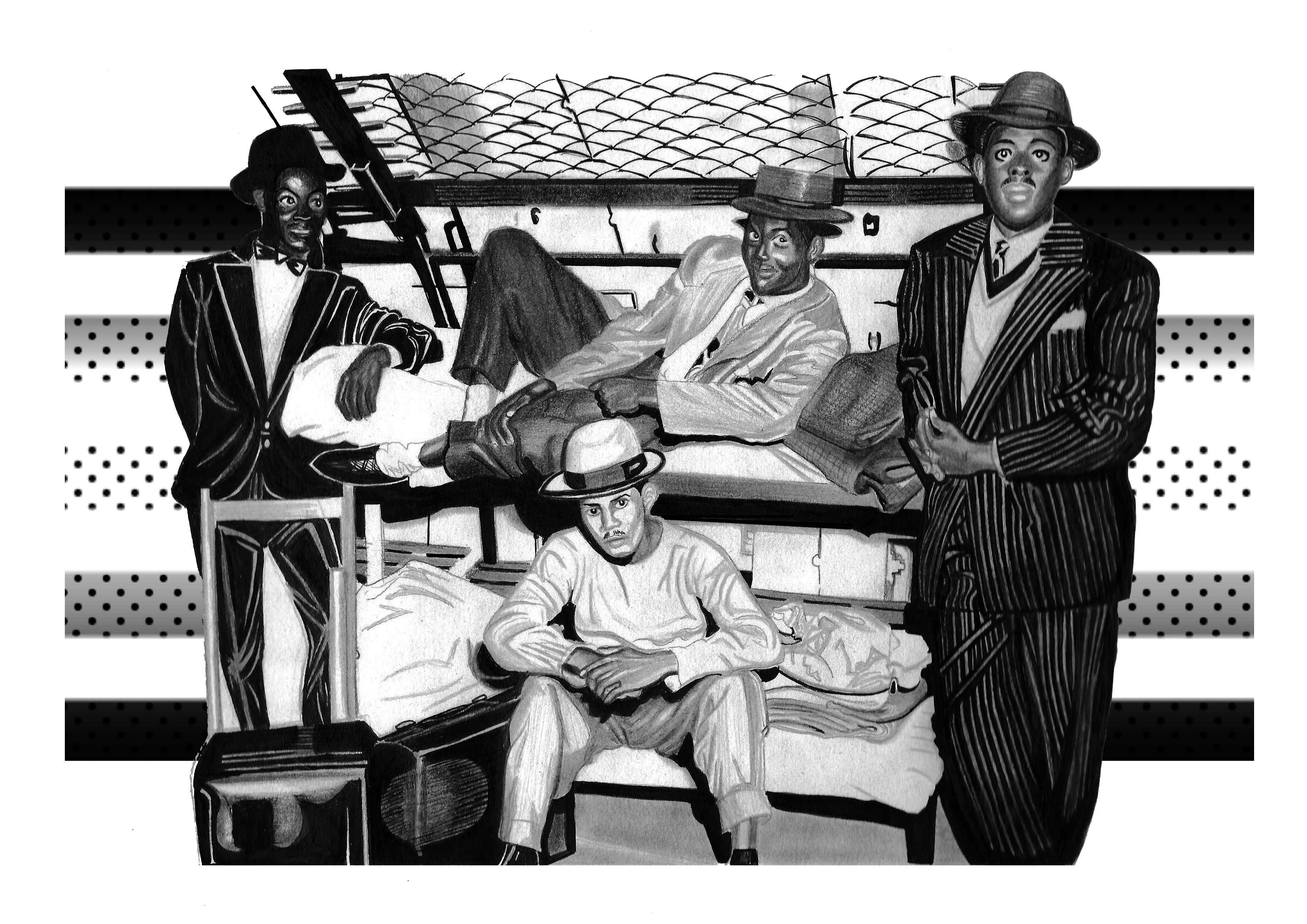 Entering London from Windrush Boat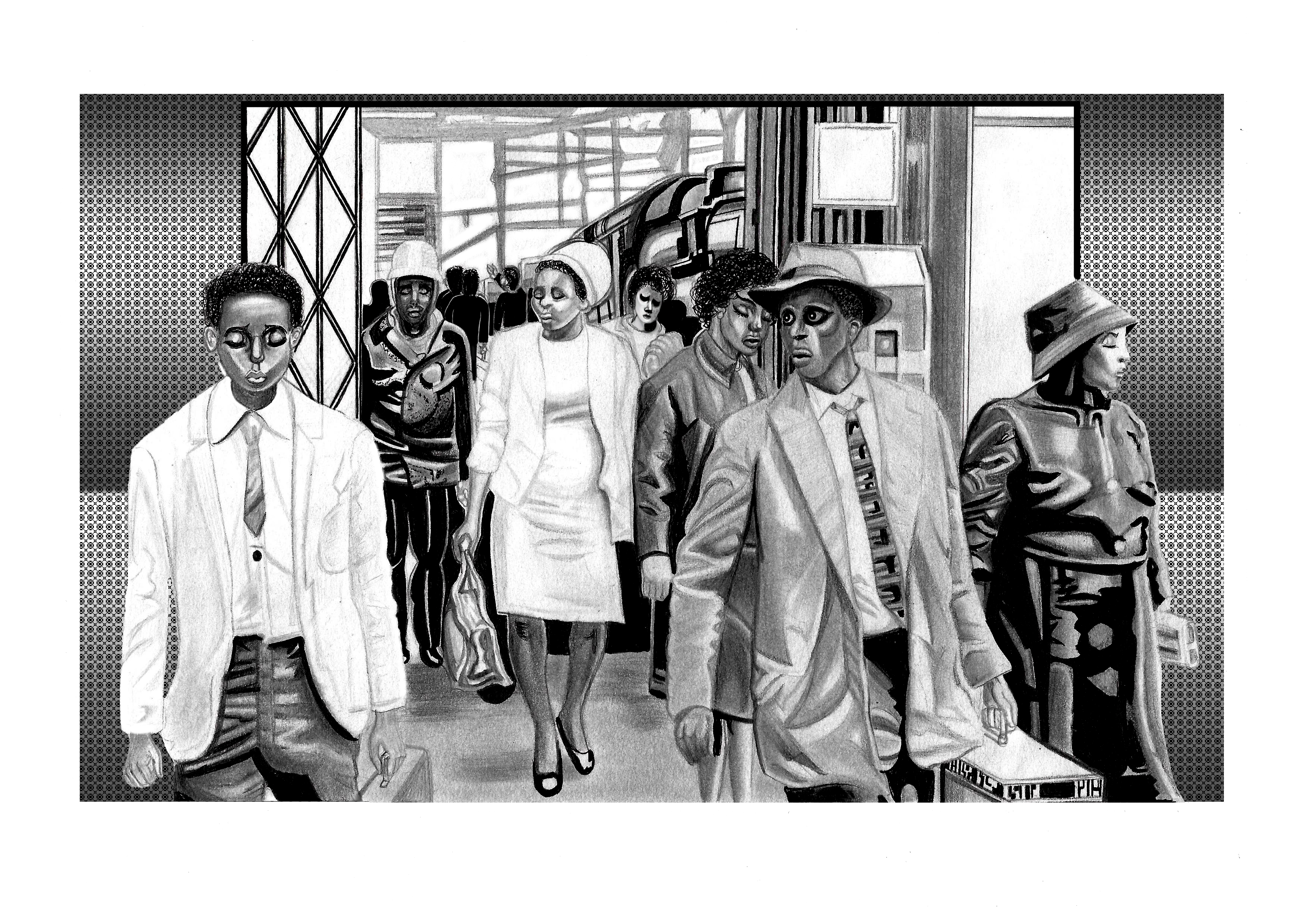 Joseph Ijoyemi
Joseph Ijoyemi is a full time Afro-Swedish contemporary artist who developed an interest in art at the age of 14.
His style as an artist is figurative and abstract and his work can be identified by his unique use of colours and brush strokes. He draws his inspiration from life experience and conversations, so his work often bears a story.
Joseph began his professional career as an artist in 2015 and applied to have his work displayed in the Art of Angel exhibition. His application was successful and one of his art pieces was displayed at Angel tube station, which was the start of the buzz around his art work.
After this time, Joseph took part in various group exhibitions and this helped him to understand the industry and to find his feet as an artist. He was then able to hold his first solo exhibition, which was held in Chelsea in 2018. This created a further buzz around his name and art work.
More recently Joseph has been working on various projects with organisations such as Lewisham council in conjunction with Brown Jewel, Greenwich council, My Runway Group pop up store in Carnaby street and RAW LABS. Each of these projects are related to black history, black culture or the black experience in some way.
In celebration of Black History Month and also the 2nd anniversary of his first solo exhibition, Joseph is holding a raffle where an original art piece, worth £500, from his Black History Month series can be won. Tickets are £2 and there will be 3 winners. Each painting celebrates an influential black figure and the winners will be able to choose their favourite piece. Three pieces of Letitia Wright, Muhammad Ali and Malcolm X that are part of the raffle can be see below. New pieces will be added to the series every Monday and Thursday and tickets are on sale until 31st October 2020. Winners will be announced via Instagram live on 1st November 2020 and tickets can be bought at MrJArtClub.
Instagram: Mrj_Artclub
Website: http://www.mrjartclub.com
Letitia Wright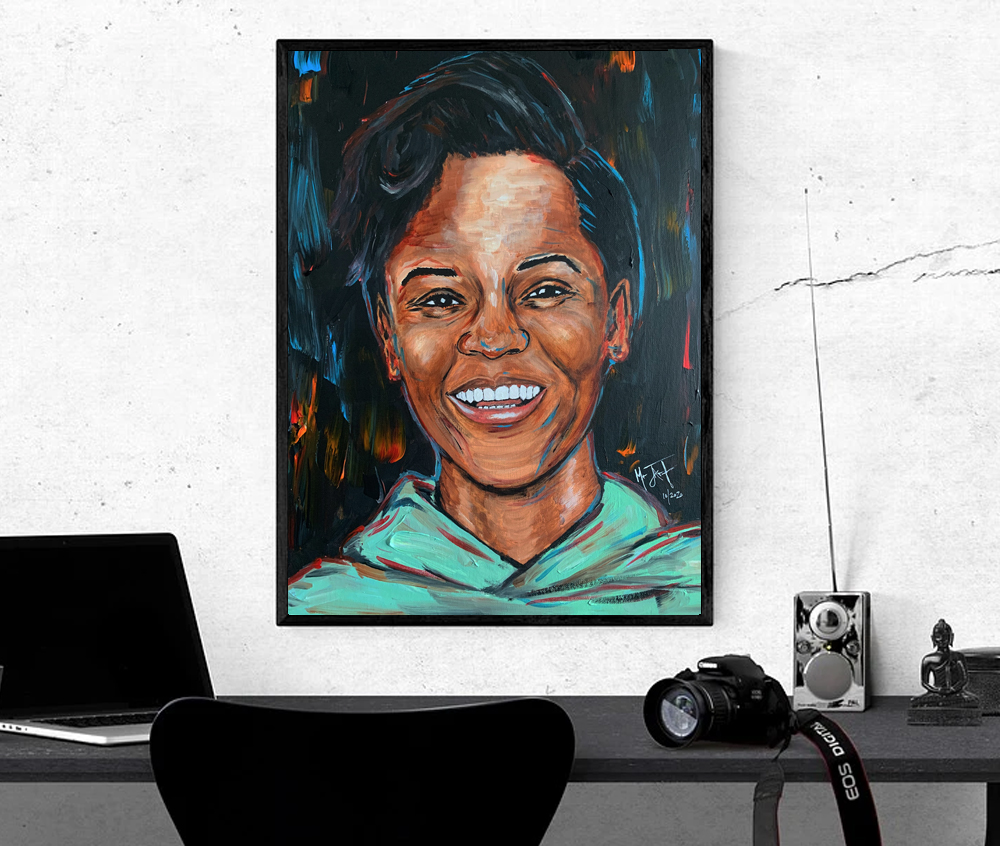 Muhammad Ali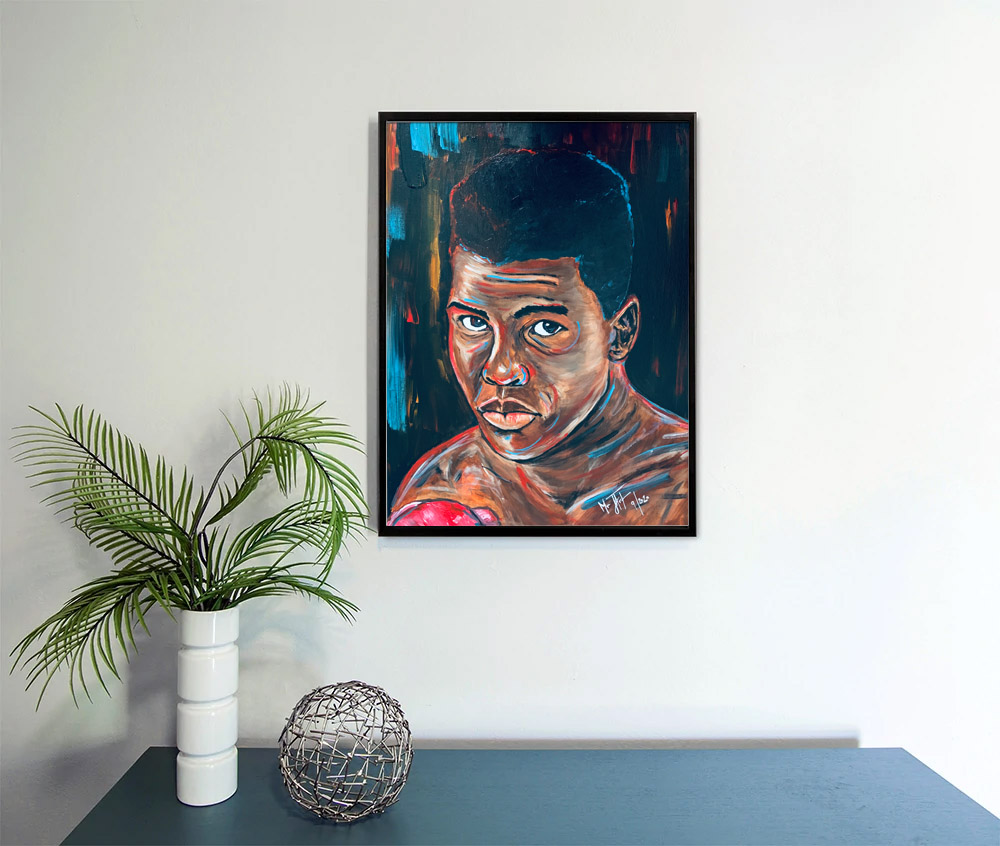 Malcolm X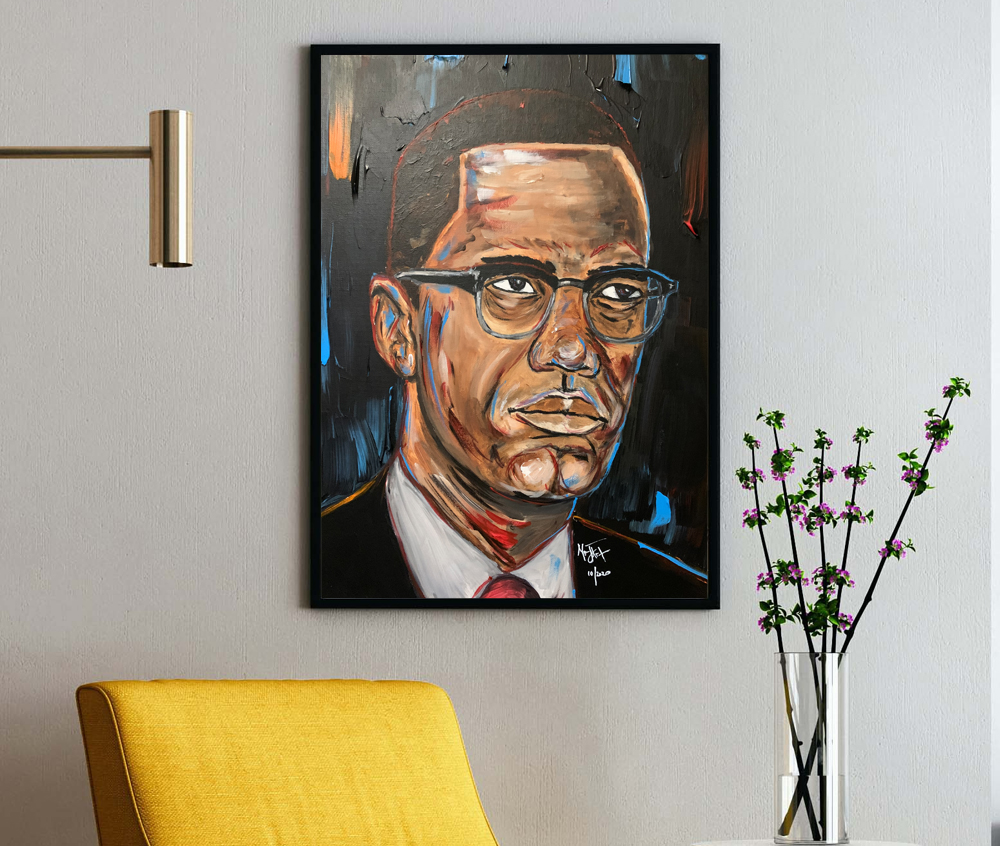 Mo Wa Laaye Series (2014)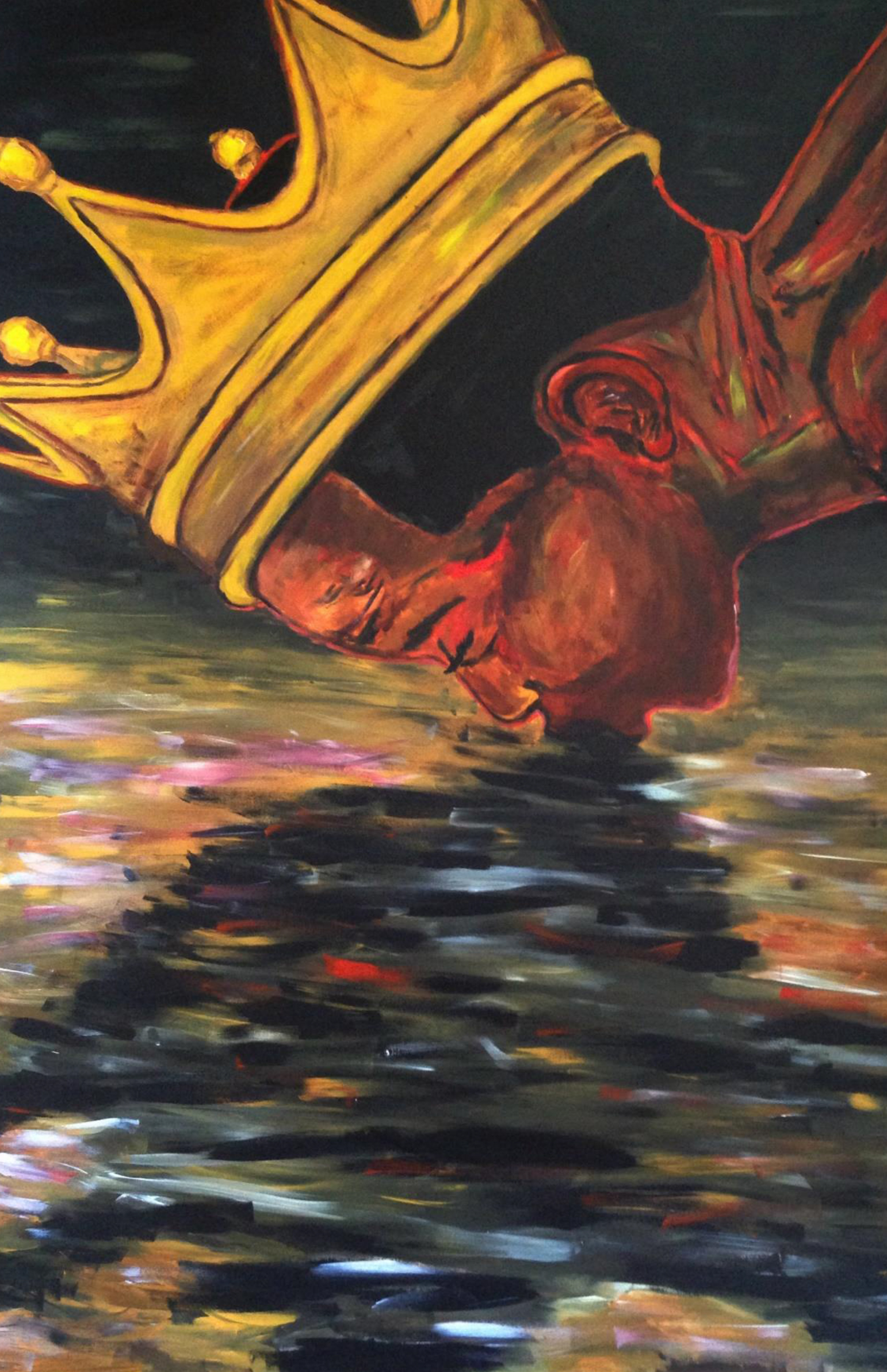 Nevo Burrell
A painting of Nevo Burrell, a Black cancer patient survivor. This was commissioned by Royal Borough of Greenwhich and CraftA to Celebrate Black History Month and CraftA for Health Watch cancer screening awareness.
Mural in Carnaby Street
Mural in Carnaby Street commissioned by The Runway Group for their Pop Up Shop to celebrate Black History Month and black businesses.