Thank you for considering an application
To apply you'll need to:
Make note of the Queen Mary institution code: Q50
Make note of your chosen course UCAS code:

Mathematics with Finance and Accounting

G1N4 — BSc (Hons)
GGX2 — BSc (Hons) Mathematics with Foundation
G1N6 — BSc (Hons) with Professional Placement
G14Y — BSc (Hons) with Year Abroad

Click on the link below:
Mathematics with Finance and Accounting
Entry Year: 2023
4 study options
Overview
Develop vital numerical and analytical skills along with a solid grounding in finance and accounting.
This degree programme combines mathematical and statistical training with finance and accounting, including general financial theory and its applications in the world of business and commerce.
In your first year, you'll build a solid grounding across all areas of mathematics, probability and statistics, and explore the world of finance with modules in accounting and economics. Over your second and third years, you'll study statistics and applied mathematics, alongside management accounting and financial mathematics.
Joint teaching from the School of Mathematical Sciences and the School of Business and Management means you'll learn from experts across both fields, and benefit from the support and facilities of two academic schools.
This programme gives you the option to extend your degree with a year in a professional work placement, or to study with one of our partner institutions abroad.
Structure
You can complete your Mathematics with Finance and Accounting degree in three or four years. If you choose to do a professional placement or study abroad this will take place in Year 3, and Year 3 modules will instead be studied in Year 4.
Year 0
Foundation
Semester 1
Compulsory
Essential Foundation Mathematics
Communication in Science & Technology
Mathematics B (double module across Semester 1 and 2)
Choose one from
Physics - Mechanics and Materials
Computing
Semester 2
Compulsory
Physics- Fields and Waves
Discrete Mathematics
Mathematics B (double module across Semester 1 and 2)
Choose one from
Introduction to Engineering (must have taken Physics in Semester 1)
Digital Electronics and Computer Systems
Please note that all modules are subject to change.
Year 1
Calculus I
Calculus II
Economics for Business
Financial Accounting
Introduction to Probability
Numbers, Sets and Functions
Probability and Statistics I
Vectors and Matrices
Please note that all modules are subject to change.
Year 2
Compulsory
Applied Linear Algebra
Financial Institutions
Managerial Accounting
Probability and Statistics II
Statistical Modelling I
Elective
Actuarial Mathematics I
Complex Variables
Differential Equations
Introduction to Algebra
Introduction to Computer Programming
Linear Programming and Games
Please note that all modules are subject to change.
Year 3
Compulsory
Financial Management
Financial Mathematics I
Random Processes
Elective
Bayesian Statistical Methods
Communicating and Teaching Mathematics
Complex Networks
Financial Mathematics II
Introduction to Machine Learning
Mathemtaical Tools for Asset Management
Numerical Computing with C and C++
Statistical Modelling II
Time Series
Third Year Project
Please note that all modules are subject to change.
Study options
Apply for this degree with any of the following options. Take care to use the correct UCAS code - it may not be possible to change your selection later.
Integrated foundation year
Students who do not have the required high school qualifications for admission to this degree and students who do not meet their UCAS conditional offer may be considered for the 4-year degree (foundation year plus the 3-year degree).
International students with Year 12 or a completed international high school certificate qualify for the one-year foundation programme commonly known as the ISEFP.
The foundation programme offers a range of transferable skills and an opportunity to improve on your knowledge content for relevant Maths and Science subjects.
You will enrol on a Mathematics BSc with Foundation which will offer progression to a range of degrees in the School of Mathematical Sciences including BSc Mathematics with Finance and Accounting. At the end of the foundation programme, students will be required to meet the progression requirements for admission to BSc Mathematics with Finance and Accounting.
Professional Placement
Apply for our Mathematics with Finance and Accounting BSc with Professional Placement to spend a year carrying out paid work in the financial sector as part of your degree. As well as helping you to stand out from the crowd and secure graduate employment, a placement is an excellent opportunity to develop your business skills and put your learning into context.
Year abroad
Go global and study abroad as part of your degree – apply for our Mathematics with Finance and Accounting BSc with a Year Abroad. Queen Mary has links with universities across the globe, including North America, Asia and Australia (partnerships vary for each degree programme).
Find out more about study abroad opportunities at Queen Mary and what the progression requirements are.
You can do either a year in a professional placement or a year abroad - you cannot combine these options.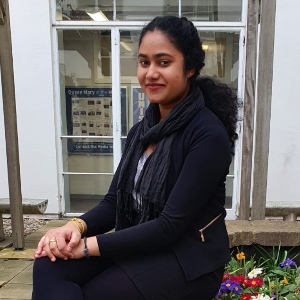 "I am fascinated with the way my course is structured; my course has allowed me to explore and see different branches of mathematics with the provision of excellent course materials and support from the department."
Teaching
Teaching and learning
You'll learn through lectures and tutorials, and in exercise classes where students work together on problems, discuss ideas and ask questions. Statistical modules may have a practical element, taught in one of our computer labs.
Formal teaching time typically takes up 16 hours each week. You'll also be expected to complete additional hours of independent study.
Assessment
Most of your modules will be assessed by an examination worth at least 90 per cent of the year's study, with the remainder covered by coursework and tests. You will also have the opportunity to complete a final-year project.
Resources and facilities
The School of Mathematical Sciences has invested £18m to create an inspiring, collaborative space for our community of students and staff. The building includes high-quality teaching rooms, private and group study areas and a new social hub.
Find out what our students think about studying Mathematics with Finance and Accounting at Queen Mary.
Entry requirements
Non-UK students
We accept a wide range of European and international qualifications in addition to A-levels, the International Baccalaureate and BTEC qualifications. Please visit International Admissions for full details.
English language
Find out more about our English language entry requirements, including the types of test we accept and the scores needed for entry to the programme.
You may also be able to meet the English language requirement for your programme by joining a summer pre-sessional programme before starting your degree.
Further information
Funding
Loans and grants
UK students accepted onto this course are eligible to apply for tuition fee and maintenance loans from Student Finance England or other government bodies.
Scholarships and bursaries
Queen Mary offers a generous package of scholarships and bursaries, which currently benefits around 50 per cent of our undergraduates.
Scholarships are available for home, EU and international students. Specific funding is also available for students from the local area. International students may be eligible for a fee reduction. We offer means-tested funding, as well as subject-specific funding for many degrees.
Find out what scholarships and bursaries are available to you.
Support from Queen Mary
We offer specialist support on all financial and welfare issues through our Advice and Counselling Service, which you can access as soon as you have applied for a place at Queen Mary.
Take a look at our Student Advice Guides which cover ways to finance your degree, including:
additional sources of funding
planning your budget and cutting costs
part-time and vacation work
money for lone parents.
Careers
The programme is designed to give you a head start in the finance, accounting or actuarial professions. You may also choose to move into careers such as management consulting, marketing, engineering, teaching and the public sector.
Recent graduates of the School of Mathematical Sciences have been hired by:
Accenture
Bank of England
BNP Paribas
Deloitte
PWC
Civil Service
Direct Line
Dyson
FCA
Goldman Sachs
KPMG
Lloyds Banking Group
Natwest Markets
J.P Morgan
Royal Bank of Canada
Santander
Career support
The School of Mathematical Sciences provides networking opportunities and runs events to help you identify potential career options. You can also gain certification in applications such as Microsoft Excel and SAS (Statistical Analysis Software). We have a dedicated careers consultant and an internships coordinator.
The Queen Mary careers team can also offer:
specialist advice on choosing a career path
support with finding work experience, internships and graduate jobs
feedback on CVs, cover letters and application forms
interview coaching.
Learn more about career support and development at Queen Mary.
Unistats data for these courses
Mathematics with Finance and Accounting - BSc (Hons)
Mathematics with Foundation - BSc (Hons)
Mathematics with Finance and Accounting with Professional Placement - BSc (Hons)
Mathematics with Finance and Accounting with Year Abroad - BSc (Hons)
About the Schools
School of Mathematical Sciences
With over 60 passionate academic staff, our School is an exciting place to be if you share our love of mathematical discovery.
We foster a thriving research culture and a supportive learning environment. Our aim is to make your studies enjoyable, challenging and rewarding, and to provide you with every opportunity to build the knowledge and experience you need for future success.
Our active Mathematics Society organises social events, residential trips, talks and career events.
School of Business and Management
We teach you to think beyond textbooks, management fads and memorised formulas for success.
Our faculty come from all over the world and bring a sound practical knowledge to their teaching: they have worked for the BBC, UK government ministries and the European Union.
Our Mile End location keeps us close to all the action in the City and Canary Wharf. We're also home to a number of research centres focused on public engagement and having a real-world impact.