Dr MJ Rowland-Warmann (MSc Aesthetic Medicine 2016)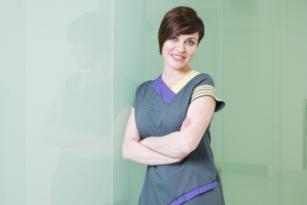 "I am the founder of Smileworks, one of the largest independent dental practices in the UK. I finished my MSc in Aesthetic Medicine in 2016 and it has been transformational. I already did a lot of aesthetics before, but it inspired me to become a comprehensive practitioner. I learnt things I wouldn't have otherwise, to the huge benefit of my patients. And I was able to build knowledge through my postgraduate degree whilst working in practice, which was ideal.
"The course at Queen Mary was perfect because it's academic and I wanted to support my day-to-day practical work with some academic research. It was ideal for advanced practitioners who know the direction they want to take in their learning rather than those who need a guiding hand in technical aspects of their job. That suited me. Queen Mary is also a hugely respected uni and I was proud to apply there and be offered a place.
"Since finishing, I've been active in the speaking circuit and have had articles published in dozens of magazines, newspapers and journals. I've also been appointed a trainer for Sinclair Pharma, a premium dermal filler manufacturer, and I'm an expert witness in aesthetic medicine civil law claims. But all this focus on training and developing my career inspired me to create the Smileworks Hub, our aesthetic training academy that offers aesthetics training for dentists. This just wouldn't have been possible without that additional MSc under my belt. I've always said the best student is the teacher. And this has really shown that to be true."
Hear from our other alumni
Lucy Millar-Hume

"Having practised Aesthetic Medicine since 2007, I often craved more knowledge and understanding of the evidence underpinning it. I felt there had been a real need in me for years to fill this vacuum with a credible academic experience. I found the programme after searching online and was drawn to the calibre of the University, the teaching staff and Russell Group status. I realised it could give me a competitive edge as a Nurse.

"The programme has taught me strategies to think for myself and navigate this ever-expanding specialty. I enjoyed the depth and breadth of information covered in each section. The material was well structured and easy to engage with as an online course. It was helpful to have a long practical experience in lasers, skin peels, needling and injectables already and to build on my knowledge and experience, but I really enjoyed learning something new. Prior to starting the course, I had no experience with hair loss or autologous treatments including PRP, PRF and lipofilling.

"Now I have the confidence to expand into regenerative medicine which I didn't before. In the future, I've plans to continue publishing, write a book, grow my training academy and add some treatments to my portfolio."
Rashmi Chattopadhyay

"I had already done a level 7 course in non-surgical facial aesthetics and wanted a more comprehensive learning package. I felt the MSc would help me achieve this even though it looked at areas for services I would not be providing but wanted to be able to advise patients in the best way. I really enjoyed the feedback of exploring new ideas.

"On the previous course, it was more set at looking at things that had already been covered. I really enjoyed the psychology module and getting to know other people. I am hoping to get an aesthetic clinic up and running and would love to get into teaching and being around like-minded people."