International Women in Engineering: Sandya Abrar
We spoke to Sustainable Energy Engineering BEng graduate Sandya Abrar about her interest in Engineering and everything Queen Mary taught her.
What did you study at Queen Mary and what are you doing now?
I did a bachelors degree in Sustainable Energy Engineering. I am currently working as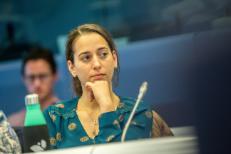 a Policy Officer in Energy at the European Commission under the Directorate General of Research and Innovation (DG RTD). Specifically, I am in charge of supporting the coordination of national R&I activities amongst EU Member States in the transformation of their energy systems to low carbon energy.
What sparked your interest in Engineering?
How to create and implement practical tools to address some of the world challenges and especially in energy and climate change.


Queen Mary offered me the perspective to focus on renewable energies at a time when this option was rarely offered to students
How did your time and study at Queen Mary help your career and development?
Queen Mary offered me the perspective to focus on renewable energies at a time when this option was rarely offered to students. It, therefore, made a huge difference by opening up this specific career path to me.
Tell us about your first job after graduation and how you utilised the learning from your time at Queen Mary?
I started my career at Scottish and Southern Energy, working as a graduate mechanical engineer. During those years, I had the chance to experience working in a gas power station, an offshore wind farm, a district heating schemes and a biomass power station. I believe that, on top of the learning I acquired at Queen Mary, the decisive factor in getting my first job was the practical experience I gained though the industrial year of placement I took on as part of my degree.
What advice would you offer to current students who themselves are aspiring engineers?
My advice would be to take on a year of placement as part of your degree in order to visualise how to put theory into practice and become more attractive for potential future employers.
Why is it exciting to do what you do?
It feels good to know that I have a role to play in accelerating clean energy innovation in Europe.
What are your thoughts on diversity in engineering and do you feel change is needed?
Diversity would mean training more women in STEM careers and bringing their perspective to historically male-dominated disciplines. I feel that the increasingly complex challenges of our modern society demand engagement of both men and women on how to tackle them.