Making a Uni House a Home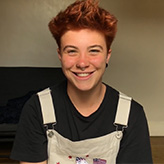 Two words: fairy ights. These are the most basic but warming items a person can have inside their home. I had my lights strung up around the pinboard in my dorm room by using safety pins and untangling a singular part of the wires to put around the plastic part.

— Elliot Douglas, BA Drama
Making a house a home and ways to turn your dorm into a sick party palace where all the cool kids wanna hang out
As someone who has moved a lot in the past I have never really found that I get homesick when being away from my hometown or my family. However this is not the case for everyone! So this post will be focusing on ways to make your dorm room feel like a home, easy ways to keep it neat and tidy, and finally what to do when you're missing home.
The secret to finding peace in your new home

Two words: fairy lights. These are the most basic but warming items a person can have inside their home. I had my lights strung up around the pinboard in my dorm room by using safety pins and untangling a singular part of the wires to put around the plastic part. This safe and can hold your lights up without them falling down! Another form of lighting I had was a salt lamp, which gave off a soft and warm glow making my room feel cosy and safe. It may sound silly but if you don't have fairy lights maybe a coloured lamp, disco lamp or salt lamp could make a difference for you?
Wall

I also had a lot of wall hangings and tapestries up using some double sided sticky strips I found on Amazon. These held up my wall hanging for the whole of first year and were so easy to remove with no marks left over either. Tapestries, wall hangings and posters can be a really great way of adding colour to your room and make it more personal to you as opposed to just a white walled room you happen to be staying in for a year.
Personalise
I love taking photos! I love capturing memories of all my mates as blurry or bad as the pictures may be. One thing I noticed a lot of students do during my first year in halls was have their rooms filled with photos of friends, family members, places. Having these mementos around you serve as a great reminder to good memories and times as well as reminding you of the positive love and support in your life. We all need these reminders of who cares about us in our lives, especially at times when deadlines and essays are stressful or maybe it's been a hard day.

The last piece of advice for making yourself at home is to make your bed super comfy with as many pillows, cushions and blankets as you want! I had a few friends bring giant teddies or extra duvets (This is also helpful if you have a friend stay the night!!)

Ultimately, Queen Mary provides you with all of the essentials you need in your dorm room and to a high standard too, but I think having a more personalised dorm can help with settling in quicker and making yourself feel more at home.

Keeping your dorm clean (the easy way!)
Okay so maybe I've been watching too much Marie Kondo on Netflix, but the best way to keep your room tidy is to remove, donate or recycle any clutter, and only keep items that 'spark joy' for you!

I found it fairly easy to find space and a place for everything in my room and any big items such as a blow up mattress, suitcases, cardboard boxes, I put underneath my bed. Everyone's room and belongings are different so will require different needs of care, however it may be, all of the dorms are a good size and there is more than enough space to fit everything- try not to overpack though!!

In terms of keeping your room tidy and nice, just dedicating 30 minutes in the week to wipe down all the surfaces, clean the bathroom and hoover is a good way to keep on top of your cleaning. Air fresheners or electric incense burners are great and don't go against the fire safety regulations. I had a friend with an electric incense burner which was completely safe and just made the place smell incredible, she didn't leave it on all the time because not much time was needed for it to work.
Keeping your food to a minimum will help you stay on top of overbuying and buying foods you already have. It will also help you to eat everything in the fridge and stop food going mouldy or to waste. There are so many shops in the area for food which I will be covering in another blog post but it is something that is helpful to know for when you move to the area.

Homesickness
Lastly, I wanted to talk about how to get over homesickness and missing home. The first couple of weeks are hard, but you can and will have fun, if you put yourself out there and throw yourself into your social groups and your studies, time will fly you by and first semester will be over in the blink of an eye. Call your parents and friends and even your pets, keep that contact with them because it's really important- they will probably miss you too and love to hear from you. I had a girl on my course from abroad and she brought a scarf with her that smelled like her mother and she said this helped her a lot because she was so far away from home.

Finally here is a good checklist of what to take with you to university: