Professor Kathryn Yusoff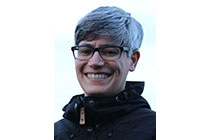 Professor of Inhuman Geography
Email: k.yusoff@qmul.ac.ukTelephone: +44 (0)20 7882 8922Room Number: Geography Building, Room 110
Profile
Broad Research Specialisms
Anthropocene: geologic life; political geology; geo-social formations
Climate Change & Society: climate knowledge, narratives and practices; climate change pasts and futures; abrupt climate change
Political Aesthetics: 'aesthetics of existence'; political aesthetics and biopolitics of environments; Anthropocene aesthetics
Geophilosophy & the Anthropocene: philosophies of nature, earth, time and climate
Animality: animal forces in human and non-human life; configurations of the human; exuberance and extinction; biodiversity loss; posthumanism
Kathryn's work is centred on dynamic earth events such as abrupt climate change, biodiversity loss and extinction. She is interested in how these "earth revolutions" impact social thought. Broadly, her work has focused on political aesthetics, social theory and abrupt environmental change.
Her current research addresses questions of 'Geologic Life' within the proposed geologic epoch of the Anthropocene. This research examines how inhuman and nonorganic dimensions of life have consequences for how we understand issues of fossil fuels, human-earth relations and materiality in the politics of life. Kathryn's work draws on insights from contemporary feminist philosophy, critical human geography and the earth sciences. She is particularly interested in the opportunities the Anthropocene presents for rethinking the interactions between the earth sciences and human geography in the "geo-social formations" of Anthropogenic change.
Kathryn joined QMUL as a Senior Lecturer in Human Geography on the 1st September 2013, after previous Lectureships at Lancaster University and University of Exeter.
Teaching
GEG4005 People and the Enviornment
GEG5227 The Anthropocene: Between natural and social sciences
GEG6141 New York: Nature in the City (Fieldtrip)
Research
Research Interests:
Currently, I am working on two projects:
Geologic Life: a prehistory of Anthropogenic Futures: The Anthropocene proposes a new geological epoch that designates humans as a geomorphic force capable of shaping earth systems on the same scale as other geomorphic forces. Yet, nowhere are the geophysical, genomic and social narratives of this new geologic subjectification been considered together in a way that interrogates this geologic capacity, not just in terms of impacts on the earth, but as a force in which the subject shares. The project considers the geologic as a defining strata of contemporary subjectivity, specifically within the context of climate change and the designation of the Anthropocene, but also more broadly as a variable determinate that subtends subjectivity. This research argues the need for the consideration "Geologic Life"—a mineralogical dimension of human existence that remains currently under thought in social theory, and has direct relevance for how we conceive of our current relations to fossil fuels and climate change.
The Political Aesthetics of Climate Change: This research investigates how we understand dynamic earth processes and environmental change through aesthetic experience, and how these experiences configure our political relations to human and non-human worlds. This involves rethinking the knowledge economies that exist between human non-human worlds, and investigating how ideas of animality, multispecies living and biopolitics are articulated through co-joined aesthetic experiences/experiments. Theoretically, this research has sought to understand how we might configure an "aesthetics of existence" in relation to abrupt climate change, and to investigate how aesthetics constitutes a space of practice and a space of thought in environmental politics. More broadly, this work synthesises a genealogy of aesthetics that thinks aesthetical encounters as a space of experience and a space of possibility (for thinking the hitherto unthinkable). The examination of aesthetics is developed over three distinct historical epochs: prehistory; contemporary; and futures.
Publications
A full list of publications is available at PubLists.
Supervision
Current PhD students
Charlotte Wrigley
Kate Lewis-Hood
Laura Mariana Reyes Carranza
Matthew Beach
Past PhD students
Alexandra Boyle
Helen Pritchard, Animal Hacker http://lancaster.academia.edu/HelenPritchard
Jean De Pomereu Imagining Inlandsis: Climate Change, Exploration, and the Visual Culture of Ice Sheets (AHRC Collaborative Doctoral Award)
Public Engagement
Professional activities
2013–present: Reviews and Open Site Editor, Environment and Planning D: Society and Space (EPD) www.societyandspace.com
2010–present: Editorial Board, The Geographical Journal (GJ)
2011–2013: Editorial Board, Environment and Planning D: Society and Space (EPD)
2010–2011: Writing Group II: Interdisciplinary, European Science Foundation (ESF) RESCUE (Researching Environmental, Societal Change on an Unstable Earth) Research Programme
2009–2010: Working Group II: Interdisciplinary, European Science Foundation (ESF) RESCUE (Researching Environmental, Societal Change on an Unstable Earth) Research Programme
2007-2009: International Polar Year Committee; Polar Field Stations Research Group; Congress of Arctic Social Sciences.