Professor Roger Lee, AcSS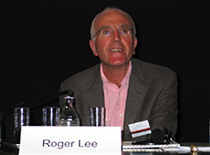 Emeritus Professor of Geography
Email: r.lee@qmul.ac.ukTelephone: +44 (0)20 7882 5409Room Number: Geography Building, Room 103
Profile
As an economic geographer, my research focused on the complex ways in which socio-cultural relations both shape and are reflective of economic relations interpreted broadly from a Marxist perspective. Most recently these interests have been combined with photography and brought to bear on the fate of town centres in the age of internet retailing, out-of-town shopping and now - far more intensely - the age of the Covid pandemic and the climate emergency.
Recent key publications
Granville V, Lee R and Purves E (2020) Sevenoaks in a time of change Dynamism Diversity Resilience Silver Pines Press
Lee R 2018 Doreen Barbara Massey Biographical Memoirs of Fellows of the British Academy XVII 145–178. Posted 27 September 2018
Research
Research Interests:
Socio-cultural relations and economic geographies, alternative economic geographies, finance and emerging markets, diverse economic practices
Roger Lee's research interests focus around the social/cultural construction of economic geographies. Of particular interest are the ways in which the norms and values of capitalism are insinuated into, and at the same time resisted in the social construction of, economic geographies at a variety of scales.
Publications
Recent and forthcoming publications
Lee R 2018 Doreen Barbara Massey Biographical Memoirs of Fellows of the British Academy XVII 145–178. Posted 27 September 2018
Hodder B W and Lee R 2014 Economic geography Routledge
Lee R 2014 (managing editor) (with Castree N Kitchen R Lawson V Paasi A Philo C Roberts S Withers C W J) Handbook of human geography Sage Publishers London
Lee R 2013 The Possibilities of Economic Difference? Social Relations of Value, Space and Economic Geographies in Zademach H-M and Hillebrand S eds Alternative Economies and Spaces transcript: Bielefeld Germany pp 69–84
Lee R 2011 Acts of theory and violence: can the worlds of economic geographies be left intact? ch 3 in Pollard J McEwan C and Hughes A eds Postcolonial economies Zed Books London 63–80
Lee R 2011 Spaces of hegemony? Circuits of value, finance capital and places of economic knowledge. ch 14 in Agnew J A and Livingstone D N eds The Sage handbook of geographical knowledge Sage Publishers London 185–201
Lee R 2011 Withn and outwith/material and political? Local economic development and the spatialities of economic geographies. ch 17 in Pike A Rodríguez-Pose and Tomaney eds Handbook of local and regional development Routledge London and New York 193–211
Lee R 2011 Ordinary economic geographies : Can economic geographies be non-economic? ch 24 in Leyshon A Lee R McDowell L and Sunley P eds The SAGE handbook of economic geography Sage Publishers London 368–382
Lee R ed 2011 (co-edited with Andrew Leyshon, Linda Mc Dowell and Peter Sunley) The SAGE handbook of economic geography Sage Publishers London 2011 pp 411
Lee R 2010 Spiders, bees or architects? Imagination and the radical immanence of alternatives/diversity for political economic geographies. Part V ch 17 in Fuller D Jonas AEG and Lee R eds Interrogating alterity Alternative economic and political spaces Ashgate Publishing Farnham 273–287
Lee R ed 2010 (co-edited with Fuller D and Jonas A E G) Interrogating alterity Alternative economic and political spaces Ashgate Publishing Farnham pp 299
Lee R 2010 Economic society/Social geography ch 8 in Smith S J Pain R Marston S A and Jones J P eds The Sage handbook of social geographies Sage Publishers London 205–221