Professor Ken Hassell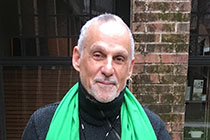 Honorary Research Fellow
Email: hassell@elon.edu
Profile
Ken has had a rather circuitous journey to and within academics which brings a particularly complex and poignant understanding of the politics of power and knowledge to his research and community work. Ten years of his life were devoted to sustaining himself as an unskilled, poorly paid labourer in a variety of jobs that made palpable the abuses of capitalism, othering, and the the reality of promethean shame. All the while, he was an activist in the civil rights and anti-war movements that were so vital during the 60s and beyond. At one point, a short stint at an alternative school allowed for extended conversations with Buckminster Fuller and Marshall McLuhan as well as the milieu of a John Cage "Happening". He finally succumbed to a proper education and received his undergraduate and graduate degrees from the University of Wisconsin in art and visual culture. Most of his thirty-five years of teaching and scholarship focused on the use of social photography and ethnography as discourses for political and social change. Projects included extensive bodies of images of labourers and eleven years in the coal mining regions of central Appalachia. It was not until the last ten years of his career that he realised just how the authority of seeing and photographic images reified ideologically constructed gazes and their complicity in colonialist endeavours. He cast aside his photographs and ethnographic recordings to teach, conduct research and write about the tropes of visuality and the social construction of identities using a wide-range of contemporary critical theory.
Interests
I have always felt the constraints and frustration of disciplinarily constructed education as proposed by Sylvia Wynter in her texts on the humanising of race in spatial-temporal realms outside of traditional academic genres. It is for this reason that I have found a home in human geography particularly as it is approached at Queen Mary University. Such an approach is embodied in the writings of feminist physicist Karen Barad who combines some of the concepts of Neils Bohr and quantum theory to assert that all aspects of life (and the universe) are already in conversation with one another in intra- (not inter) relationality. While we need, I suppose, to abide by some disciplinary canons and methodologies, we must simultaneously acknowledge that life does not occur within the confined borders of one or even a few disciplines. This is why my current research and just my human interests demand imbricating so many areas of theoretical studies including the following and beyond: Postcolonialism, poststructuralism, structures and disruptions of power and knowledge, feminisms/womanisms, queer theory, centrality of the human body, im/migration and the and visuality, and, of course, human geographies.
Recent Presentations:
Global Leadership Conference on Gender, London
International Journal of Arts and Sciences, Feminist and Queer Research Methodologies, Harvard University
Gender Studies Symposium, Queer Academics, Portland, Oregon
European Union Conference on Diversity and the Media, London
Arts in Society Conference, Body Politic: The Fabrication of Identity (clothing and the construction of the body), Budapest, Hungary
Southeastern College Arts Conference, The Art and Authority of Seeing, North Carolina
Arts in Society Conference, The Spectacle of Tourism, Liverpool, UK
Exhibitions in the United States include such venues as:
Pennsylvania Academy of the Fine Arts, Philadelphia Alfred Lowenherz Gallery, New York
University of Delaware
Mint Museum, North Carolina Mississippi Museum of Art Light Factory, North Carolina University of Virginia Fairmont State College
Ackland Museum of Art, North Carolina
Emory and Henry College, Virginia
Awards and Grants:
Individual Artist Fellowship, Southern Arts Federation
North Carolina Arts Council, Individual Artist Grant
Wisconsin Arts Board and the National Endowment for the Arts (NEA)
Research
Research Interests:
Home and Homelessness: South Asian and Somalian Women's Agency in a West London Diaspora
This project intends to bring a deeper and more multifaceted insight into the complex lives of migrant South Asian and Somalian women living in the community of Southall located in West London. While this predominantly South Asian diaspora exists as a highly intricate and imbricated socio-political place and space, women's daily practices can be under the insistent pressure of sexist othering thus creating a highly gendered diaspora within the larger ethnic diaspora. A salient facet of the complexity of diaspora, and the one that this research focuses on is that despite or because of resolute sexism, a significant number of women work daily in the avant-garde of effecting inward and outward change; that they can and do create spaces that invite disruption of norms, the performance of alterity and diverse narratives. Of course, this montage of multiple stories also recognises that not all diasporic women are eager to disrupt doxies nor are they integrally united on what that change should look like. The Southall project will present a meaningful sampling of expressions of South Asian and Somalian women's agency as a way of beginning to understand the contexts, impetuses, strategies, reflections, disruptions, and consequences that are involved in inciting critical acts of womanist self-efficacy, independence, and cultural change.
The core of the project entails recording oral (sound) and visual (video) presences performed in close collaboration with the participants to help maintain the integrity of their agency and narratives. (The use of "presences" rather than "histories" in describing these performances indicates that their stories, however historically and spatially based, are reflected upon, re- imagined and retold here in the present). Audio and visual representations have a long history of complicity in reifying stereotypes that, in turn, encourage intolerance and violence. The imaginings about women's bodies, their appearance, ability to reproduce and voice, reside at the very locus of the corporeality of empire. In this project however, oral and visual texts will be re- appropriated and repurposed to both draw attention to and subvert their own colonialist history while re-contextualising and re-presenting their subjects. In these versions, women can express the embodiment of agency, resistance and independence.
The resulting text will reject the all too common masculinist authoritative approach to such community research projects by integrating feminist and queer theories and practices that disrupt summative problem solving to propose more possibilities, questions, and interstitiality; what I often refer to as muddying the waters.
Finally, I am mentoring a group of Somalian and South Asian women secondary school students in Southall towards making a film and book book about their lives for wider distribution for those who wish to learn more about young women in diaspora.