Dr James Brand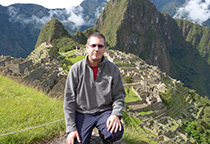 Honorary Research Fellow
Email: j.h.brand@qmul.ac.uk
Profile
PhD research
Thesis: Assessing the risk of pollution from historic coastal landfills
Funding
Environment Agency and Southend Borough Council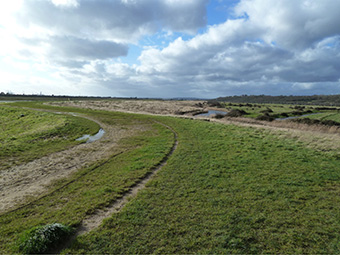 Research outline
Rising sea levels and an increased frequency of coastal storm surges will result in a higher risk of flooding and erosion of low-lying coastal areas and their defences. In many areas landfill sites and other areas of contaminated land fall within these at risk zones, and in some locations the coastal defences themselves were constructed using municipal solid waste. These contaminated low-lying areas and coastal defences are now very vulnerable and there is potential for diffuse pollution to be released to the marine environment following inundation with tidal waters and/or breach of the defences.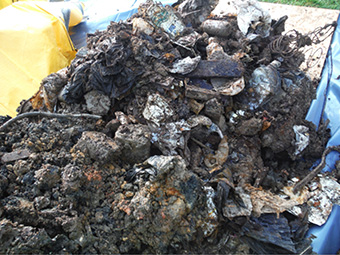 This project developed a comparative risk assessment for low-lying, historic coastal landfills to support landfill managers when prioritising limited resources. The research included:
Assessment of the nature, extent and variability of contamination in coastal landfills.
Assessment of contaminant mobilisation following tidal inundation and/or erosion of the landfill sites
Development of a comparative risk screening assessment that considers:
a. The risk of waste being released from an historic coastal landfill
b. The risk of pollution if waste is released.
An Executive Summary of the thesis is available here:
Brand, J.H. and Spencer, K.L. 2017. Assessing the risk of pollution from historic coastal landfills. Executive Summary for the Environment Agency. [PDF 1,185KB]
The full thesis is available here:
Brand, J.H. 2017. Assessing the risk of pollution from historic coastal landfills. PhD Thesis. Queen Mary University of London.
It is intended that the findings of this project will contribute to future revisions of the 'Essex and South Suffolk Shoreline Management Plan', 'Thames Estuary 2100' and 'CIRIA C718 Guidance on the management of landfill sites and land contamination on eroding or low-lying coastlines'.
Research interests
Coastal flooding, erosion and pollution.
River and coastal restoration.
Conference presentations
12th International Estuarine Biogeochemistry Symposium (Plymouth, June 2013): Diffuse pollution in the coastal zone - contamination from waste filled seawalls: (poster presentation).
Estuarine Coastal Sciences Association, ECSA 55 (London, September 2015): Diffuse pollution in the coastal zone - contamination from waste filled embankments (oral presentation).
Environment Agency, Flood & Coast 2016 (Telford, February 2016): Contamination from historic coastal landfills [PDF 197KB] (oral presentation).
River Restoration Centre, RRC 2016 (Blackpool, April 2016): Pollution from historic landfill sites [PDF 3,163KB] (poster presentation).
Media coverage
Background
BEng(Hons) Mechanical Engineering, University of Birmingham.
I worked as an engineer for 10 years, including over 7 years in the automotive industry working for Robert Bosch Ltd and Ford Motor Company, before moving into the environmental sector.
MSc Water Management, Cranfield University.
Thesis: 'The status of White-clawed crayfish Austropotamobius pallipes in the River Wissey, and the potential of ark sites for translocation'. Supervisor: Dr. Andrew Gill.
I worked for 5 years in highways' consultancies working on EIA screening and scoping, and water quality/quantity enhancement projects before leaving to undertake my PhD.
Professional memberships
CIWEM - Chartered Water and Environment Manager.
Research