Mobility Justice: a conversation with Professor Mimi Sheller
When: Tuesday, February 2, 2021, 2:00 PM - 4:00 PM
Where: Zoom Webinar ,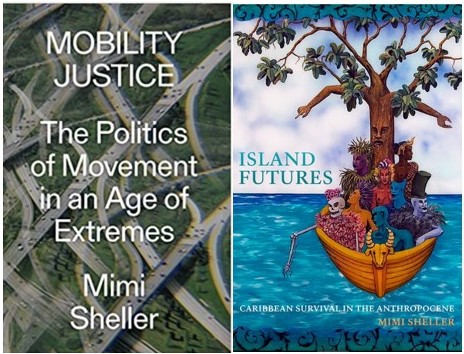 Mobile People: Mobility as a way of life is a Leverhulme Trust Doctoral Scholarship programme at Queen Mary University of London, Institute for Humanities and Social Sciences and School of Politics and International Relations.
Leverhulme Trust Doctoral scholars Timor Landherr and Giovanna Gini speak with Professor Mimi Sheller on her latest two books Mobility Justice and Island Futures. The conversation starts with theoretical perspectives on understanding a world in movement, challenging static concepts such as borders. Then it shifts the focus to kinopolitical power in colonialism and imperialism and how it has created mobility injustices through displacements and occupations. After identifying mobility justice issues such as reparations, debt, and displacement, the conversation ends with reflections on the role and responsibilities of scholarship for promoting mobility justice.
Mimi Sheller is Professor and Head of the Department of Sociology, and the Director of the Center for Mobilities Research and Policy at Drexel University in Philadelphia. She is a key scholar in mobilities studies and specializes in both the colonial and postcolonial contexts of the Caribbean. She is author and co-editor of thirteen books, including Mobility Justice: The Politics of Movement in an Age of Extremes (Verso, 2018) and Island Futures: Caribbean Survival in the Anthropocene (Duke University Press, 2020).