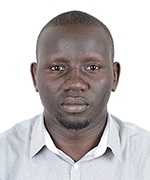 Dickens Akena
Dr Dickens Akena is a psychiatrist and a lecturer at the department of psychiatry at the Makerere University College of Health Sciences in Kampala, Uganda. His role at Makerere University includes teaching undergraduate and post graduate students, mental health research and patient care. He conducts his clinical duties at the Butabika National Referral Hospital for mental health. He has published over 20 papers in peer reviewed journals. In June 2013, he completed his PhD training from the University of Cape Town in South Africa.
Dickens has successfully applied for funding from prestigious organizations including the MRC of the UK and NIH through the NURTURE fellowship. Currently, he is the Ugandan based Principal Investigator of the Neuro-Genetics of African Psychosis (Neuro-GAP) project, a multi-site (Mbarara, Arua, Gulu, Butabika and Naguru) research project.
He has also designed two short courses being taught at the Mbarara University of Science and Technology. These courses are a) Systematic Review and Meta-analysis for clinicians. The first course cohort consists of 6 individuals who are conducting systematic reviews.
Dickens is as a research lead for the Volounteer Support and Control Site on the NIHR Global Mental Health group on Developing Psycho-social Interventions Project.