Read 1999-2004: An Advocate for Stateless Nations in Europe or return to timeline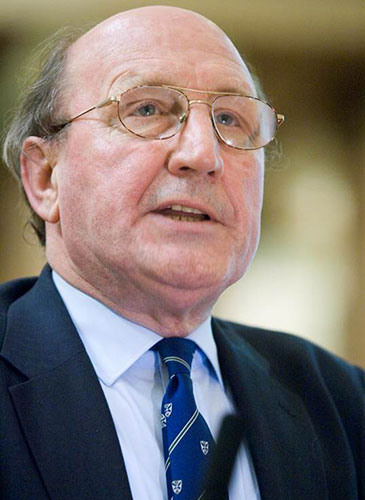 Neil MacCormick, 2007
Following his return to academia after five years as an MEP, the Leverhulme Foundation generously renewed MacCormick's Research Fellowship (which he had initially held from 1998-9). They were wise to do so, with MacCormick producing no less than three major books in the next three years in completion of the Professorship. These were: Rhetoric and the Rule of Law in 2005; Institutions of Law in 2007 (which he described as his 'magnum opus'); and Practical Reason in Law and Morality in 2008. Thus was completed the quartet of projected books on 'Law, State and Practical Reason', which had begun in 1999 with Questioning Sovereignty.
In the meantime, the SNP had made great strides, forming a minority government in 2007. Following this victory, the new First Minister, Alex Salmond, invited MacCormick to become his Advisor on European Affairs. MacCormick accepted with enthusiasm, having already been the Shadow Minister on Europe in John Swinney's shadow cabinet. His influence is visible on the first document published by the SNP in Government, namely Choosing Scotland's Future: A National Conversation. There is little doubt, too, that MacCormick's long-standing advocacy of a referendum as a mechanism of constitutional change, including the emphasis he placed on there being a written Constitution for a future independent Scotland, has influenced the policies of the SNP post their amazing majority-winning result in 2011.
MacCormick retired from his Regius Chair in 2008, discovering, the day following his retirement, that he had cancer. He continued to work as an advisor, and to publish, only slowing down in the very last few months up to his death on 5 April 2009. At his funeral at Greyfriars Kirk on 17 April 2009, John Swinney said:
…three great pillars of thinking – popular sovereignty, independence in Europe and the gradualist principle – have dominated the strategy of the Scottish National Party for the last 25 years. They were heavily shaped by Neil MacCormick and they have given us the foundations of creating a new Scotland.
External Links