CLSGC Book Symposium on Authority & the Globalisation of Inclusion and Exclusion
10 October 2018
Time: 4:00 - 7:00pm
Venue: Room 313, School of Law, Queen Mary University of London, Mile End Road, London E1 4NS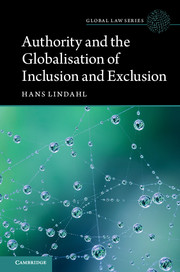 The Centre for Law and Society in a Global Context (CLSGC) is delighted to host a new book symposium on Hans Lindahl's new book, Authority and the Globalisation of Inclusion and Exclusion (CUP, 2018). Hans Lindahl is Professor of Legal Philosophy at Tilburg University and Professor of Global Law at Queen Mary University of London. The event is organised and chaired by Dr Maks Del Mar.
Read the introduction to the book.
Event Programme
16:00-16:20: Introduction to Book by Hans Lindahl
16:20-16:40: Comment by Alexander Somek (Vienna)
16:40-17:00: Comment by Nicole Roughan (Auckland)
17:00-17.30: Discussion
17:30-17:45: Break
17:45-18:05: Ralf Michaels (Duke and Queen Mary)
18:05-18:25: Paul Schiff Berman (Washington)
18:25-19:00: Discussion.
Directions
For directions to the venue, please refer to the map.
Contact
For more information on this event, please email lawevents@qmul.ac.uk.
---
Photography, video and audio recording
School of Law events may be photographed or video and audio recorded. These materials will be used for internal and external promotional purposes only by Queen Mary University of London. If you object to appearing in the photographs, please let our photographer know on the day. Alternatively you can email lawevents@qmul.ac.uk in advance of the event that you are attending.