QMUL hosts ATLAS Agora 2017
Published:
The Department of Law at Queen Mary University of London (QMUL) recently hosted the Agora of the Association of Transnational Law Schools (ATLAS). Held over a two-week period (19-30 June 2017), the Agora consisted of a program of both academic and social events for a select group of PhD students in the ATLAS network. ATLAS brings together 9 leading law schools world-wide to collaborate on doctoral education, with a particular emphasis on law in global and transnational contexts. Queen Mary has been member of ATLAS for the last 4 years, sending students to past Agorae.
One of our PhD students, and a participant in the ATLAS Agora, Anna Howard, writes the following report:
"From 19 June to 30 June, I had the very good fortune of attending the ATLAS Agora 2017 which this year was hosted by Queen Mary. The Agora brought together 29 PhD candidates from 9 universities for two weeks of masterclasses, workshops and, of course, a sprinkling of social events.
As I reflect on the last two weeks, I am struck by how difficult it is to select a few of the highlights; there are so many to choose from. But I must be selective as this summary must be a short one.
The Agora started with workshops in which we received detailed comments on our written work from a faculty member from Queen Mary. It was incredibly helpful to receive detailed feedback from a new audience, including the other PhD students who were in the workshop.
Throughout the two weeks, there was a wonderful variety of masterclasses offered by luminaries in their fields including, to name but a few, Professor Brian Tamanaha, Professor Paul Schiff Berman, Professor Rosemary Hunter, Professor Rosa Maria Lastra, Professor Mistelis and Professor Malleson who all generously gave their time and encouraged lively discussions.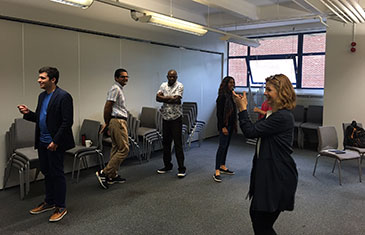 Perhaps one of the most memorable events was the workshop on public speaking led by the very talented Jacqueline Defferary from the Shakespeare Globe. Her guidance and exercises on how to use our voice - aided by what was to become a rather bruised grapefruit - will stay with me for a very long time.
Last, but by no means least, Professor Malleson's class on how to enjoy your PhD was a timely reminder for me on the positives which this PhD journey can offer. And one of those is, for me, the chance to have taken part in this Agora. The breadth of topics and, perhaps most importantly, the collegiality and conviviality of the group of PhD candidates has certainly made my PhD journey more enjoyable.
The Agora could not have been the success it was without all the hard work, dedication and good humour of Dr Maks Del Mar and Nicole Lieberman. 29 PhD candidates are very grateful to you both."
Dr Maks Del Mar, the Academic Director of the Agora and Director of the Centre for Law and Society in a Global Context, said:
"For the past 3 years, 18 of our PhD students have participated in ATLAS Agorae in Melbourne, Montreal and Hamburg. This year, it was our turn to host the Agora, and to have the pleasure of welcoming just under 30 PhD students from around the world. The students were a terrific group, forming a real community, despite such a great variety of research topics. Education of law in a global context is something we take very seriously here at Queen Mary, and we have long been committed to supporting world-class doctoral research, so hosting the Agora was a perfect fit for us.
For the first time in ATLAS history, the Agora this year also included an ATLAS conference, in which faculty members of the ATLAS partners presented their work-in-progress. The aim was to find some common research themes that could lead to further collaboration, this time at the level of faculty research. The conference was a great success and we look forward to developing several common themes that emerged during those two days.
I'd like to add my thanks to the Agora co-ordinator, Nicole Lieberman, who did a fantastic job, and to all staff at Queen Mary who contributed in many different ways."