Book Launch and Forum: Jessie Hohmann & Daniel Joyce (eds) International Law's Objects
20 March 2019
Time: 6:00 - 8:00pm
Venue: TBC
The Centre for Law and Society in a Global Context (CLSGC) and The Centre for European and International Legal Affairs (CEILA) at Queen Mary University of London are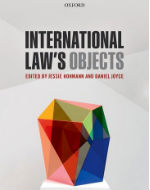 pleased to invite you to the launch of Jessie Hohmann and Daniel Joyce (eds) International Law's Objects. The book opens a new direction in international legal scholarship, considering the discipline and practice of international law through its material culture, objects, and materiality. The book collects together 40 chapters focusing closely on a chosen object, and a number of longer theoretical contributions, to initiate a discussion on the role and purpose of objects in international law, and to prompt a discussion of material methodologies and their potential promise for international law.
This questions raised include, first, what might objects, rather than texts, tell us about sources, recognition of states, construction of territory, law of the sea, or international human rights law? Second, what might this scholarly undertaking reveal about the objects - as aims or projects - of international law? How do objects reveal, or perhaps mask, these aims, and what does this tell us about the reasons some (physical or material) objects are foregrounded, and others hidden or ignored. Third, what objects, icons, and symbols preoccupy the profession and academy? The personal selection of these objects by leading and emerging scholars illuminate the contemporary and historical fascinations of international lawyers.
Dr Iza Hussin (Senior Lecturer, Department of Politics and International Studies, University of Cambridge), and Professor Roger O'Keefe (Professor of International Law, Università Bocconi, Milan) will join the authors in an inter-disciplinary panel, to comment on the book, and suggest potential synergies, future research directions, and ongoing conversations that might arise from and around it
The event will be followed by a drinks reception for all attendees, and copies of the book will be available to purchase.