Dr Nikolina Jovanovic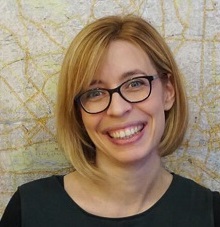 Clinical Senior Lecturer and Consultant Psychiatrist
Email: n.jovanovic@qmul.ac.ukTelephone: 020 7540 4380
Profile
I work as a Clinical Senior Lecturer at Queen Mary University of London and a Consultant Perinatal Psychiatrist at the East London NHS Foundation Trust.
I graduated in medicine from the University of Zagreb, Croatia in 2002. I completed PhD in behavioural genetics as well as psychiatric training at the same institution, both in 2010. I graduated in architecture and urban planning from the University of Zagreb in 2013. I moved to Queen Mary University of London in
2015 to focus on researching psychosocial aspects of mental health care. Clinically, I have been working as a Consultant Psychiatrist at the East London NHS Foundation Trust since 2017.
My research interests focus on improving perinatal mental health care, developing and implementing effective psychosocial interventions, improving service user involvement, and exploring links between architecture and mental health. Over the last ten years I have worked on a number of initiatives related to improving mental health care in Eastern Europe.
I have received large research grants from European Commission (IMPULSE, Chief investigator, 2017-2022) and NIHR (PAAM, Co-applicant and Acting Principal Investigator, 2019 – 2022).
I have received awards and scholarships from European Psychiatric Association, World Psychiatric Association, Italian Government, and Croatian Psychiatric Association.
I teach on national and international undergraduate and postgraduate courses at Queen Mary University of London, University College London, European Psychiatric Association, and University of Rijeka. During 2020-22 I was Director of Graduate Studies at IPHS/WIPH, Queen Mary University of London.
In 2021 I joined the Committee of Education at European Psychiatric Association, having previously served as board member (2017-2019) and chair of Early Career Psychiatrists Committee (2017-2019). I have also been involved in the work of The European Union of Medical Specialists (UEMS) and World Psychiatric Association.
Research
Research Interests:
Psychiatry; Perinatal; Mental health; Women's mental health; Adverse Childhood Experiences; Attachment; Psychosocial; Implementation; Effectiveness; Architecture; Built environment; Postgraduate Training; Job burnout.
Publications
Please click through to see a complete list of Nikolina's publications
Outstanding publications
Jovanović N, Miglietta E, Podlesek A, Malekzadeh A, Lasalvia A, Campbell J, Priebe S. Impact of the hospital built environment on treatment satisfaction of psychiatric in-patients. Psychol Med. 2020 Oct 22:1-12. doi: 10.1017/S0033291720003815. Epub ahead of print. PMID: 33087185.
Jankovic J, Parsons J, Jovanović N. et al. Differences in access and utilisation of mental health services in the perinatal period for women from ethnic minorities—a population-based study. BMC Med 2020;18: 245.
Windle E, Tee H, Sabitova A, Jovanović N et al. Association of Patient Treatment Preference With Dropout and Clinical Outcomes in Adult Psychosocial Mental Health Interventions: A Systematic Review and Meta-analysis. JAMA Psychiatry. 2019;77:294-302.
Jovanović N, Campbell J, Priebe S. How to design psychiatric facilities to foster positive social interaction - A systematic review. Eur Psychiatry. 2019 Aug;60:49-62. doi: 10.1016/j.eurpsy.2019.04.005. Epub 2019 May 18. PMID: 31112827.
Jovanović N, Podlesek A, Volpe U, Barrett E, Ferrari S, Rojnic Kuzman M et al. Burnout syndrome among psychiatric trainees in 22 countries: risk increased by long working hours, lack of supervision, and psychiatry not being first career choice. Eur Psychiatry 2016 32:34–41.
Supervision
Alina Subitov. "Job Morale of Physicians and Dentists in Kazakhstan": (2017 – 2020)
Emma Millard. "Preferences for Art therapy": (2018-2022)
Olufunke Ayorinde. "Perinatal mental health of Nigerian women in the UK" (2021 - present)