Thank you for considering an application
To apply you'll need to:
Make note of the Queen Mary institution code: Q50
Make note of your chosen course UCAS code:

Electrical and Electronic Engineering

H600 — BEng (Hons)
HHX0 — BEng (Hons) Electronic Engineering with Foundation
H602 — BEng (Hons) with Industrial Experience
H60Y — BEng (Hons) with Year Abroad
H608 — MEng (Hons)

Click on the link below:
Electrical and Electronic Engineering
Entry Year: 2023
5 study options
Overview
Electrical and Electronic Engineers are designing and developing technology to make our lives better. They are building more efficient and sustainable solutions for the next generation of technology.
Our programme equips you with a broad knowledge and specialised skills in both electrical and electronic engineering equipping you with the ability to identify and solve real-world problems. During the programme you'll focus on power generation, transmission and electrical machines as well as learning to design complex digital and analogue electronic systems, using advanced software tools and gain a solid foundation in programming.

Our core modules will develop your understanding across a range of key topics. You'll learn how to be creative, innovative and flexible in devising engineering solutions, bringing together numerical, computational, analytical and technical tools in a systematic way. In your second year, you'll undertake a challenging group project to demonstrate your technical system integration skills, while practising teamwork and project management.
In your final year you are able to tailor your degree to your interests and study modules in specialist topics such as digital media and social networks, power electronics, digital signal processing and product development. While the focus is on electronic hardware design, you will also learn the foundations of programming, completing your set of technical skills.
With the rapid pace of change in technology, there's a huge demand for graduates with skills in this field. Throughout your course, you'll be taught by internationally renowned academics who are actively conducting world-class research. This coupled with our extensive extracurricular activities, outstanding facilities and innovative teaching and learning and excellent student support, ensures that you are fully equipped to enter into a wide range of careers, across the electrical and electronics sector.

Keep scrolling to find out more about graduate career prospects, our teaching and modules. You can also find out more about undergraduate life on our School website.
Professional recognition
Our BEng Electronic Engineering programme is CEng accredited by The IET on behalf of the Engineering Council and fulfils the educational requirements for Chartered Engineer when presented with an accredited MSc.
A suffix "EngC Pathway" will be added to the degree title when a student satisfies the accreditation requirements. In addition, the programme meets the educational requirements for registration as an Incorporated Engineer.
Progression and award requirements for an accredited BEng/MEng are stricter than these requirements for a standard QMUL BEng/MEng degree. If a student does not satisfy the accreditation requirements but does satisfy the requirements for a standard QMUL BEng/MEng degree, the "EngC Pathway" suffix will not be added.
Structure
You can complete your Electrical and Electronic Engineering degree in three or four years. If you are a BSc student and choose to spend a year in industry or studying abroad, this will take place in Year 3 and Year 3 modules will instead be studied in Year 4.
Study options
Apply for this degree with any of the following options. Take care to use the correct UCAS code - it may not be possible to change your selection later.
Integrated foundation year
Students who do not have the required high school qualifications for admission to this degree, and students who do not meet their UCAS Conditional offer may be considered for the 4 year degree (foundation year plus the 3 year degree).
International students with Year 12 or a completed international high school certificate qualify for the one year foundation programme commonly known as the ISEFP.
The foundation programme offers a range of transferable skills and an opportunity to improve on your knowledge content for relevant Maths and Science subjects.
You will enrol on an Electronic Engineering BEng with Foundation which will offer progression to a range of degrees in the School of Electronic Engineering and Computer Science including BEng Electrical and Electronic Engineering. At the end of the foundation programme, students will be required to meet the progression requirements for admission to BEng Electrical and Electronic Engineering.
Year in industry
Want to pick up some solid work experience while applying and improving your skills? Apply for our Electrical and Electronic Engineering BEng with Industrial Experience to spend your third year working for a public- or private-sector organisation in a role directly related to your studies.
Our students have worked with companies including:
Buhler Sortex
Caterpillar Inc
Intel Corporation
Keysight.
Find out more about degrees with industrial experience.
Please note that placements are highly competitive and awarded based on your application, academic track record and performance at interview. If you are not successful in securing a placement, your third year will be spent at Queen Mary completing your studies.
Master of Engineering (MEng)
Take an extra year to gain specialised knowledge through a high-level group project and your choice of advanced modules. Apply for our Electrical and Electronic Engineering MEng, ideal if you plan to go into academic or industrial research and development, or to give you an edge in the job market.
Year abroad
Go global and study abroad as part of your degree – apply for our Electrical and Electronic Engineering BEng with a Year Abroad. Queen Mary has links with universities in Europe, North America, Asia and Australia (partnerships vary for each degree programme).
Find out more about study abroad opportunities at Queen Mary and what the progression requirements are.
You can do either a year in industry or a year abroad - you cannot combine these options.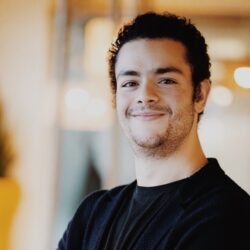 A graduate in this field is more valuable than gold to any employer. I can confidently say that the knowledge and skills gained from my degree have always given me a step up when applying for roles, and more importantly, boosted my ability to excel in my role. It will be the most challenging and rewarding time in your life. You will amass a wealth of knowledge and skills that will be applied in ways you wouldn't think possible!
Teaching
Teaching and learning
You'll spend 15 to 20 hours per week in lectures, laboratory sessions and tutorials. You will also be expected to complete additional hours of independent study. You'll meet with your personal adviser regularly to ensure that you are settling in and progressing well.
Assessment
Assessment typically includes a combination of coursework (presentations, assignments, essay report writing, in-class tests, research and project work) and/or examinations in May or June.
Individual and group projects are assessed through a written report, practical demonstration and oral examination.
Resources and facilities
The schools offer excellent on-campus resources to aid your studies, including our newly refurbished, state-of-the-art electronics lab and an informatics teaching laboratory with more than 300 PCs running Linux and Windows.
Entry requirements
Non-UK students
We accept a wide range of European and international qualifications in addition to A-levels, the International Baccalaureate and BTEC qualifications. Please visit International Admissions for full details.
English language
Find out more about our English language entry requirements, including the types of test we accept and the scores needed for entry to the programme.
You may also be able to meet the English language requirement for your programme by joining a summer pre-sessional programme before starting your degree.
Further information
Funding
Loans and grants
UK students accepted onto this course are eligible to apply for tuition fee and maintenance loans from Student Finance England or other government bodies.
Scholarships and bursaries
Queen Mary offers a generous package of scholarships and bursaries, which currently benefits around 50 per cent of our undergraduates.
Scholarships are available for home, EU and international students. Specific funding is also available for students from the local area. International students may be eligible for a fee reduction. We offer means-tested funding, as well as subject-specific funding for many degrees.
Find out what scholarships and bursaries are available to you.
Support from Queen Mary
We offer specialist support on all financial and welfare issues through our Advice and Counselling Service, which you can access as soon as you have applied for a place at Queen Mary.
Take a look at our Student Advice Guides which cover ways to finance your degree, including:
additional sources of funding
planning your budget and cutting costs
part-time and vacation work
money for lone parents.
Careers
91% of Electrical and Electronic Engineering graduate survey respondents are in graduate careers after 15 months - Guardian League Table
Electrical and Electronic engineering impacts nearly every aspect of society. It is a rapidly growing sector and has an enormous range of career opportunities for skilled graduates. During this programme, we equip you with the knowledge and skills to ensure that you are ready to enter into your chosen career.

There are various career paths for graduates including aeronautical, broadcasting, design engineering, sound engineering, special effects, sales, marketing and communications, computer, construction, energy, transportation and telecommunications.
Recent Electrical and Electronic Engineering graduates have been employed by companies such as:
BBC
Google
Lloyds Bank plc
Morgan Sindall
Network Rail
Vodafone
Sky
TalkTalk Telecom Group PLC
TFL
Career support
Finding your first job is made easier through our strong links with industry. We work with organisations offering graduate opportunities in banking, media, telecommunications and technology. We run an annual IT and Technology Fair, featuring up to 30 organisations seeking new talent.
The Queen Mary careers team can also offer:
specialist advice on choosing a career path
support with finding work experience, internships and graduate jobs
feedback on CVs, cover letters and application forms
interview coaching.
Learn more about career support and development at Queen Mary.
Unistats data for these courses
Electrical and Electronic Engineering - BEng (Hons)
Electronic Engineering with Foundation - BEng (Hons)
Electrical and Electronic Engineering with Industrial Experience - BEng (Hons)
Electrical and Electronic Engineering with Year Abroad - BEng (Hons)
Electrical and Electronic Engineering - MEng (Hons)
About the School
The School of Electronic Engineering and Computer Science carries out world-class computer science research – and applies it to real-life problems. Being taught by someone who is changing the world with his or her ideas makes for exciting lectures and ensures you stay fully up to date. 91 per cent of our computer science research was rated as 'world-leading' or 'internationally excellent' (REF 2014).
We are proud of our excellent student-staff relations, and our diverse student body: around a quarter of our students are women and 47 countries are represented.
The School has an energetic student community, taking part in programming competitions and hack events.