Thank you for considering an application
To apply you'll need to:
Make note of the Queen Mary institution code: Q50
Make note of your chosen course UCAS code:

English and Film Studies

QW36 — BA (Hons)
QW6Y — BA (Hons) with Year Abroad

Click on the link below:
English and Film Studies
Entry Year: 2022
2 study options
English and Film Studies
BA (Hons)
Key information
Degree

BA (Hons)

Duration

3 years

Start

September 2022

UCAS code

QW36

Institution code

Q50

Entry Requirements

UK fees

£9,250*

International fees

Fees for 2022 entry will appear here shortly
*These fees are for the 2021-22 academic year and are provided as a guideline. Fees for 2022-23 have not yet been set.
English and Film Studies with Year Abroad
BA (Hons)
Key information
Degree

BA (Hons)

Duration

4 years

Start

September 2022

UCAS code

QW6Y

Institution code

Q50

Entry Requirements

UK fees

£9,250*

International fees

Fees for 2022 entry will appear here shortly
*These fees are for the 2021-22 academic year and are provided as a guideline. Fees for 2022-23 have not yet been set.
Overview
Study the intersecting worlds of film and literature in London, the cultural capital and heart of the UK film industry.
English and Film Studies demands creative, original thought. Literature and film ask us to question how class, race, ethnicity and sexuality are represented on the page and screen, and the impact of evolving language and technologies.
Our joint degree programme introduces you to the history, theory and practice of cinema, and covers a wide range of literary texts and theories of reading. We teach you to apply critical theory and close textual and visual analysis to the realms of film and literature, and explore the connections between cinematic works and literary texts from many different regions and historical periods.
Options in the second and final years will allow you to concentrate on the subject areas that interest you most, from Arthurian literature to contemporary Hollywood cinema.
Structure
You can complete your English and Film Studies degree in three or four years. If you choose to do a year abroad this will take place in Year 3 and Year 3 modules will instead be studied in Year 4.
Year 1
English: Poetry (15 credits: Semester 1)
English: London Global (30 credits: Year Long)
English: Literatures in Time Epic and Romance in the Middle Ages - 2020/21 (15 credits: Semester 2)
Film Studies: Concepts and History (30 credits: Year Long)
Film Studies: Approaches and Analysis (30 credits: Year Long)
Please note that all modules are subject to change.
Year 2
Compulsory
What is Cinema? Critical Approaches
Choose two modules across three subject areas
1. Medieval and Early Modern Studies
Arthurian Literature from Geoffrey of Monmouth to Game of Thrones
Renaissance Literary Culture
2. Eighteenth-Century, Romanticism, and Nineteenth-Century Studies
Representing London: Writing the Eighteenth-Century city
Romantics and Revolutionaries
Victorian Fictions
3. Modern, Contemporary and Postcolonial Studies
Modernism
Postcolonial and Global Literatures
The Long Contemporary
Choose from
Art Histories: an Introduction to the Visual Arts in London
Black and Asian Writing in Britain
Chaucer: Telling Medieval Tales
James Baldwin and American Civil Rights
Satire, Scandal and Society
The Crisis of Culture: Literature and Politics 1918–1948
Women and their writing in the Romantic Period
Choose from
Brazilian Cinema: The Social Tradition
Contemporary World Cinemas
Film Curation
From Page to Screen
Introduction to British Cinema
Research Methods (Film)
Scriptwriting: Adaption and Original Script
Please note that all modules are subject to change.
Year 3
You choose your final year modules from a wide range of options that changes each year.
Modules may include
British Fictions of the 1960s
Film Archaeology
German Narrative Fiction in Text and Film
Ghosts and Laughing Gas: Literature in the 1790s
Guillotines
James Joyce's Ulysses
Mapping Contemporary Cinemas
New Independent Indian Cinema
Reading William Blake
Shakespeare: the Play, the Word and the Book
Slavery, Colonialism and Postcolonialism in African Cinema
Writing Muslims
Please note that all modules are subject to change.
Study options
Apply for this degree with any of the following options. Take care to use the correct UCAS code - it may not be possible to change your selection later.
Year abroad
Go global and study abroad as part of your degree – apply for our English and Film Studies BA with a Year Abroad. Queen Mary has links with universities in Europe, North America, Asia and Australia (partnerships vary for each degree programme).
Find out more about study abroad opportunities at Queen Mary and what the progression requirements are.
Additional Costs
A few modules may require you to buy tickets to shows or exhibitions (often at a discounted rate) as well as pay for travel within London.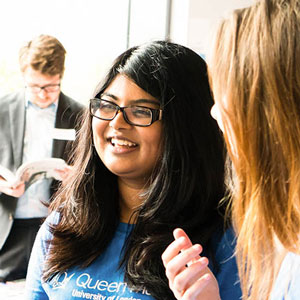 I really liked the course and how it is assessed. The range of modules available is unbeatable! It was very hard to pick my second year modules – they all seemed fabulous.
Teaching
Teaching and learning
You'll receive approximately 10 hours of weekly contact time, in the form of lectures and seminars. Modules may also include field trips, tutorials and workshops. You also attend regular timetabled film screenings.
For every hour spent in class, you'll complete a further four to six hours of independent study.
Assessment
Assessment typically includes a combination of exams and coursework, often in the form of essays but sometimes as extended projects, presentations, log books and portfolios.
Resources and facilities
The Schools offer excellent on-campus and London-based resources to aid your studies, including:
access to Senate House Library and the British Library – the most important intellectual resources in London
our state-of-the-art 41-seater cinema
a large range of professional and broadcast-standard production and post-production equipment, including a film production suite, two film studios with professional lighting grids, two edit suites, and motion capture equipment
opportunities to meet and network with publishers, curators, archivists, poets, novelists, activists and filmmakers
proximity to specialist archives and collections such as the BFI National Archive, Poetry Library, Women's Library, National Art Library and the Warburg Institute
opportunities to write, edit and publish for student newspapers and magazines.
Entry requirements
Non-UK students
We accept a wide range of European and international qualifications in addition to A-levels, the International Baccalaureate and BTEC qualifications. Please visit International Admissions for full details.
If your qualifications are not accepted for direct entry onto this degree, consider applying for a foundation programme.
English language
Find out more about our English language entry requirements, including the types of test we accept and the scores needed for entry to the programme.
You may also be able to meet the English language requirement for your programme by joining a summer pre-sessional programme before starting your degree.
Further information
Funding
Loans and grants
UK students accepted onto this course are eligible to apply for tuition fee and maintenance loans from Student Finance England or other government bodies.
Scholarships and bursaries
Queen Mary offers a generous package of scholarships and bursaries, which currently benefits around 50 per cent of our undergraduates.
Scholarships are available for home, EU and international students. Specific funding is also available for students from the local area. International students may be eligible for a fee reduction. We offer means-tested funding, as well as subject-specific funding for many degrees.
Find out what scholarships and bursaries are available to you.
Support from Queen Mary
We offer specialist support on all financial and welfare issues through our Advice and Counselling Service, which you can access as soon as you have applied for a place at Queen Mary.
Take a look at our Student Advice Guides which cover ways to finance your degree, including:
additional sources of funding
planning your budget and cutting costs
part-time and vacation work
money for lone parents.
Careers
English and Film Studies graduates go on to work in many different sectors, including the creative arts, media and broadcasting, teaching and publishing.
Recent graduates have gone on to work for:
Curzon PR
Equinox Film and TV Production
Hedgehog Films
Historic Royal Palaces
Penguin Random House
The Independent.
Career support
You'll have access to bespoke careers support during every step of your degree, including personal academic support from experts in both film and English literature. A third-year module will prepare you for the transition from university to working life by researching career, entrepreneurial and postgraduate study prospects.
Our careers team can also offer:
specialist advice on choosing a career path
support with finding work experience, internships and graduate jobs
feedback on CVs, cover letters and application forms
interview coaching.
Learn more about career support and development at Queen Mary.
Unistats data for these courses
English and Film Studies - BA (Hons)
English and Film Studies with Year Abroad - BA (Hons)
About the Schools
School of English and Drama - Department of English
We provide a first-class learning environment - the Departments of Drama and English are in the top 35 in the world (QS World Rankings by Subject 2018). And you'll learn from leading experts: Drama is ranked first and English fifth in the UK for research quality (Research Excellence Framework 2014).
Our degrees make full use of the literary and cultural riches of London, with trips to venues such as Shakespeare's Globe, the Victoria & Albert Museum and the British Library.
School of Languages Linguistics and Film
The School of Languages, Linguistics and Film is friendly and vibrant. Our students produce podcasts and short films, put on plays and liaise with writers and journalists.
We're visited by poets, novelists and outside experts, and have strong links with London's cultural institutions.
In the 2017 National Student Survey, French and Hispanic Studies received overall satisfaction ratings of 100 per cent – top in the UK. German was ranked first in London and Hispanic Studies and Russian in the top five by the Complete University Guide 2018.