Thank you for considering an application
To apply you'll need to:
Make note of the Queen Mary institution code: Q50
Make note of your chosen course UCAS code:

Psychology

C800 — BSc (Hons)
CCX2 — BSc (Hons) Biological Sciences with Foundation
C80P — BSc (Hons) with Professional Experience
C80Y — BSc (Hons) with Year Abroad

Click on the link below:
Psychology
Entry Year: 2021
4 study options
Overview
Take a rigorous, biological approach to psychology, studying it as a natural and experimental science.
Psychology gives us valuable insight into many areas of life – from human behaviour in the classroom or courtroom to animal cognition and natural selection.
You'll develop a strong grounding in the subject through modules covering cognitive psychology, language acquisition and consciousness and causality. You'll also integrate biological approaches by studying animal behaviour and cognition, mammals and evolution, and cognitive and affective neuroscience. You can choose to carry out a final-year research project, drawing on support and expertise from across the School.
Our Psychology BSc is accredited by the British Psychological Society – a mark of quality that employers understand and value.
Professional recognition
By graduating from this programme with at least a second class honours degree you will be eligible for Graduate Membership of the British Psychological Society, the starting point for a career in Psychology.

Structure
You can complete your Psychology degree in three or four years. If you choose to study abroad or do a year of professional experience, this will take place in Year 3, and the Year 3 modules will instead be studied in Year 4.
Year 0
Foundation
One Year-long double module allocated based on previous maths qualifications:
Mathematics A or
Mathematics B
Semester 1
Compulsory
Communication in Science & Technology
Introductory Chemistry
Form and Function in Biology
Semester 2
Compulsory
Molecules to Cells
Diversity and Ecology
A Closer Look at Chemistry
Please note that all modules are subject to change.
Year 1
Compulsory
Brain and Behaviour
Essential Skills for Psychologists
Exploring Psychology I
Exploring Psychology II
Introduction to Biopsychology
Positive Psychology
Research Methods and Statistics in Psychology I
Emotion
Please note that all modules are subject to change.
Year 2
Compulsory
Research Methods and Statistics II
Comparative Psychology
Cognitive Psychology
Social Psychology
Health Psychology
Developmental Psychology
Individual Differences
Psychopathology
Please note that all modules are subject to change.
Year 3
Choose from. *You must opt for the Psychology Research Project to be eligible for accreditation by the British Psychological Society
Extended Essay in Psychology
Psychology Research Project*
Choose six from (or seven if taking Extended Essay in Psychology)
Psychology of Creativity
Criminal and Forensic Psychology
Psychology of Real-World Decision Making
Nature, Nurture and Mental Health
Cognitive & Affective Neuroscience
Counselling Psychology
Psychology of Play and Games
Psychology of Food
Business Psychology
Language and Mind
Design for Human Interaction
Please note that all modules are subject to change.
Study options
Apply for this degree with any of the following options. Take care to use the correct UCAS code - it may not be possible to change your selection later.
Professional Experience
Apply for our Psychology BSc with Professional Experience to spend a year working in a professional experience position as part of your degree. As well as helping you to stand out from the crowd and secure graduate employment, professional experience is an excellent opportunity to develop real world skills and put your learning into context. Students can apply for professional experience positions in a range of sectors, including hospital clinics, mental health charities, HR, market research, youth centres, government or clinical research labs.

During your second year you will identify and apply for a professional experience opportunity, with one on one support provided by your adviser. You must achieve a satisfactory academic result in Year 1 to do a year of professional experience.
Please note professional experience opportunities are highly competitive. If you are unable to obtain a professional experience position, you'll transfer onto our BSc programme and complete your third year at Queen Mary.
Year abroad
Go global and study abroad as part of your degree – apply for our Psychology BSc with a Year Abroad. Queen Mary has links with universities in Europe, North America, Asia and Australia (partnerships vary for each degree programme).
Find out more about study abroad opportunities at Queen Mary and what the progression requirements are.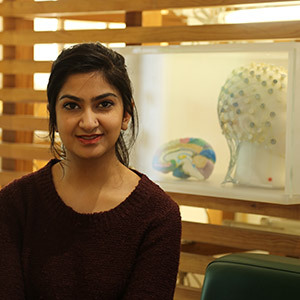 The Psychology programme has a very strong scientific focus which is exactly what I was looking for. It's very interactive and we learn a lot that's relevant to us right now.
Teaching
Teaching and learning
You'll learn through a combination of lectures and practical sessions, where you will get hands-on experience of running your own experiments, questionnaires and surveys. You'll also have regular tutorials in small groups of six to eight students.
For every hour spent in classes you'll be expected to complete additional hours of independent study – preparing, analysing results, writing up and reading.
Assessment
Each module is assessed through theory examinations and coursework.
Resources and facilities
The School offers excellent on-campus resources to aid your studies, including:
new lecture theatres
modern computer labs
an electroencephalography (EEG) lab.
Entry requirements
Non-UK students
We accept a wide range of European and international qualifications in addition to A-levels, the International Baccalaureate and BTEC qualifications. Please visit International Admissions for full details.
English language
Find out more about our English language entry requirements, including the types of test we accept and the scores needed for entry to the programme.
You may also be able to meet the English language requirement for your programme by joining a summer pre-sessional programme before starting your degree.
Further information
Funding
Loans and grants
UK students accepted onto this course are eligible to apply for tuition fee and maintenance loans from Student Finance England or other government bodies.
Scholarships and bursaries
Queen Mary offers a generous package of scholarships and bursaries, which currently benefits around 50 per cent of our undergraduates.
Scholarships are available for home, EU and international students. Specific funding is also available for students from the local area. International students may be eligible for a fee reduction. We offer means-tested funding, as well as subject-specific funding for many degrees.
Find out what scholarships and bursaries are available to you.
Support from Queen Mary
We offer specialist support on all financial and welfare issues through our Advice and Counselling Service, which you can access as soon as you have applied for a place at Queen Mary.
Take a look at our Student Advice Guides which cover ways to finance your degree, including:
additional sources of funding
planning your budget and cutting costs
part-time and vacation work
money for lone parents.
Careers
93 per cent of our graduates are in work or further study within six months of graduation (HESA GOS 2017/18).
Many graduates use their subject knowledge to move into clinical psychology, teaching, counselling or lab work. Others transfer their skills into sectors such as marketing, HR, finance or technology.
Recent Psychology graduates have been hired by:
Guy's and St Thomas'​ NHS Foundation Trust
Burgess Autistic Institute
Easy Steps ABA Services for Autism
Barts Health NHS Trust.
Career support
The School of Biological and Chemical Sciences has a careers consultant, who can offer specialist advice and organise subject-specific events. We also have a dedicated internships coordinator.
The Queen Mary careers team can also offer:
specialist advice on choosing a career path
support with finding work experience, internships and graduate jobs
feedback on CVs, cover letters and application forms
interview coaching.
Learn more about career support and development at Queen Mary.
Unistats data for these courses
Psychology - BSc (Hons)
Biological Sciences with Foundation - BSc (Hons)
Psychology with Professional Experience - BSc (Hons)
Psychology with Year Abroad - BSc (Hons)