Thank you for considering an application
To apply you'll need to:
Make note of the Queen Mary institution code: Q50
Make note of your chosen course UCAS code:

Pharmaceutical Chemistry

F154 — BSc (Hons)
FFX2 — BSc (Hons) Chemical Sciences with Foundation
2L22 — BSc (Hons) with Year in Industry/Research
F15Y — BSc (Hons) with Year Abroad
F152 — MSci (Hons)
F12Y — MSci (Hons) with Year Abroad

Click on the link below:
Pharmaceutical Chemistry
Entry Year: 2021
6 study options
Overview
Pharmaceutical chemistry plays a huge role in drug design and discovery, from treating diabetes to curing cancer.
With a strong emphasis on gaining practical laboratory experience and employability skills, our programme offers a comprehensive view of this exciting field.
Learn how drugs are designed and optimised from lead compounds, their modes of action and pharmacology, and how they are developed through trials and into manufacture.
Teaching centres on synthetic organic chemistry, but we'll also give you a strong grounding in physical and inorganic chemistry and spectroscopy. You'll learn about pharmacology, biochemistry and cancer chemotherapy too. In your final year, you'll conduct your own supervised research project, either laboratory- or literature-based.
Choose your own pathway through this degree — add a year in industry or studying abroad, or carry out an additional year of advanced study to graduate with an MSci.
Professional recognition
This programme is accredited by the Royal Society of Chemistry, giving graduates Associate Member status.

Structure
You can complete your Pharmaceutical Chemistry degree in three, four or five years. If you are a BSc student and choose to do a year in industry or study abroad, this will take place in Year 3, and the Year 3 modules will instead be studied in Year 4. If you are an MSci student and choose to study abroad, this will take place in Year 4, and the Year 4 modules will be studied in Year 5.
Year 0
Foundation
One Year-long double module allocated based on previous maths qualifications:
Mathematics A or
Mathematics B
Semester 1
Compulsory
Communication in Science & Technology
Introductory Chemistry
Physics - Mechanics and Materials
Semester 2
Compulsory
A Closer Look at Chemistry
Molecules to Cells
Physics - Electricity and Atomic Physics
Please note that all modules are subject to change.
Year 1
Foundations of Practical Chemistry
Essential Skills for Chemists
Fundamentals of Organic Chemistry Semester A
Fundamentals of Organic Chemistry Semester B
Fundamentals of Inorganic Chemistry
Fundamentals of Physical Chemistry
Fundamentals of Spectroscopy
States of Matter and Analytical Chemistry
Please note that all modules are subject to change.
Year 2
Practical Chemistry
Applied Spectroscopy
Structure & Reactivity in Organic Chemistry Semester A
Structure & Reactivity in Organic Chemistry Semester B
Solid State & Inorganic Chemistry Semester B
Quantum & Physical Chemistry Semester A
Pharmaceutical Chemistry Semester A
Pharmaceutical Chemistry Semester B
Introductory Programming for Chemists
Essential Skills for Chemists II
Please note that all modules are subject to change.
Year 3
Compulsory
Professional Skills in Chemistry
Organic Synthesis
Choose one from. *Core for those on the Msci programmes
Chemistry Investigative Project
Chemistry Research Project*
Choose three from
Topics in Inorganic Chemistry
Topics in Physical Chemistry
Computational Chemistry
Bioorganic Chemistry
Advanced Pharmaceutical Chemistry
Topics in Biological Chemistry
Please note that all modules are subject to change.
Year 4
MSci students only
Compulsory
Chemistry MSci Research Project
Professional Skills for Chemists
Choose one from
Advanced Topics in Chemistry
Nanotechnology and Nanomedicine
Please note that all modules are subject to change.
Study options
Apply for this degree with any of the following options. Take care to use the correct UCAS code - it may not be possible to change your selection later.
Year in industry
Want to pick up some solid work experience while practising your skills in a real-world laboratory? Apply for our Pharmaceutical Chemistry BSc with a Year in Industry/Research. Some of our students have been awarded highly prestigious work placements with UK and international pharmaceutical companies. During your second year you will identify and apply for a placement opportunity, with one on one support provided by your adviser. If successful, you'll spend your third year working in the pharmaceutical industry or carrying out an extended research project.
Please note that placements are highly competitive and awarded based on your application, academic track record and performance at interview. Should you not succeed in securing a placement, you'll transfer onto our BSc programme and complete your third year at Queen Mary.
MSci
Apply for our Pharmaceutical Chemistry MSci to spend an extra year undertaking an extended research project and studying advanced modules. Consider this option if you're interested in a career in academic or industrial research.
Year abroad
Go global and study abroad as part of your degree – apply for our Pharmaceutical Chemistry BSc or MSci with a Year Abroad. Queen Mary has links with universities in Europe, North America, Asia and Australia (partnerships vary for each degree programme).
Find out more about study abroad opportunities at Queen Mary and what the progression requirements are.
You can do either a year in industry or a year abroad - you cannot combine these options.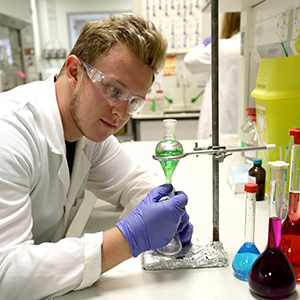 I really enjoy working in the lab, I like being in a very practical environment. We get 100 hours of practical work a year, which is quite considerable. The facilities, the useful equipment and the independence you get here when working on your own in the labs is great.
Teaching
Teaching and learning
We use a mixture of teaching styles – lectures, tutorials, classroom activities and laboratory work.
Outside of classes, you'll need to spend 18 to 20 hours per week preparing, writing up and reading.
Assessment
Each module is assessed through theory examinations and coursework.
Resources and facilities
The School offers excellent on-campus resources to aid your studies, including:
new lecture theatres
modern IT facilities
well-equipped laboratories.
A tour of the Jospeh Priestley lab where our undergraduates are taught.
Entry requirements
Non-UK students
We accept a wide range of European and international qualifications in addition to A-levels, the International Baccalaureate and BTEC qualifications. Please visit International Admissions for full details.
English language
Find out more about our English language entry requirements, including the types of test we accept and the scores needed for entry to the programme.
You may also be able to meet the English language requirement for your programme by joining a summer pre-sessional programme before starting your degree.
Further information
Funding
Loans and grants
UK students accepted onto this course are eligible to apply for tuition fee and maintenance loans from Student Finance England or other government bodies.
Scholarships and bursaries
Queen Mary offers a generous package of scholarships and bursaries, which currently benefits around 50 per cent of our undergraduates.
Scholarships are available for home, EU and international students. Specific funding is also available for students from the local area. International students may be eligible for a fee reduction. We offer means-tested funding, as well as subject-specific funding for many degrees.
Find out what scholarships and bursaries are available to you.
Support from Queen Mary
We offer specialist support on all financial and welfare issues through our Advice and Counselling Service, which you can access as soon as you have applied for a place at Queen Mary.
Take a look at our Student Advice Guides which cover ways to finance your degree, including:
additional sources of funding
planning your budget and cutting costs
part-time and vacation work
money for lone parents.
Careers
As well as being well equipped for a career in the pharmaceutical and chemical industries – which are among the UK's largest – graduates are highly valued by business and finance employers for their data-handling and analytical skills.
93 per cent of our graduates are in work or further study within six months of graduation (HESA GOS 2017/18).
Recent Pharmaceutical Chemistry graduates have been hired by:
Boots UK
EY
ETH Zürich
GlaxoSmithKline.
Career support
The School of Biological and Chemical Sciences has a careers consultant, who can offer specialist advice and organise subject-specific events. We also have a dedicated internships coordinator.
The Queen Mary careers team can also offer:
specialist advice on choosing a career path
support with finding work experience, internships and graduate jobs
feedback on CVs, cover letters and application forms
interview coaching.
Learn more about career support and development at Queen Mary.
Unistats data for these courses
Pharmaceutical Chemistry - BSc (Hons)
Chemical Sciences with Foundation - BSc (Hons)
Pharmaceutical Chemistry with Year in Industry/Research - BSc (Hons)
Pharmaceutical Chemistry with Year Abroad - BSc (Hons)
Pharmaceutical Chemistry - MSci (Hons)
Pharmaceutical Chemistry with Year Abroad - MSci (Hons)