Thank you for considering an application
Click on the relevant link below:
International Foundation Programme in Business and Management
Entry Year: 2020
2 study options
International Foundation Programme in Business and Management
FdCert
Key information
Degree

FdCert

Duration

1 years

Start

September 2020

UCAS code

Y2GG

Institution code

Q50

Entry Requirements

UK/EU fees

£18,750

International fees
International Foundation Programme In Business and Management January Start
FdCert
Key information
Degree

FdCert

Duration

1 years

Start

January 2021

UCAS code

Y2GH

Institution code

Q50

Entry Requirements

UK/EU fees

£18,750

International fees
Overview
Get the skills and experience you need to study an undergraduate degree in business management, marketing or accounting.
This programme provides international and EU students with a direct route to undergraduate study. All modules are taught by our expert academic staff, and you'll have full access to student facilities, including welfare, library, social and sport.
Once you pass the foundation year, you are guaranteed a place on an undergraduate degree in the School of Business and Management at Queen Mary, with pathways to management, marketing or accounting. You can also apply to other UK universities after your foundation year, and you'll get a high level of support with your UCAS application.
You'll gain a solid foundation in the main theories of business and organisational behaviour, as well as developing your skills in analysis, problem solving and decision-making. You'll have the option to learn a foreign language, as well as improving your ability to use academic English effectively at undergraduate level.
Programme changes for 2020
At Queen Mary, we have been adapting to the challenges of Covid-19 so we are ready for the new academic year, with all the academic, pastoral and community support you need to settle in and thrive. For your chosen programme of study, the result is an innovative blended learning offering, giving you access to a world-class education whether or not you can join us on campus from September. For more information, please visit our dedicated FAQ pages.
Structure
Start your International Foundation Programme (IFP) in either September or January.
Year 1
Compulsory
English Language and Study Skills
Independent Study Project
Introduction to Business and Management
Management
Marketing or Accounting for Business Decisions
Choose one from
Film studies: Introduction to Film Studies; European and American Art Cinema
French: French Language and Culture I; French Language and Culture II
Geography: Introduction to Human Geography; The Human Geography of London
History: 20th century European History I: 1900-1945; 20th century European History II: 1945-1990
International relations and politics: Introduction to Politics; Introduction to International Relations
Japanese: Japanese Language and Culture I; Japanese Language and Culture II
Literature: Introduction to English Literature; Introduction to American Literature
Spanish: Spanish Language and Culture I; Spanish Language and Culture II
Please note that all modules are subject to change.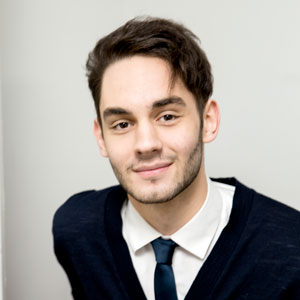 The Business Management programme is unique in the wide scope of modules available in second and third years. I founded a society, 'Queen Mary Business and Enterprise Society', with my acquired knowledge and skills.
Teaching
Teaching and learning
You'll receive approximately 15 to 28 hours of weekly contact time, in the form of lectures and seminars. You will be encouraged to contribute to seminars through pair work, group work, discussion, presentation and case studies.
You'll also need to carry out a further two to three hours of independent study per module.
Assessment
Assessment includes a combination of class tests, coursework, and a final exam. Coursework includes a written report, a portfolio and a presentation.
Resources and facilities
The School offers excellent on-campus resources to aid your studies, including:
a purpose-built media suite designed to support student entrepreneurship
the Queen Mary library
online resources to help you develop your academic English, specially developed for Queen Mary students.
Entry requirements
Non-UK students
We accept a wide range of European and international qualifications in addition to A-levels, the International Baccalaureate and BTEC qualifications. Please visit International Admissions for full details.
English language
Find out more about our English language entry requirements, including the types of test we accept and the scores needed for entry to the programme.
You may also be able to meet the English language requirement for your programme by joining a summer pre-sessional programme before starting your degree.
Further information
Funding
Deposit
Once you have met the conditions of your offer, you will need to pay a deposit of £2,000 towards your tuition fees. This deposit will help in applying for your Tier 4 (General) student visa.
Find out more about deposits and read our refund policy.
If your fees are being paid by a government sponsor we do not require a deposit; however, we will need a formal letter from your sponsor confirming the arrangement.
Support from Queen Mary
We offer specialist support on all financial and welfare issues through our Advice and Counselling Service, which you can access as soon as you have applied for a place at Queen Mary.
Take a look at our Student Advice Guides which cover ways to finance your degree, including:
additional sources of funding
planning your budget and cutting costs
part-time and vacation work
money for lone parents.
Careers
The International Foundation Programme (IFP) in Business and Management offers a route to undergraduate degrees across both disciplines.
Recent graduates have gone on to gain degrees in:
Accounting
Business Management
Marketing.
Career support
All Queen Mary students have access to the Careers and Enterprise Centre, who can offer:
specialist advice on choosing a career path
support with finding work experience, internships and graduate jobs
feedback on CVs, cover letters and application forms
interview coaching.
Learn more about career support and development at Queen Mary.
About the School
The School of Languages, Linguistics and Film is friendly and collaborative, bringing a vibrant range of disciplines together. We teach and research on subjects from practical filmmaking to postmodern literature, and from experimental neurolinguistics to Brazilian Portuguese.
This year, Russian and French students have produced plays in their language, linguistics students have presented their research at conferences and film students have directed, shot and edited many short films.
Our work engages the local community through workshops, research projects and public events. We are visited by poets, novelists and outside experts, and we make the most of our location, forging strong links with London's cultural institutions.
In the 2017 National Student Survey, French and Hispanic Studies received overall satisfaction ratings of 100 per cent – top in the UK. Satisfaction among linguistics students was at 92 per cent. German was ranked first in London and Hispanic Studies and Russian in the top five by the Complete University Guide 2018.