When you live and study with us, you'll be situated in the heart of East London - a vibrant area full of cafés, restaurants, galleries and bars.
As Londoners, we love East London (or the East End, as it's often called) for the contrasts it offers. It's an energetic mix of the old and the new: from medieval history to hipster hangouts, from peaceful walks along Regent's Canal and leafy Victoria Park to Victorian East End pubs, from to late-night music gigs to the coolest art exhibitions, we love East London's energy and its constant ability to surprise us. There's nowhere else in London like it!
Ways to explore the neighbourhood
Explore the rich culture and arts scene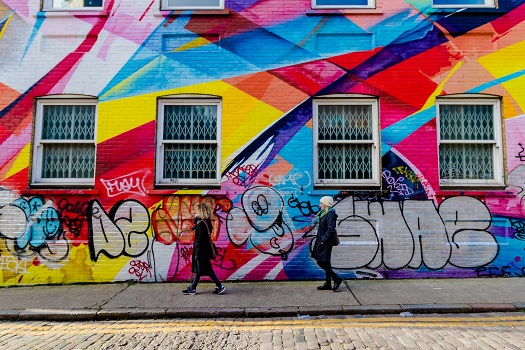 For over a century, the East End has been the home of Britain's modern art scene. There are galleries everywhere, such as the Whitechapel Gallery, V&A's Museum of Childhood and the Museum of London's Docklands. You'll be living in the middle of one of Britain's most fascinating heritage sites, walking the streets of Chaucer, Charles Dickens and Zadie Smith.
Nearby, there are two nationally respected theatres: the Hackney Empire and the Theatre Royal Stratford. There's also a fantastic independent cinema, Genesis, which has generous student discounts and a cocktail bar!
Eat well, whatever your budget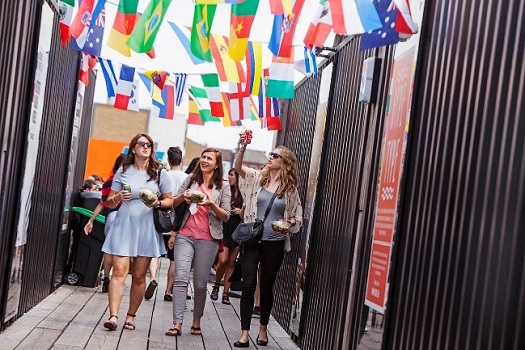 There's a myth that British cuisine leaves a lot to be desired, but just one day in London would tell you that it is completely unsubstantiated! With cultural communities from across the world coming together in one place, it's inevitable the food scene is just as varied and exciting!
One of the greatest things about summer is being able to eat al fresco. London is full to the brim of wonderful street food markets, and you're bound to find one (or two!) things that take your fancy. If you're a foodie, you'll love Brick Lane Market and Spitalfields Market, both just a stone's throw away from campus.
Enjoy the summer sun
British weather doesn't have the best reputation, but we promise you're very likely to see the sun shining in summer! The best way to enjoy this weather is to get active outdoors: the 2012 Olympics took place in Stratford, which is one tube stop away from our campus, provides access to the Queen Elizabeth Olympic Park sporting complex, as well as the Lea Valley VeloPark and Hockey and Tennis Centre. If relaxing is more your thing, you can find a patch of grass in nearby Mile End Park or Victoria Park to enjoy a picnic with friends.
Mile End was refreshing! Very near from the hustle and bustle of the bank district and the main city, yet had it's own peaceful canals and green spaces.

— Makarandh Sai Prasada from India, International Migration Law