The School of Physics and Astronomy is very pleased to support Project Juno, an Institute of Physics initiative that recognises and rewards departments that can demonstrate they have taken action to address the under-representation of women in university physics and to encourage better practice for both women and men. The School was awarded Juno Champion, the highest level of award in this scheme, in June 2015, having previously attained Practitioner status in February 2012.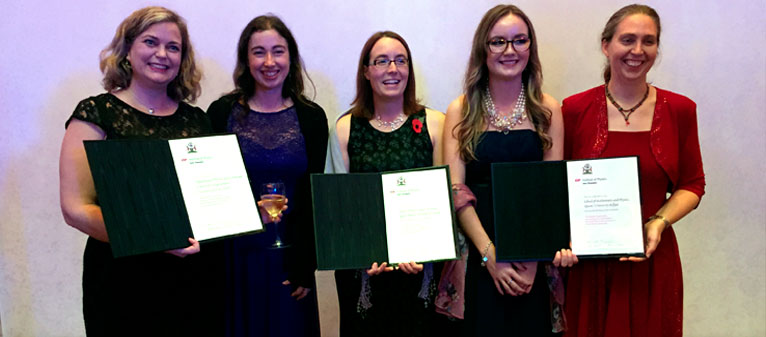 Dr Jeanne Wilson and Dr Marcella Bona collect QMUL's JUNO Champion Award
We collect and monitor gender disagregated data on many aspects of school life, from undergraduate recruitment to seminar speakers and act accordingly on our findings in an effort to create an equitable working culture in which all students and staff, men and women, can all achieve their full potential.
The JUNO Committee, which meets termly, comprises members from all 4 sub-groups within the school and all career stages from PhD student to the Head of School.
JUNO Committee members
You Said - We Did
Events
SPA Bookshelf
News gender-related studies
Publications of bias studies
Policy and Procedure Documentation
Please note that you may need to identify through IDcheck to access some of these policy document, but there is some information on specific Physics and Astronomy schemes below under 'Diversity good practice'.
University Induction and Probation schemes.
University policy on appraisals and promotions.
University policy on sabbatical leave.
Maternity, paternity and adoption leave policies.
SPA maternityPlus policy.
University policy on flexible working.
SPA workload model.
QMUL PhD holiday and maternity entitlements:
In the Code of Practise:
26. All students should agree their holiday periods, normally up to a maximum of six weeks per year, with their supervisor. Excessive absences must be reported to the Head of School/Institute and the Dean for Research, if appropriate, via normal progress report procedures.
In the regulations:
2.81 A student may interrupt their registration on the grounds of primary carer leave for up to one year per child. This may cover pregnancy and related illnesses, and/or caring responsibilities. Periods of interruption for primary carer leave shall not count towards the maximum of two years permitted for interruption, but in all other respects the standard interruption procedures shall apply. Secondary carers wishing to take an extended period of leave shall do so under the standard interruption procedures.
QMUL Policy on unpaid time off for dependents: p11 in HR Code of Practise - maternity
Diversity Links
Diversity Good Practice
Calendar
Minutes (through Indico)